Great Jobs Data to Test Trump Pitch to Make Economy Great Again
By
July hiring spree complicates effort to highlight shortcomings

Trump adviser says strong economy doesn't exist for many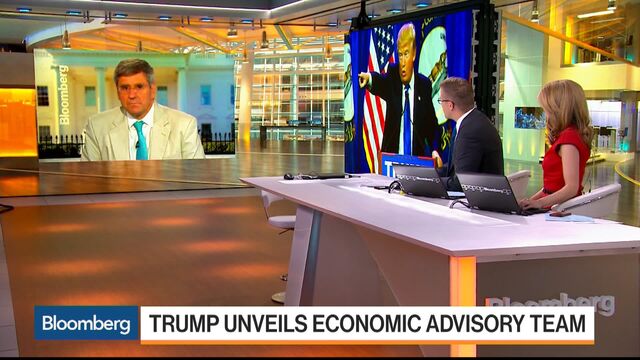 Donald Trump already was having a pretty tough week before the Labor Department made it more difficult.
Roughly an hour before the U.S. government's release of the monthly employment report, the Republican presidential nominee announced a team of economic advisers to help carry his message forward that the economy is deteriorating and needs another rescue. Then came the news that U.S. employers added a stronger-than-expected 255,000 jobs in July, showing broad-based hiring, wages climbing more than forecast and workers picking up more hours.
"This deprives him of a great opportunity to criticize the economy -- you have to conclude that the economy continues to grow moderately and the labor market continues to heal," said Greg Valliere, chief global strategist at Horizon Investments LLC. "It's still another negative for him in a week that was filled with negatives."
The mixed signals complicate things for Trump, who is set to deliver an address Monday in Detroit on how he'll recharge the U.S. economy after an administration that he says has "cost Americans millions of jobs." While less-educated workers were particular winners in the blockbuster July jobs report, the ranks of discouraged workers and those involuntarily working part time increased.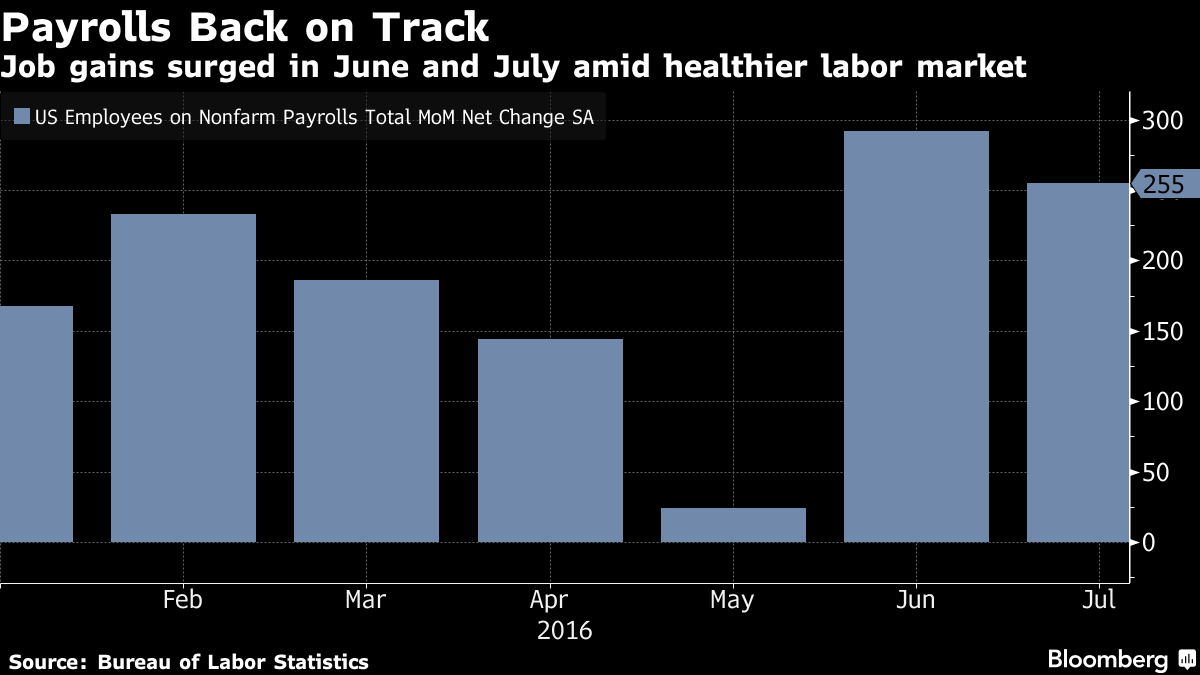 Trump this week has gotten tangled in a war of words with Muslim parents of a U.S. Army officer killed in Iraq, and backtracked on a claim that he had seen video of an airplane delivering $400 million in cash to Iran. Polling after the two parties' presidential nominating conventions suggest Democrat Hillary Clinton is widening her lead ahead of the November election.
For the Republican presidential nominee, who declares on his website that he'll be "the greatest jobs-producing president that God ever created," the key will be to highlight the remaining bruises in the economy seven years after the end of the last recession, even as the labor market chugs along.
Last week's Commerce Department data showed the economy expanded in the second quarter at a 1.2 percent annualized rate, less than half the median projection by economists surveyed by Bloomberg. Wages, while perking up, still show a lackluster trajectory in this expansion.
"The economy the media and the Clinton Machine is describing is an economy that doesn't exist for most Americans -- it's an economy enjoyed by her donors and special interests, and one suffered through every day by millions of Americans," Stephen Miller, senior policy adviser for the Trump campaign, said in a statement after the jobs report's release.
Less educated workers, at least, can celebrate some good news in the July data. The unemployment rate for this group fell to 6.3 percent, the lowest since October 2006, from 7.5 percent the month before amid a rising participation rate and robust job gains.
Before it's here, it's on the Bloomberg Terminal.
LEARN MORE