Quick, What Share of Corporate Directors Are Women?
It's 26 percent for the FTSE 100, up from 12.5 percent in 2010—and not nearly enough for Brenda Trenowden.
By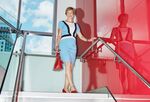 The following is a condensed and edited interview with Brenda Trenowden, global chair, 30% Club.
 
Have women come as far as you expected in corporations?
To go from 12.5 percent women among FTSE 100 directors in 2010 to 26 percent now in that short time frame and 21 all-male boards to no all-male boards is brilliant. Are we happy to just remain where we are? No. There's lots more work to be done. For us, the real work comes on the pipeline. The middle of companies is where we just don't see enough progress.
 
How do businesses do it?
First, a company has to, from the top, understand that this is a business imperative. It has to be led by the CEO, by the chair, and then by the managers all the way down. Second, they really need to get to grips with understanding which variates apply to them: Do they have an issue with recruitment? Is it a perception around whether they're a less female-friendly industry? Is it a promotion problem? 
 
In financial services, what stands out as a common obstacle?
There is a big perception issue that financial services has been more of a male-dominated macho type of sector. When you think about the big banks and fund managers, you only think about a small handful of senior women. So we need to get more role models. Also, the culture may not be as inclusive or as welcoming, or it may not be a culture that women enjoy as much.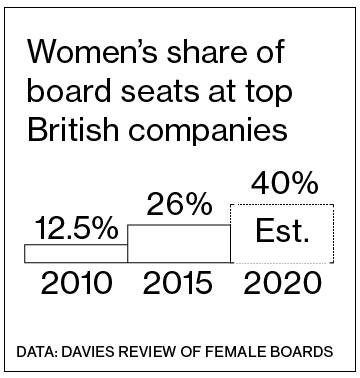 Have you encountered challenges to being a woman in finance?
Yes, of course. I was quite surprised that it was quite an openly sexist culture on the trading floor in the City of London in 1991. I was a stockbroker, and a lot of the books that you read about that time are very true in terms of what went on, but you eventually just kind of got used to it. And so I just accepted that I was often the only woman, that sometimes the conversations were not incredibly comfortable, and some of the ways that we wanted to entertain our clients weren't necessarily things I approved of. But the thing that I learned was to be resilient, and as long as you continue to deliver, that's the best defense you can have.
 
Did that involve toning down aspects of yourself as a woman?
Definitely. When I had my first child, I had a very short maternity leave and ended up taking him on a business trip when he was a month old. I was very conscious because a number of people went on maternity leave, and then people thought, Oh, they're not going to be very committed. I had to work extra hard to show them that I was no less committed and I was still going to lead my business. I had a cesarean, so I was in the hospital for five days, and there are pictures of my team coming in for a meeting around the bed. I'm not necessarily proud of it, and I recommend to women now to stay in touch and go have your maternity leave.
 
Are women speaking out enough about the lack of corporate board diversity?
The women are speaking out much more. But sometimes you can get into a Catch-22 situation where, because there are so few women, if you have a senior woman who supports another woman, there'll be this sense that it's the women "clubbing together."
 
Then the men maybe are naturally supporting the guys, or women think it's not as easy to have that sponsorship role with a senior man, so that leaves the women out in the cold.
 
Have you encountered resentment from male executives to the idea that this should be done more?
Today, it's more of frustration. Some say, "We've done this, we've done that." They're frustrated that they're not making progress more quickly. Some of the men think this is an affirmative-action program, and they worry that they're going to get left behind, but the numbers don't bear that out.
 
This is about all the research that shows that greater heterogeneity in teams leads to better decision-making and better performance.
 
Peter Grauer, chairman of Bloomberg LP, is the founding chairman of the U.S. chapter of the 30% Club.



Before it's here, it's on the Bloomberg Terminal.
LEARN MORE