2016 Is the Best and Worst Year to Be Jill Stein
The Green Party candidate offers Sanders fans a protest vote.
By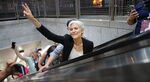 On a sweaty Sunday afternoon in late July, John Griffin happened upon Jill Stein, the Green Party's presumptive presidential nominee, in his North Philadelphia neighborhood. Joined by a couple dozen people, Stein was pointing out the economic inequality and environmental degradation in the area, which she referred to as an "open-air prison." Griffin, 37, who works security and facilities maintenance at a church, had a Bernie Sanders button pinned to his white T-shirt. "I love Bernie," he told Stein.
"I love Bernie," Stein repeated. Then she ticked off areas where she was promising more than Sanders had: guaranteeing a living-wage job to every American who wants one; canceling all student debt; cutting military spending in half. "She's awesome," Griffin said afterward. "No one else is in the middle of the ghetto, in the middle of the 'hood, trying to campaign."
QuickTake How the U.S. Elects Its Presidents
Stein, a physician, is expected to become the Green Party nominee on Aug. 6 at the party's convention in Houston. When she ran in 2012, she won less than 0.4 percent of the popular vote—more, her Wikipedia page notes, than any other woman running for president has so far. "I'm not holding my breath that we're going to win the White House, but I'm not ruling it out," she says.
She does, however, have other goals in mind. Stein has yet to break 5 percent in national polling averages. She'll have to get to 15 percent to secure a spot at the presidential debates alongside Hillary Clinton, Donald Trump, and possibly Gary Johnson, the Libertarian candidate, whose polling averages lie south of 10 percent. The better Stein does in November, the more states will guarantee the Green Party's 2020 nominee a spot on the ballot. If she reaches 5 percent of the national popular vote, the party will get millions in federal campaign funds in the next election. As of June 30, Stein's presidential campaign had taken in $859,000.
The closest the Greens have come to reaching that 5 percent goal was in 2000, when Ralph Nader won 2.7 percent of the popular vote. That included more than 97,000 votes in Florida, where Republican George W. Bush was ultimately declared to have won by a few hundred ballots. Democrats worry about history repeating itself. "Vote for Jill Stein, you might as well get fitted for a Make America Great Again hat," says John Fetterman, mayor of Braddock, Pennsylvania, a Sanders supporter who implored Sanders fans at the Democratic National Convention in Philadelphia to get behind Clinton. "You're helping elect Donald Trump."
"Trump is uniquely dangerous and focuses people's attention in a way that, say, Jeb Bush probably wouldn't have," says Bob Master, a regional political director for the Communications Workers of America union and a co-founder of the Working Families Party. He backed Sanders in the primary and now supports Clinton.
Stein says Democrats have always tried to deter people from voting Green by making Republicans sound scary. "Trump is a completely reprehensible demagogue with despicable policies," she says. "On the other hand, Hillary Clinton's track record is devastation." She cites Clinton's support for welfare reform as first lady and her Senate vote in favor of authorizing the Iraq War. Stein's 2012 running mate, Cheri Honkala, says: "It's time for us to leave our abuser and get something better."
That message appeals to Roberto Ojeda, president of the Young Democrats at Eckerd College in St. Petersburg, Florida, which he's considering reconstituting as a Green Party group. "We don't have time to wait another eight years with another Democratic president that's not going to do anything," he says. "Meanwhile our planet is dying, people are dying on the streets, there is abject poverty."
Ojeda took a selfie with Stein at a rally outside Philadelphia's City Hall during the Democratic convention and immediately Snapchatted it to his friends. Asked why he was so excited to share it, he seemed confused by the question: "It's Jill freaking Stein!"
Yet Stein has run into trouble with some public comments. In a July 29 interview with the Washington Post, she said people had raised "real questions" about vaccine safety and suggested the U.S. Food and Drug Administration and the Centers for Disease Control and Prevention had been unduly influenced by the pharmaceutical lobby. Stein subsequently clarified her position on vaccinations, asserting on Twitter that she was "not aware of evidence linking autism with vaccines."
Melissa Byrne, who was Sanders's digital director for the New Hampshire primary, says Clinton's embrace of some elements of Sanders's platform has given many of his backers hope that they can achieve some of their policy goals if she wins. "You can see we have a power block, and we can move this," she says. "We can move things forward."
Lev Hirschhorn, a former Sanders organizer, made a similar case at a Socialist Convergence panel in Philadelphia the night after Clinton was nominated. "Bernie Sanders has demonstrated that we actually can take over the Democratic Party," Hirschhorn told the crowd. He cited the failure of German communists to unite with Social Democrats against Adolf Hitler and announced, to a chorus of cheers and boos, that he would vote for Clinton to block Trump.
When Stein's turn came to respond, she started hesitantly. "I don't pretend to be a historian or a political philosopher," she said. "I am just a mother on fire." She launched into a stemwinder on the urgency of averting climate catastrophe; the similarities between Sarah Palin's "drill, baby, drill" motto and President Barack Obama's policies; Clinton's and Trump's record unpopularity; and the massive number of voters who'd benefit from her student loan debt-relief plan. She declared: "We don't have to split the vote. We can flip the vote." The room erupted in cheers, and she got a standing ovation.
Before it's here, it's on the Bloomberg Terminal.
LEARN MORE