business
Russian Maverick Prays for Trump Win to Cement New Global Order
By and
Zhirinovsky, anti-American firebrand, senses kindred soul

Calls Clinton 'dangerous' choice after marital humiliation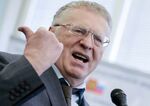 For two and a half decades, Vladimir Zhirinovsky's extravagant message of xenophobia and nationalism has kept him at the pinnacle of Russian politics. With the rise of Donald Trump, he sees a chance to take that ideology global.
"Everyone would benefit if there was a Washington-Moscow axis," said Zhirinovsky in an interview in his spacious 10th-floor office in the Russian State Duma, the lower house of parliament. "The world will be a more peaceful place."
Vladimir Putin has been careful not to express any preference in the U.S. presidential race, limiting himself to welcoming Trump's pledge to improve ties. But Zhirinovsky, leader of Russia's Liberal Democratic party who befriended Iraq's Saddam Hussein and Libyan dictator Muammar Qaddafi, doesn't mince his words in praising the Republican nominee.
"I found it easy to talk to him," Zhirinovsky said, recalling a 2002 meeting with Trump in New York. "He's doing everything right." Zhirinovsky foreshadowed one of Trump's signature proposals, a wall on the border with Mexico, with his own call in 2013 to cut off the North Caucasus, a restive mainly Muslim region, from the rest of Russia with barbed wire.
For a Quicktake explainer on Trump's ties to Russia, click here.
While the firebrand politician is known for his outlandish statements -- he's called for Russia to retake Alaska from the U.S. by force and said the former Soviet Baltic states will inevitably be occupied or destroyed -- Zhirinovsky at times is a convenient mouthpiece for the Kremlin, says Evgeny Minchenko, head of the International Institute for Political Expertise in Moscow. The Liberal Democratic party is the third-largest bloc in the lower chamber, and regularly votes in line with the government's wishes. National polls put its support at about 10-15 percent.
Clinton 'Dangerous'
"Zhirinovsky is part and parcel of the political establishment but he can go further than the official line," Minchenko said. "Often some of the things he supports end up happening, like the annexation of Crimea, which was very much in line with his thinking."
Other Russian officials have been more cautious about Trump. Konstantin Kosachyov, the head of the Russian upper house of parliament's foreign affairs committee, said that while the Republican nominee offers the tantalizing prospect of better relations with Russia, he's also scarily unpredictable.
For Zhirinovsky, it's Clinton who represents the "dangerous" option. Putin accused her of fomenting unrest after parliamentary elections in 2011 sparked the biggest protests of his rule.
Any effort to challenge Russia in Syria, including by establishing no-fly zones that some U.S. officials have called for, could lead to a standoff between the nuclear-armed powers like during the 1962 Cuban Missile Crisis, Zhirinovsky warned.
'Path to War'
"We have a submarine that can destroy Washington with a single strike. When do we press the button?" he said from his office, which is just across the street from Red Square. "This is a path to war, there won't be one but it'll be on the verge of erupting."
As Zhirinovsky tells it, his brief meeting with Trump at one of the tycoon's New York towers, arranged by a Russian diplomat at the United Nations during a visit by the party leader, was a meeting of minds. The next month, Zhirinovsky was filmed in a foul-mouthed outburst against President George W. Bush on a visit to Baghdad vowing that Iraq would become his grave.
"He already then made a good impression on me -- his common sense, without fanaticism, fatalism or radicalism," Zhirinovsky said of Trump.
Hope Hicks, a spokeswoman for Trump's campaign, didn't immediately respond to a e-mailed request for comment.
The U.S. politician's proposals, such as for a ban on Muslims entering the U.S. and building a wall on the Mexican border, make perfect sense, according to the Russian ultra-nationalist. "Donald Trump has the total right to fence America off," he said. "There already are far too many immigrants in the U.S."
Shared Views
On the issue of gender, the two men, both aged 70, share traditional views that have drawn accusations of misogyny.
Zhirinovsky, who was threatened with criminal charges in 2014 for ordering an aide to rape a pregnant reporter in an angry rant, dismissed Clinton as a revengeful woman desperate to get payback for her humiliation over Bill Clinton's affair with Monica Lewinsky.
"She's consumed by hatred and anger and it will definitely burst through ," he said. "The elections will end and she'll start to take steps that will cause a lot of harm to the U.S."
A Trump presidency would mean victory over the U.S. political establishment that's inciting aggression against Russia to justify military spending, according to Zhirinovsky.
But he denied accusations by the Clinton camp that Russia hacked Democratic Party servers and then leaked emails in a bid to help Trump win.
With Trump at the helm, Russia could strike a deal to hand over fugitive former security contractor Edward Snowden, who received asylum after leaking U.S. secrets, and the overthrow of Syrian President Bashar al-Assad, in return for a free hand in Ukraine, the Liberal Democratic leader claimed.
Zhirinovsky, who said he plans to run for president again in 2018, despite having lost in all his previous attempts over the last 25 years, has even grander dreams if he ever came to power.
"Trump and I could impose order on the whole planet," he said. "Everyone would shut up. There wouldn't be any extremists, no Islamic State, and white Europeans could feel at ease as we'd send all the immigrants home."
Before it's here, it's on the Bloomberg Terminal.
LEARN MORE