London Deploys More Armed Police Officers to Counter Terrorism
By
First of 600 new firearms officers hit the capital's streets

David Cameron announced extra funding while prime minister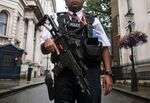 Britain is deploying extra armed officers to the streets of London, in an effort to reassure people concerned about terrorism following attacks in France.
The previous prime minister, David Cameron, announced funding in April for an extra 1,000 firearms officers nationwide, including 600 in London. On Wednesday, as part of what the Metropolitan Police called Operation Hercules, the first of them began patrolling.
"Anyone who's been following events in Europe over the past few weeks will understand why we want to show our determination to protect the public," Metropolitan Police Commissioner Bernard Hogan-Howe said in a statement. "We are deadly serious about the protection that we are offering the people of London and we will never be complacent."
Britain's police force is largely unarmed -- out of 120,000 officers, just under 6,000 could carry weapons before the current recruitment drive. That's made possible by tight rules on gun ownership. There are only about 30 deaths due to gun crime each year, compared to more than 8,000 murders involving firearms in the U.S. in 2013, according to the FBI.
The expansion of armed police is taking place alongside military contingency plans for as many as 10,000 troops to be deployed in response to an attack.
Before it's here, it's on the Bloomberg Terminal.
LEARN MORE