High Court Blocks Transgender Student From Using Boys' Bathroom
By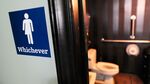 The U.S. Supreme Court temporarily blocked an order that would let a transgender student use the boys' bathrooms during his senior year at a Virginia high school.
The justices granted a request from the Gloucester County school board, which said the lower court order would have caused "severe disruption" when school started in September and likely prompted parents to transfer their children to other institutions. The district said boys' restrooms were reserved for students who were "biological" males.
The Supreme Court action marks the first time the justices have intervened in the simmering debate over the rights of transgender individuals. The shorthanded court voted 5-3, with Justice Stephen Breyer saying he joined the majority as a "courtesy" to four of his colleagues. The order lasts until the justices decide whether to take up the school district's appeal.
G.G., as the 17-year-old is known in court papers, was born with female sexual organs. He's undergoing hormone therapy, has legally changed his name, and has a state identification card identifying him as male. He says he always uses boys' restrooms elsewhere.
A divided federal appeals court ruled that the school must let G.G. use the boys' restrooms at Gloucester High School. The 2-1 panel rejected the board's contention that it had gone far enough by installing three single-user bathrooms.
The school board said the appeals court improperly deferred to the Obama administration, which last year said federal regulations require that transgender students be allowed to use bathrooms that correspond with their gender identity.
The case is Gloucester School Board v. G.G., 16A52.
Before it's here, it's on the Bloomberg Terminal.
LEARN MORE