Obama Backs Trade Deal Despite Clinton, Trump Opposition
By
The president reaffirmed support for Trans-Pacific Partnership

Hillary Clinton has been pushed to oppose the 12-nation deal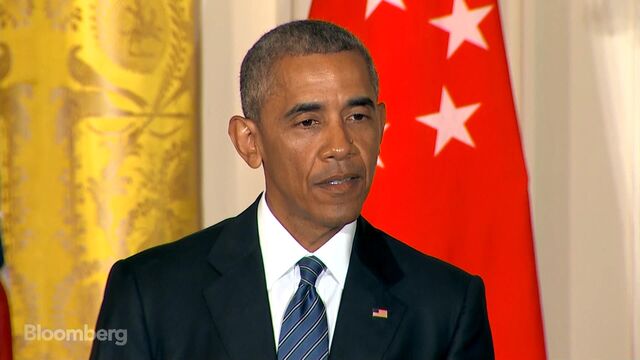 President Barack Obama reaffirmed his support for the Trans-Pacific Partnership, the controversial 12-nation trade deal, and said that he believes he has "the better argument" than the pact's foes, including Democratic presidential nominee Hillary Clinton.
The agreement has become a flash point in the 2016 election, and Obama acknowledged that globalization and technology have increased anxiety among some Americans. But the president said that abandoning trade deals is not the solution.
"The answer cannot be to back away from trade and the global economy," he said at a news conference at the White House following a meeting with Singapore Prime Minister Lee Hsien Loong. "It is here to stay. It is not possible to cut ourselves off. To try to pull up the drawbridge on trade would only hurt ourselves and our workers."
Both Republican presidential nominee Donald Trump and Democratic presidential nominee Hillary Clinton have said they would not support the agreement, which has drawn the furor of blue-collar workers and activists in both parties.
"Right now I'm president, and I'm for it," Obama said. "I think I've got the better argument."
New Rules
The World Bank says the deal, which would be the biggest U.S. trade agreement since the 1994 North American Free Trade Agreement, could raise gross domestic product by an average 1.1 percent in member countries by 2030. The pact goes beyond typical trade agreements that focus mostly on reducing tariffs by highlighting stricter safeguards for patents and leveling the playing field for companies that compete with government-backed businesses.
Obama said the deal would also create enforceable labor and environmental rules, enabling countries party to the agreement to better police undesirable activities such as human trafficking, wildlife poaching, illegal fishing, child labor and deforestation.
"It gives us leverage to promote things that progressives and people here in this country, including labor unions, say they care about," Obama said. "I have not yet heard anybody make an argument that the existing trading rules are better for issues like labor rights and environmental rights than they would be if we got TPP passed."
Clinton's Role
Clinton helped negotiate the deal as Obama's secretary of State but was forced to disavow the completed agreement under pressure from her primary opponent, Vermont Senator Bernie Sanders, an opponent of the pact. Sanders earned broad applause during his Democratic convention speech last week when he said Democrats should seek to block any effort to bring up the deal during Congress's so-called lame duck session after the election.
"I've got some very close friends, people I admire a lot, but I just disagree with them," Obama said. "That's OK. I respect the arguments they're making. They come from a sincere concern about the position of workers and wages in this country."
Republican lawmakers have shown little appetite for holding a vote on the deal, which Trump routinely belittles on the campaign trail as bad for American workers. Last month, Senate Majority Leader Mitch McConnell appraised the odds for the deal this year as "pretty slim."
American Credibility
Obama said he knew the politics of the deal were difficult, but remained optimistic that he could make his case after the election. He offered to meet with lawmakers from both parties to make his case for joining the agreement.
"Hopefully after the election is over and the dust settles, there will be more attention" to the actual facts of the deal, Obama said.
Lee said that while he was wary of wading into domestic politics, the U.S. has "put your reputation on the line" with TPP.
"Your partners, your friends who have come to the table and negotiated, each one of them has overcome some domestic political objection, some costs to come to the table to make this deal," Lee said.
The Singaporean leader said U.S. ties with Japan could be particularly damaged if the treaty isn't ratified. Japanese Prime Minister Shinzo Abe's backing of the TPP has strained his support among Japanese farmers opposed to the deal.
"If at the end, waiting at the altar the bride doesn't arrive, I think there are going to be people who are going to be very hurt not just emotionally but damaged for a long time to come," Lee said.
— With assistance by Toluse Olorunnipa, and David Roman
Before it's here, it's on the Bloomberg Terminal.
LEARN MORE