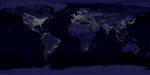 Hovering above the earth are orbiting cameras, clicking pictures of the planet's surface. Each image contain layers and layers of information. Economists have recently started mining these images for clues that can help create a quicker, more extensive, up-to-date database of global poverty that can supplement door-to-door surveys.
In a new paper, researchers Samuel Wills, Brock Smith, and Thomas McGregor at Oxford University in London present a fresh twist to this technology-driven approach: they illuminate rural poverty by isolating areas where people live in darkness at night.
It makes sense: light is a basic human need, and people tend to use it more as they become richer. The amount of light emitted from a certain region can be an indicator of the level of economic growth and infrastructure investment there. Plus, light generated through electricity is easy, fast, and relatively cheap to detect via satellite imagery.
But in the realm of poverty, everything is not illuminated; Areas of nighttime darkness hold a lot of hidden information. "Looking for poverty in light is like looking for lost keys under a street lamp," Wills tells CityLab. "It's better to focus on darkness."
In order to do that, Wills and his colleagues combined two high-resolution datasets: one that documented the light emitted from the planet between 1992 and 2013, and the other the global population distribution between the years 2000 and 2013. They found that, by and large, people who resided in unlit areas around the world were extremely poor.
Of course, nighttime darkness is not a perfect economic measure by any means. The researchers write:  
People living in darkness is an admittedly crude proxy for poverty. It only captures rural poverty and tells us nothing about urban poverty rates. It only considers one component of a household's consumption bundle, light, and ignores the many other unmet needs that characterise poverty. It will also pick up different levels of poverty around the world, as the provision of light depends on how effectively central governments provide electricity grids.
Even so, in countries with large swathes of un-urbanized land, it turns out nighttime darkness can identify rural poverty levels to a high degree of accuracy. In the Democratic Republic of Congo, Tanzania, Colombia, the Dominican Republic, and Tajikistan, for example, this method correctly detected more than 80 percent of households above or below the poverty line, compared to 600,000 household surveys. The overall accuracy rate for the countries analyzed was as high as 83 percent.
McGregor, who co-authored the paper, created the maps below, which show the lit (in yellow) and unlit areas (in red) in some of these countries. The deeper the red, the higher the number of people per square kilometer (0.4 square mile) living in darkness, and by extension, likely in extreme poverty.
Bolivia (84 percent accuracy)

Democratic Republic of Congo (90 percent accuracy)

Rwanda (77 percent accuracy)

Tajikistan (86 percent accuracy)

Sierra Leone (84 percent accuracy)

Tanzania (74 percent accuracy)

These maps offer a new way for development agencies and relief groups to target their anti-poverty efforts. They also help gauge the rural-urban divide in consumption of resources such as oil. Via the paper:
We find that high oil prices and new discoveries stimulate economic activity (proxied by lights) in countries with oil relative to those without. However, this new activity is restricted to towns and cities. Both types of oil boom have no effect on the rural poor. There is no evidence that oil booms cause unlit rural areas to become illuminated, or people to leave unlit areas for towns and cities.