Jeff Bewkes Thinks Cable's Future Is Fine
Time Warner's CEO sees more growth—despite Amazon and Netflix.
By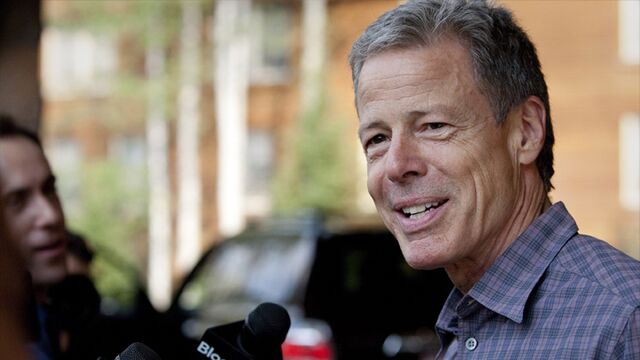 The following is an edited transcript of a July 11 interview with Jeff Bewkes, chief executive officer of Time Warner Inc., the media giant that owns cable channels including CNN, HBO, and TNT and the Warner Bros. studio.
 
What's the biggest threat to the pay-TV ecosystem right now?
There's a question of whether programming is being devalued. What is the economic sustainability of something that uses a lot of bandwidth and doesn't pay for it and that runs a lot of expensive programming and essentially doesn't have a profit? Think of Amazon or Netflix. The usual reason companies are funded or valued on the stock market for not having a current profit is because the investors believe there will be a future profit. That means they believe the market leadership position is going to turn into something that is unassailable enough—in other words, that does not have enough effective competition—that it can either cut costs or drive revenue and make a profit. There's a word for that, but I leave it to you to say what it is.
 
Overhyped?
Monopoly. If you're running on a valuation that assumes essentially dominant market share, is that a good thing for consumers? Is it a good thing for public policy? And is it a good thing for the diversity and quality of content that's currently being produced?
 
How has the success of Netflix changed the strategy at HBO?
I think the question is: How has the strategy of HBO created the strategy of Netflix? HBO is the original subscription video-on-demand company. We were repurposing first-run movies, and then we added original programming. We had a colleague in the industry, [Netflix Chief Executive Officer] Reed Hastings, who decided to do the same thing and put it over broadband. Since they're on broadband, they can do it according to net neutrality without paying for the usage. And because broadband allows for two-way interactivity, you can get data on what people are watching and start a conversation. If you watched this, you might like that. That's a great innovation. That's exactly the kind of thing where you could take not just Netflix but all of Silicon Valley and harness those abilities to do global, at scale, distribution. That's a tremendous boon to an industry producing more and more programming. If you don't have a way to search and have recommendations based on other things you've watched, you couldn't figure out what the hell to look at, because there's too much! I think it's going to reinvigorate the television industry.
 
You have more than 1 million subscribers for HBO's online-only service, HBO Now. Is that progressing as you expected?
It's going exactly as we expected. There are about 12 million broadband-only households—people who don't have cable bundles. That number will grow. And we will probably end up in half of them. That's a pool of 5, 6, 7, 8 million over the next few years. But that's not where the big volume is. The big volume is in the 100 million pay-TV subscribers. Seventy million out of that 100 million don't have HBO. That's a big group of people. If you look, the HBO penetration in some of our affiliates like Charter, Comcast, Cablevision is literally twice what it is in the less-penetrated affiliates like Time Warner Cable and Dish. What that indicates is more about those distributors than about the people living in those places. You're looking at 10 or 15 million natural pay-TV HBO subscribers in that group. So whether they get HBO using HBO Now, or whether they get it by signing up [through a pay-TV service], doesn't matter to us. We're looking at 45 million subscribers going up to 50, 60, 70 million.
 
HBO has canceled nine series in the past two years. Recently, Vinyl was canceled after one season. Is HBO having difficulty launching new dramas?
We just had a show last night which was the opposite of difficult, The Night Of. That one seems as though it's going to be a big success. It's got the biggest critical acclaim since Game of Thrones. We obviously did have trouble with Vinyl in the sense it had good edge and quality to it, but it didn't really find the kind of audience we wanted. I don't mean we care about how big the audience is, because we don't sell ads, so it doesn't really matter. But that was a big-budget show that we thought would appeal to a wide variety of ages and quadrants, and it didn't really get to the level we all hoped it would.
 
People think of TNT and TBS as channels that air a lot of reruns of shows like Law and Order and Big Bang Theory. Now both are investing in more original programming. What will it take to change that perception?
I think it's happened already. TBS has four new shows we just renewed: [Full Frontal With] Samantha Bee, Angie Tribeca, The Detour, and Wrecked. TNT just renewed Animal Kingdom, which came out with about 7 million viewers [across all TNT platforms] and is growing week over week.
 
Is it harder for new shows to break through with more than 400 scripted series on the air?
It's actually easier, because there's more consumer expectation that this stuff is out there, and with social and search, they can find it. All of us are thinking about the 10 shows I should watch and haven't watched yet. There's more of that, but it doesn't mean it's harder to create a sense of value that "I want an HBO in my house, because I want those shows" or "I want TNT in my house, because there's three shows I want to watch."
 
What do you think the cable-TV bundle will look like in the next decade?
There will still be the cable bundle we know now, which is the full monty with hundreds of channels, live news, sports, niche, etc. You'll see for that big bundle and for the more focused bundles—whether it's what interests you have or what price point you want to pay—you're going to see the core channels represented across all of them, and you're going to see full video on-demand and very good search recommendation and navigation engines, so consumers know what the programming is and where to find it.
 
The cost of sports rights keeps going up. Do you see that continuing?
The cost of sports rights will continue to increase. The question is whether they increase at the same rate. They were increasing 15 to 20 percent in the last eight or nine years. Football has been the mainstay. That's where a lot of the money is, and it mostly goes to the four big broadcast networks. The one that's growing fastest globally and in the U.S. and in the young demographic is basketball, which is why we picked the championship pieces of the NBA and NCAA. Those were serious investments, but our affiliate revenue growth in relation to those sports costs is very positive, so it's an increasing margin.
 
It's been reported that Apple executive Eddy Cue floated the idea of buying Time Warner. What was your reaction when you heard that?
That particular one is more about the efforts of the technology companies, Apple included, who we've been trying to help because we want this better user interface, and what they should do and how would they get involved. That's more about that than M&A. I don't think M&A was serious.
 
People speculate that Time Warner could be sold because you've slimmed it down and it's one of the few media companies that's not under family control. Are you interested in selling?
It's not up to me. The obligation of every ethical management is to make sure we optimize the long-term value of the company. We're growing the company. We've grown the company at 25 percent a year in earnings for the last eight years. That's a lot higher growth than the S&P. We're essentially outperforming every other media company with the exception of CBS. When people talk about potential suitors showing up, that's because there's not a Sumner Redstone or Rupert Murdoch or [Comcast CEO] Brian Roberts who own the blocking shares. That's why they talk about it. It's not because there's a performance issue. If somebody offers something to our shareholders that's better than our earnings track, obviously we would try to consider what's best for our shareholders. We're a pretty big company. It's expensive. I don't anticipate being interrupted.
 
What would you be doing if you weren't CEO of Time Warner?
I'd be on the foredeck on somebody's sailboat, trying to trim the jib. Or I'd be failing to get my rhythm guitar gig in a band. Or you know what I would do? I would basically be the roadie for Jimmy [Dolan, Cablevision's CEO, who sings in a band called JD & the Straight Shot]. You can print that. And if Jimmy wants a roadie, I'm ready.



Before it's here, it's on the Bloomberg Terminal.
LEARN MORE