Trump Calls Clinton the 'Devil,' Says Election 'Rigged' in Her Favor
The Republican presidential nominee casts doubt on the outcome of the November elections.
By and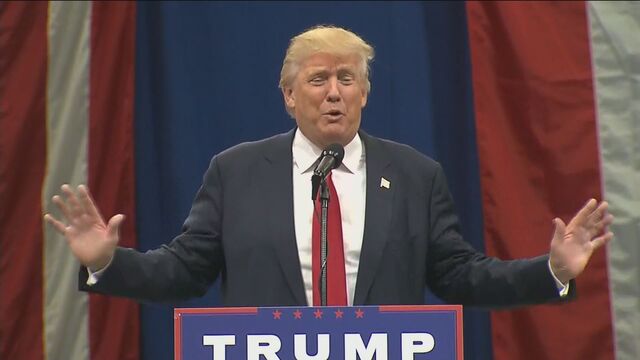 Republican presidential nominee Donald Trump's rhetoric on the campaign trail grew even darker Monday after a poll showed him trailing Democratic rival Hillary Clinton. 
Criticizing Vermont Senator Bernie Sanders' endorsement of Clinton, Trump pulled no punches.
"He made a deal with the devil. She's the devil," Trump said of Clinton at a rally in Mechanicsburg, Pennsylvania. 
Trump, who has come under withering criticism for his attacks on the family of slain Army Captain Humayun Khan, also fired political adviser Ed Brookover on Monday. Brookover, who helped with planning for the Republican national convention last month, confirmed his termination and declined to comment further. 
A CNN poll released Monday showed Clinton with a 52 percent to 43 percent lead over Trump in an head-to-head matchup taken after the Republican and Democratic conventions. Hours after the latest poll numbers were released, Trump told a crowd in Columbus, Ohio, that he worries the general election in November will be "rigged" against him, launching a fresh attack on the legitimacy of a U.S. system his candidacy is premised on upending.
"I'm afraid the election's gonna be rigged, I have to be honest," Trump said.
The remark came after Trump complained about the upcoming presidential debate schedule. 
"As usual, Hillary & the Dems are trying to rig the debates so 2 are up against major NFL games. Same as last time w/ Bernie. Unacceptable!" the candidate wrote on Twitter on Friday.
The debate schedule is set by the nonpartisan Commission on Presidential Debates, which said in a statement that it "did not consult with any political parties or campaigns" when setting the dates. 
Trump has repeatedly asserted that the Democratic primary was "rigged" against Sanders, a perception the Vermont senator fed for months before he endorsed Clinton on July 12.
Trump riled up his base during the Republican primary by complaining regularly about a "rigged" system as his foes plotted ways to stop him at the convention even while he led the field in popular votes and delegates. He further escalated his criticisms in late April when his last two rivals, Ted Cruz and John Kasich, cut a deal aimed at starving Trump of delegates.
Trump's remarks have capitalized on a belief among conservatives that voter fraud is a rampant problem, even though studies find it to be extremely rare—31 credible cases have been identified out of 1 billion ballots cast from 2000-2014, according to one study.
The comments also play on a long-running theme that has fueled Trump's unlikely candidacy: a growing distrust in U.S. institutions. A Gallup survey in June found that Americans' confidence was eroding in institutions spanning the presidency, the Supreme Court, Congress, television news, big business, and organized labor.
What Trump critics saw was an attempt to lay the groundwork to delegitimize the result of the election if he loses. It wouldn't be the first time for him: after President Barack Obama won re-election in 2012, Trump took to Twitter to blast the result as "a total sham and a travesty."
(
Corrects city in third paragraph.
)
Before it's here, it's on the Bloomberg Terminal.
LEARN MORE