Mark Cuban Calls Trump 'Jagoff' as He Makes Debut for Clinton
By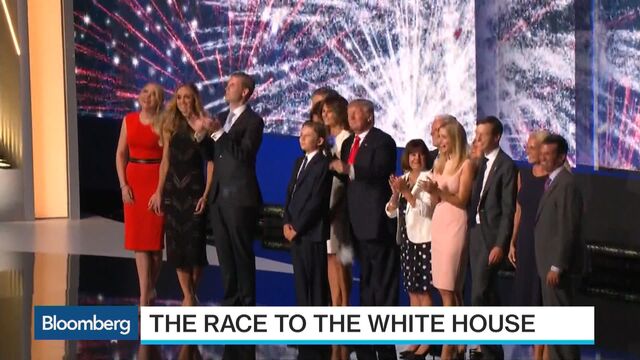 Billionaire investor Mark Cuban made his debut Saturday as a Hillary Clinton surrogate, calling Republican Donald Trump a "jagoff" and greeting him sarcastically in Russian before declaring, "I'm here to endorse Hillary Clinton!"
"Leadership is not yelling and screaming and intimidating," said Cuban, the owner of the NBA's Dallas Mavericks and "Shark Tank" star, addressing a raucous crowd at a Clinton rally in his native Pittsburgh. There's a word people from Pittsburgh use for those who behave that way, he said: "Jagoff." Cuban was  dressed in jeans and a T-shirt with a picture of Batman and the words "I got this."
"Is there any bigger jagoff in the world than Donald Trump?" Cuban asked as the crowd roared. Clinton reacted with delight, hugging Cuban on stage. Former President Bill Clinton saluted in Cuban's direction after his remarks, then crossed the stage to shake his hand.
Cuban's first appearance on Clinton's behalf came after ongoing conversations with the campaign, though earlier this year he suggested he might back Trump if Clinton chose Senator Elizabeth Warren as a running mate, and said he would be open to serving as a running mate to either Clinton or Trump. Plans for Saturdays's appearance came together after a telephone call from Cuban to campaign chairman John Podesta on Thursday, before Clinton formally accepted her party's nomination, saying he was ready.
New Weapon
As Clinton rolls through Pennsylvania and Ohio on a three-day bus tour, Cuban gave her a new weapon against Trump –- a high-profile business executive with a celebrity appeal and an attack-dog style who can refute Trump's claims about his own business prowess or Clinton's failings, and defend Clinton's approach to the economy.
Cuban said jobs "won't be creating by terrifiying people. No, Donald Trump." He said jobs would be created by inspiring people as he believes Clinton could. "I'm here to endorse Hillary Clinton."
"In Hillary Clinton's America, the American dream is alive and well," Cuban said.
Cuban said ABC's "Shark Tank," the reality show in which entrepreneurs pitch their business concepts to investors including Cuban, had "kicked The Apprentice's ass," gloating over how the show overtook Trump's former reality-TV show.
In a nod to the controversy over Trump's recent comments suggesting encouragement toward Russian hacking of Clinton's emails, Cuban also said he wanted to say something to Trump, then put on his best accent and declared, "Zdravstvuyte!" Cuban explained: "That's hello in Russian."
Before it's here, it's on the Bloomberg Terminal.
LEARN MORE