Backlash Grows Over Trump's Comments on Dead Muslim Soldier's Parents
Democrat Hillary Clinton says it's unacceptable to "scapegoat" on the basis of religion or ethnicity.
By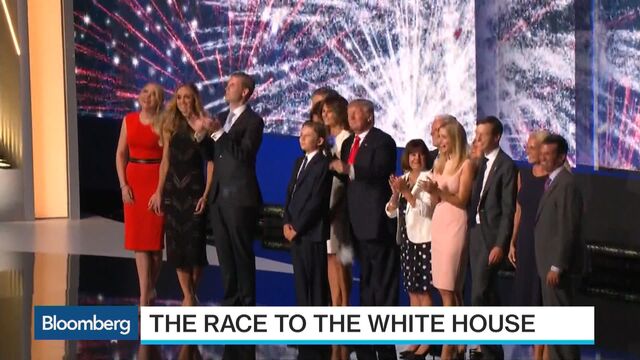 Donald Trump resumed his war of words with the parents of a fallen Muslim-American soldier, writing on Twitter that by questioning whether the soldier's mother was "allowed" to speak at the Democratic National Committee because of her Muslim faith, he was making an understandable response to having been "viciously attacked" during her husband's speech.
Campaigning in Cleveland, Democratic presidential nominee Hillary Clinton seized on her Republican opponent's weekend of troubles to ram home a point about him.
"I do tremble before those who would scapegoat other Americans, who would insult people because of their religion, their ethnicity, their disability," Clinton said Sunday at the Imani Temple Ministries, a predominantly black church.
On Saturday, Clinton said that "somebody who attacks everybody has something missing."
Trump, who often doubles down, rather than backs down, on controversial statements, had already scrambled during an interview with ABC's This Week to respond to the widely hailed speech on Thursday by Khizr Khan about his son, Army Captain Humayun Khan, who was killed while serving in Iraq in 2004.  
Trump said that he had indeed "sacrificed" for the U.S. by employing "thousands and thousands of people." Trump had also suggested Khan's wife, Ghazala, kept quiet beside her husband as he spoke about their slain son because as a Muslim she was forbidden to speak.
Ghazala Khan responded in the Washington Post Sunday, writing that Trump "doesn't know what the word sacrifice means," and explained why she remained silent on the DNC stage in Philadelphia. 
"My husband asked me if I wanted to speak, but I told him I could not," Khan wrote, adding that she can't be in rooms with pictures of her son and had to have relatives clean out his closet after he died. "Every day I feel the pain of his loss." 
"I was viciously attacked by Mr. Khan at the Democratic Convention. Am I not allowed to respond? Hillary voted for the Iraq War, not me!" Trump tweeted on Sunday. His reference to his own experiences spawned a trending Twitter handle on Saturday, #TrumpSacrifies. 
Khizr Khan, a Charlottesville, Virginia, resident who immigrated from Pakistan and holds an advanced law degree from Harvard, said Sunday on NBC's Meet the Press that his wife had edited the speech, imploring "patriotic Americans" that may vote for Trump to reconsider in light of his "hatred" and "fear-mongering." Khan also denied, on CNN's State of the Union, Trump's suggestion that Clinton's campaign wrote the speech.
"This person is total incapable of empathy," he said on CNN. "He is a black soul, and this is totally unfit for the leadership of this beautiful country."
Trump's interview with ABC prompted swift condemnation from Republicans as well as the Clinton campaign. 
"If you're going to be leader of the free world, you have to be able to accept criticism, and Mr. Trump can't," said South Carolina Senator Lindsey Graham, who has been a leading critic of Trump since dropping his own presidential bid in December. "The problem is, 'unacceptable' doesn't even begin to describe it," Graham said, according to the New York Times.
"There's only one way to talk about Gold Star parents: with honor and respect," Ohio Governor John Kasich, another Republican, wrote on Twitter. "Captain Khan is a hero. Together, we should pray for his family."
House Speaker Paul Ryan and Senator Majority Leader Mitch McConnell issued statements in defense of the Khan and his family, while not mentioning Trump. Captain Khan's "sacrifice—and that of Khizr and Ghazaka Khan—should always be honored. Period," said Ryan, who also said he would "reject" a religious test for those entering the U.S.
Trump in December said he wanted to ban Muslims from entering the U.S. He has since suggested that an immigration ban would apply to unspecified countries compromised by terrorism.  
The longer-term fallout from Trump's comments is debatable, given his pattern of making contentious remarks, although Republican strategist Stuart Stevens, a top aide to Mitt Romney in the 2012 presidential election, said insulting a Gold Star family is a bridge too far.  
"To defend Trump attacking the Khans is to be cloaked in shame. It's a Joe McCarthy moment & you're failing. Have you no sense of decency?" Stevens said on Twitter.   
After the fury erupted over his initial response to the Khans, Trump issued a statement late Saturday that, while he felt "deeply for the loss of his son, Mr. Khan who has never met me, has no right to stand in front of millions of people and claim I have never read the Constitution (which is false), and say many other inaccurate things."
"Captain Khan, killed 12 years ago, was a hero, but this is about RADICAL ISLAMIC TERROR and the weakness of our 'leaders' to eradicate it!" Trump wrote on Twitter Sunday morning.
Paul Manafort, Trump's campaign chairman, also weighed in, telling the CBS program Face the Nation that "Mr. Trump certainly feels sorry for what the Khan family has gone through."
"The issue that Mr. Trump is talking about, and really frankly is what I expect the media should be talking about, is protecting the homeland from national security risks and terrorism," he said.
—With assistance from Margaret Talev in Ohio and Anna Edney in Washington. 
Before it's here, it's on the Bloomberg Terminal.
LEARN MORE