Drinks
The Kentucky Maid Is an Easy Cocktail That'll Make You Look Like a Pro
Our 12 Cocktails of Summer Series continues with an easy Southern sipper invented by a Milk & Honey legend.
By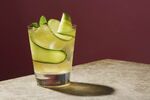 The Kentucky Maid sounds like the name of a classic Southern cocktail meant for sipping in the cool of a lazy summer evening. But the drink, a bourbon-based lowball made with mint and cucumber, was actually invented by Sam Ross at Milk & Honey—the little Lower East Side speakeasy that presaged the modern cocktail renaissance back in the mid-2000s.
Structurally, the drink follows the classic sour formula (spirit, citrus, sugar), making it a descendant of classics such as the Eastside (gin, lime, mint, simple syrup). But the Kentucky Maid steps out of tradition by pairing lime juice with bourbon instead of its usual dancing partner, lemon, and introducing not just mint but cucumber as well.
"On paper, it's one of the simplest drinks," said Alexander Day, cofounder and partner at hospitality consultancy firm Proprietors LLC, who used to tend bar at Milk & Honey, among other top New York watering holes. "It's the execution that makes it magical. You slap your head after you have it for the first time and you're, like, duh—why didn't I think of that?"
In concert, the ingredients produce a beverage that is seemingly supercharged with flavor. The simple syrup and lime provide a strong backbone that allows the golden sweetness of the bourbon to mingle with the mint's menthol chill and the garden-freshness of the cucumber, with no single ingredient overshadowing another.
Ingredients:
2 oz. Elijah Craig 12 Year bourbon
1 oz. lime juice
.75 oz. simple syrup
3 cucumber wheels
6 mint leaves
Drop mint leaves into bottom of shaker, add cucumber on top, and muddle, taking care not to grind or pulverize the mint (which releases chlorophyll and a bitter flavor). Add rest of ingredients, fill shaker with ice, and shake hard till chilled. Strain or double-strain over fresh ice (preferably one large block) in a rocks glass and garnish with a cucumber wheel that has a mint sprig pinned through the middle, allowing both elements to be smelled together.
Before it's here, it's on the Bloomberg Terminal.
LEARN MORE