Europe's Bank Stress Tests are Missing One Crucial Element
Stress tests for European banks may be overlooking the damage caused to lenders by negative yields.
by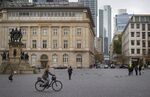 Even before the results of European bank stress tests are announced tonight, Jim Reid thinks regulators might have missed something.
The Deutsche Bank AG credit strategist says negative bond yields — a scourge for lenders and investors alike — appear to have been overlooked. That could be quite an omission since sub-zero yields are a product of the negative interest rates that have been proving so troublesome for Europe's banks.
One of the criticisms, before they've even released the results, is that one of the key stresses is what would happen under rising-yield scenarios. It doesn't seem to us that any scenario for prolonged negative yields are being modeled. Most banks would be delighted to see rising yields at the moment!! 
The growing pile of negative-yielding debt — which is expanding by the day, as the European Central Bank gobbles up assets to boost inflation — is painful for investors and also takes a heavy toll on a Europe's weak financial sector. That's especially true for those lenders with large holdings of government debt.
Meanwhile, negative interest rates are more broadly a drag on bank profits. Net interest income, the difference between what lenders charge customers to borrow and what they pay for their funding, takes a hit when rates are below zero.

For a sense of just how much lenders dislike negative rates, take a look at the Japanese stock market — banks were the best performers in the country's benchmark Topix index on Friday after the Bank of Japan refrained from expanding its negative rates. For most of the year the bank shares have been among the worst performers after the introduction of negative rates undermined their profitability.
In Europe, results of the stress tests, which were coordinated by the European Banking Authority, will be released at 10 p.m. Frankfurt time and will cover 51 banks. Unlike previous tests, there is no pass or fail, but the results should help investors form an opinion of where stresses are appearing.
Yet while negative rates are a burden on banks that looks set to persist, investors and analysts will likely be more focused on other issues in the stress-test results — namely non-performing loans in Italy (read Banca Monte dei Paschi di Siena SpA) and derivatives exposures in Germany (read Deutsche Bank AG).
Before it's here, it's on the Bloomberg Terminal.
LEARN MORE