Role Reversal
Democrats Emphasize American Exceptionalism at Convention, Blurring Party Lines
At the two parties' political conventions, traditional themes and optics were upended, thanks in part to Donald Trump.
By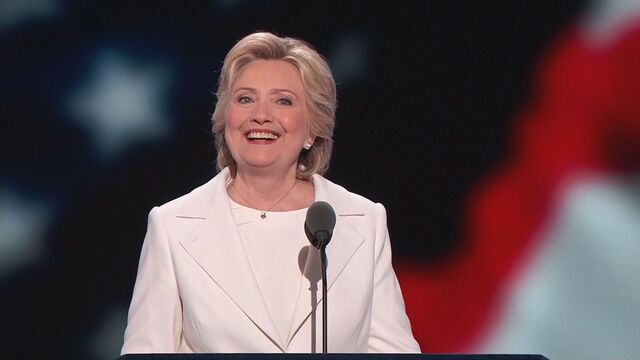 The 2016 conventions transcended the usual left-right battle lines, scrambling themes that have traditionally separated the two parties.
Even as Democrat Hillary Clinton accepted her party's nomination by articulating a progressive platform, speaker after speaker at her convention emphasized self-determination and American exceptionalism over ideological distinctions.
The Philadelphia convention included themes more closely associated with Republican gatherings, including references to GOP icon Ronald Reagan and his vision of  the U.S. as "a shining city on a hill,'' reverential tributes to fallen soldiers and victims of the Sept. 11, 2001 terrorist attacks, and quotations from the Declaration of Independence and the Constitution.
It was a stark contrast with the dark picture of America in decline presented by Donald Trump at his convention last week in Cleveland, and it gave some Republicans whiplash.
National Review editor Rich Lowry captured the conservative anguish after President Barack Obama's speech Wednesday.
Neera Tanden, the president of the liberal Center For American Progress and a Clinton surrogate, responded to Lowry that those themes were "never yours."
"I disagree with the President on so much policy and his agenda, but appreciate the hope and optimism in this speech," conservative radio host Erick Erickson wrote on Twitter. "I started the evening saying for the first time I thought Trump could win. Then Obama spoke. I'm so angry at my own party right now."
Obama characterized 2016 as a referendum on American values, rather than Democratic versus Republican ideology.
"This is not your typical election. It's not just a choice between parties or policies—the usual debates between left and right," Obama said. "This is a more fundamental choice about who we are as a people, and whether we stay true to this great American experiment in self-government."
It was a tribute to American exceptionalism, a term that is often misunderstood to imply superiority but refers to the unique history of the U.S. as a country founded on a set of ideals. The moment carried a deep symbolism with the nation's first black president passing the torch to the would-be first woman president.
The dismay over the scrambled political identities was found on the left as well as the  right. Though policy distinctions were articulated throughout the convention on matters such as raising taxes on the wealthy and gun control, supporters of Democratic runner-up Bernie Sanders, who ran a staunchly liberal campaign, were upset that Trump gave Democrats an opening to place less of an emphasis on ideology.
"It's very disconcerting to me," said Derrick Nowlin, a Sanders delegate from Missouri. "We need to have these talks. And I'm sorry, the conservatives already have their party. Why don't the progressives and liberals get to have their own party?"
Strongman Comparisons
Instead, with Trump, Democrats are characterizing the contest as a battle between democratic pluralism and authoritarianism.
Trump's convention speech last Thursday in Cleveland portrayed an America slipping into economic decline, its stature in the world fading as it was ravaged by terrorism and crime, in need of a strong leader to restore "law and order" and right the ship. "Nobody knows the system better than me," he said, "which is why I alone can fix it."
Obama alluded to that remark as he ripped into Trump as a "self-declared savior promising that he alone can restore order as long as we do things his way."
"We don't look to be ruled," the president said.
The strongman comparisons arose from Trump's boastful rhetoric as well as his constitutionally questionable policy proposals, such as setting up a database of U.S. Muslims, torturing suspected terrorists, rounding up 11 million undocumented immigrants with a deportation force, and loosening libel laws to make it easier to sue reporters.
Vice President Joe Biden called Trump "a man who embraces the tactics of our enemies—torture, religious intolerance. You all know—all the Republicans know that's not who we are. It betrays our values."
By comparison, in 2012, Obama and his surrogates emphasized ideological disagreements with Republican nominee Mitt Romney—on protecting Obamacare and the Dodd-Frank financial regulatory law, raising taxes on the wealthy, opposing the privatization of Social Security or Medicare and combating climate change.
"When Governor Romney and his friends in Congress tell us we can somehow lower our deficits by spending trillions more on new tax breaks for the wealthy, well—what'd Bill Clinton call it? You do the arithmetic," the president said four years ago.
'It Is Unique'
Political scientists are struggling to come up with a historical analogue to a presidential nominee being so widely likened to a tyrant by the opposing party. Richard Nixon was described as an authoritarian after the Watergate scandal; Obama's use of executive authority has drawn some similar labels by critics on the right. But the blowback for Trump—spanning a slew of prominent Republicans as well as Democrats—is likely a first.
"It is unique. I can't think of any election in the post-World War II era where we've seen this issue raised to this degree by either party—portraying the other party's nominee as a threat to democracy," said Alan Abramowitz, a political science professor at Emory University. "Certainly having Donald Trump as the opposing candidate changes your strategy, because he's hard to pin down ideologically."
Indeed, part of Clinton's strategic calculation, her allies say, is that Trump is unusually slippery on policy details, no stranger to sharp reversals on major issues or to contradicting himself in short periods of time. While the Clinton campaign has gone after Trump on policy issues, her supporters believe he is particularly vulnerable on temperament issues as polls show Americans trust Clinton more to handle crises.
"He's all over the place. All over the place," said Kelly Maer, a Clinton delegate from New Jersey. "It's very unusual."
"Nobody should be shocked that anyone is describing Donald Trump as a demagogue. He is a demagogue," Connecticut Governor Dannel Malloy, a Democrat, said in an interview. "I think he's a threat to democracy as we've known it in modern times."
In her Thursday night speech capping the convention, Clinton took aim at Trump.
"Americans don't say, 'I alone can fix it.' We say, 'We'll fix it together.' Remember," she said, "our founders fought a revolution and wrote a Constitution so America would never be a nation where one person had all the power."
Before it's here, it's on the Bloomberg Terminal.
LEARN MORE