Clinton Ticket Heads to Rust Belt to Battle Trump on Trade
Trump is targeting supporters of Bernie Sanders while Democrats vow to push back against their opponent as a trade hypocrite.
By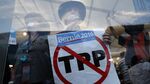 Hillary Clinton and Tim Kaine started their first post-convention trip together Friday, which will take them to western Pennsylvania and Ohio, prime turf in their battle to test Donald Trump's belief that working-class voters and Bernie Sanders supporters will turn to him because of his trade policy. 
Although Sanders delegates and party leaders from those states attending the Democratic National Convention in Philadelphia this week don't say there are a significant number of voters who will defect to the Republican, they're wary that those who blame trade deals for the loss of jobs or stagnant wages will look to the billionaire or another alternative to nominee Clinton.
"I'd be dishonest if I said that I wasn't worried about that," said Robert Hagan, an Ohio Sanders delegate from Youngstown, a city devastated by the loss of steel jobs. "I'm worried about people jumping ship."
Trump is targeting working-class voters in Midwestern states by emphasizing his opposition to trade deals such as the North American Free Trade Agreement and Trans-Pacific Partnership and promising to bring manufacturing jobs back to the U.S.
Trump is making direct appeals to Sanders backers, saying in his July 21 nomination acceptance speech at the Republican National Convention in Cleveland that they "'will join our movement because we will fix his biggest single issue: trade deals that strip our country of its jobs and strip us of our wealth as a country."
Signs of the importance of the issue to Sanders delegates were evident during the Democratic convention, including how hard they fought to get language opposing the Trans-Pacific Partnership in the party's platform and the anti-TPP placards they waved inside the Wells Fargo Center.
The Progressive Change Campaign Committee also responded to Clinton's selection of Kaine as her running mate by noting that the Virginia senator voted to approve Trade Promotion Authority for the president to get swift votes on deals such as TPP. The pick means Republicans "now have a new opening to attack Democrats on this economic populist issue," the group said in a release.
Most supporters of Sanders aren't likely to back Trump because they are motivated by many more issues than just trade and will vote for Clinton, said Sanders delegate Dan Ramos of Lorain, a state representative from an area hit hard by the loss of manufacturing jobs.
"We're for fair trade, he just seems to be for fervent nationalism," Ramos said. "Those are two very different things."
Ninety percent of registered voters who are Democratic and Democratic-leaning who consistently supported Sanders in the primary back Clinton in the general election against Trump, according to the Pew Research Center.
Still, Democratic leaders acknowledge the power of the issue for blue-collar voters and others unhappy about the economy. Those voters helped Trump easily win the Republican primary in Pennsylvania and carry manufacturing-heavy and Appalachian counties in Ohio, even with home-state Governor John Kasich's victory there.
During the past decade, Ohio has lost 115,400 manufacturing jobs, the third-most in the U.S. during that time, according to U.S. Bureau of Labor Statistics data. Pennsylvania has lost 103,900, which is the fifth most, data show.
"If you've lost your job or if you're under-employed and someone tells you, 'Trade did it and it's because America was weak,' it touches your buttons," said Ed Rendell, a former Pennsylvania governor and chairman of the Democratic National Committee. "It can be an effective message for him."
Pennsylvania has voted Democratic in the past six presidential elections, and Ohio backed President Barack Obama twice. A Suffolk University poll of likely general-election voters in Pennsylvania released on Thursday showed Clinton leading Trump 50 percent to 41 percent, with 8 percent undecided and Sanders emerging as the most-popular political figure in the state. In Ohio, Clinton and Trump were tied at 41 percent in a Quinnipiac University Poll released on July 13.
Even if Sanders supporters or other Democrats wary of Clinton's stance on trade don't vote for Trump, enough could opt not to vote or support an alternative such as Green Party candidate Jill Stein to sway close races in Pennsylvania and Ohio, Rendell said.
Dwayne Heisler, 52, a Sanders supporter from Bloomsburg, Pennsylvania, said he owns a collection agency and sees first-hand the anger and frustration of voters who blame their situation on international trade in the way Trump does, rather than as the result of globalization or advancing technology.
"He's been able to make that connection," Heisler said. "He's a great salesman, and it's a convincing argument."
Heisler backs Clinton but said he's not as optimistic as others about Democrats' ability to carry the state because of the number of Trump bumper stickers, yard signs, full-size cutouts, and banners he sees in central Pennsylvania. Typically, a Democrat wins the state with a large vote advantage in Philadelphia and its suburbs and in Pittsburgh and the southwestern area to overcome the vote for Republicans in the central and northern areas.
The Democratic Party has been "deaf" on trade and needs to come out and kill TPP to show its commitment to the issue, said Cindy Purvis, a 64-year-old office manager and Sanders delegate from Erie, Pennsylvania.
"Unless they do that, I don't see them going to Trump, but I certainly don't see them voting for Hillary," Purvis said.
Both Clinton and Kaine have said they oppose TPP, though some Democrats still harbor doubts. If Democrats don't make their opposition clear, opponents of the trade deal may keep people from actively working to get Democrats elected, said Larry Cohen, a senior adviser to the Sanders campaign and former president of the Communication Workers of America union.
"It'll keep people at home instead of campaigning," Cohen said. "It's a do-or-die issue for working people in this country."
Cohen said comments such as those from Virginia Governor Terry McAuliffe, who said that Clinton would seek to fix parts of the deal after winning the general election, aren't helpful. McAuliffe later reversed himself, and the campaign has said it's not interested in renegotiating.
Unions that endorsed Clinton will be working to tell their members that while Trump talks about the loss of jobs and companies moving to Mexico or overseas, he has clothing and other products made outside the U.S., said Richard Trumka, a president of the AFL-CIO and a Pennsylvania native.
"He's a fraud on trade," Trumka said in an interview, noting that Trump has supported trade deals in the past. "He looked at the trade issue and saw how powerful it was, and he flipped over."
Clinton also will make the case to voters that she will oppose unfair trade deals and will do something about jobs and wages, campaign chairman John Podesta said.
During their stops in Pennsylvania and Ohio this weekend, Clinton and Kaine will emphasize an agenda that includes seeking "the largest investment in jobs since World War II" in her first 100 days in office in infrastructure, research, and technology and other efforts, the campaign said.
"We'll have a vigorous debate about this, but I think this is a kind of phony, faux populism that he's brought to this campaign," Podesta said.
Ted Strickland, a former Ohio governor and now a candidate for the U.S. Senate, said trade is "the biggest deal" in Ohio and can be a problem for Democrats if they don't push back against Trump.
"But there will be push back, and people will be informed," Strickland said.
—With assistance from Arit John.
Before it's here, it's on the Bloomberg Terminal.
LEARN MORE