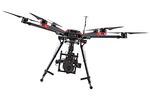 When you see a hobbyist drone hovering above a park or a party, it probably came from SZ DJI Technology, better known as DJI. The 10-year-old Chinese company is the world's largest maker of the little photo- and video-shooting copters, with about half the U.S. market, according to drone consultant Colin Snow, chief executive officer of Skylogic Research. DJI's models are cheap, easy to use, and reliable for civilians, says Snow, so "they definitely dominate."
In its 10 years, DJI has gained its share of notoriety, too. The drone that crash-landed on the White House lawn last year was a DJI, as was the one that buzzed the Japanese prime minister's office a few months later. So, as the Federal Aviation Administration prepares to ease restrictions on commercial unmanned aircraft weighing less than 55 pounds—the new rules take effect in August—DJI is working hard to fend off a fresh wave of Chinese competitors and convince corporate customers that its designs are the ones they should try.
Among the new rules: Drone operators will be able to apply for waivers to fly at night, over populated areas, or beyond line-of-sight. Also, operators will only need to pass a written aeronautics test; no pilot's license required. "What the change really does is lower the barrier to entry and allow businesses to experiment with drones," says Brendan Schulman, DJI's vice president for policy and legal affairs. "You don't need to spend weeks in flight school and thousands of dollars to get a license."
Skylogic's Snow estimates that the $1.1 billion U.S. drone market will reach $3 billion by 2018. Already there's more competition for DJI, which prices its models from $340 to $6,500. Chinese manufacturers have begun pitching rival machines that have the features of a high-end DJI drone and the prices of a low-end model, says Hendrik Bödecker, founder and chief financial officer of researcher Drone Industry Insights. "There will be a lot of pressure on prices," Bödecker says. In May, Chinese smartphone maker Xiaomi began selling a line of drones for as little as 2,500 yuan ($375).
To keep rivals at bay and push into new markets, DJI is trying to offer more features. In January, a subsidiary of German aviation group Deutsche Lufthansa signed a deal with DJI to develop apps for operations such as drone-based inspections of electricity lines and wind-power systems. "DJI has already figured out they need to go upscale," says Snow. "They are going to continue to [ramp] up their technology, add more onboard processing to do better tracking and object avoidance."
Partnerships with iOS and Android software developers are a major part of that, says Darren Liccardo, DJI's vice president for engineering systems. The Chinese company has teamed up with San Francisco app maker DroneDeploy to create flight-plan tools for its copters. The DroneDeploy app lets users draw a rough flight plan on their phones with their finger and prompts for adjustments if the plans require more than the drones' remaining battery power. Jono Millin, DroneDeploy's chief product officer and co-founder, says he likes DJI's focus on simplicity. "Everything they did was to try to make it somewhat bulletproof and idiot-proof," says Millin.
DJI is also working with FLIR Systems, an Oregon maker of thermalimaging cameras, to add that kind of equipment to its drones. Such systems may help DJI's pitch to agriculture and construction companies. One of the drone maker's higher-end models, the Matrice 600, can carry 13 pounds of specialized equipment for such jobs as surveying. The jumbo models are designed "for people to bolt their own stuff to them," says Liccardo. "For a lot of users, just carrying the standard camera is not enough."
The bottom line: As the $1.1 billion U.S. drone market grows, DJI is readying its models for a wider range of business uses.
Before it's here, it's on the Bloomberg Terminal.
LEARN MORE