Musk's Reading List Reflects His Own Battle 'Against the Gods'
Tesla's CEO just recommended a remarkable book. Now it's hard to find a copy.
By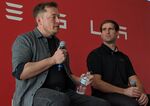 What kind of book do you read when you're trying to overturn two of the world's most entrenched industries and it feels like everyone is hating on you? I asked Elon Musk, and his response couldn't be more perfect.