markets
Deutsche Bank: Not Even Fiscal Stimulus Will Save Global Growth
The fiscal policy we need is not the fiscal policy we're likely to get.
By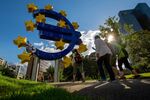 While monetary policy may be at — or beyond — the limits of its usefulness in stoking global growth, economists at Deutsche Bank AG say fiscal stimulus is unlikely to be much more effective. At least, not the kind that is politically possible. 
The fight against sluggish growth rates and low inflation has seen central banks from Europe to Japan buy up swaths of the bond market, and experiment with negative interest rates. Yet with growth still stubbornly slow, these efforts are seen either as ineffective or counterproductive, spurring calls for more active fiscal policy, whether it take the form of tax cuts or 'helicopter money' transfers to the private sector.
Just this past weekend, finance ministers from the Group of Twenty meeting in China gave strong backing to this view. "Monetary policy alone cannot lead to balanced growth," they said. "Fiscal strategies are equally important to support our common growth objectives."
Those comments could signal a "new direction for fiscal policy," according to Deutsche Bank economists led by Peter Hooper. Yet while they welcomed the potential dethroning of monetary policy as "the principal lever of support," the economists expect that the boost to global growth from the most probable fiscal packages "is likely to be modest."
Europe is in greatest need of fiscal stimulus — even though the European Central Bank has been gobbling up bonds since 2014, and has cut its deposit rate to minus 0.4 percent — and it's also where fiscal stimulus would be most effective, according to the Deutsche Bank economists.
At the same time, it's also the region facing the greatest political impediments to new measures:
"The current juncture is an opportune time to engage in more fiscal expansion, especially in economies that are operating at less than full capacity, where interest rates are at extreme lows and central banks are unlikely to raise rates in response to fiscally-induced increases in growth. These are conditions that tend to maximize the fiscal multipliers or the responsiveness of the economy to fiscal measures. Among major advanced economies, these conditions are present most visibly in the euro area, less so in Japan, and even less so in the U.S., which is nearing full employment with a Fed that has begun to tighten policy already. Unfortunately, political and structural constraints limit the scope for fiscal action more than might be desired."
TD Securities Inc.'s Mark McCormick agrees. He says looking at the deviation of the unemployment rate from its trend — as a proxy for the so-called output gap — shows that excess labor market slack persists in most countries, despite years of ultra-loose monetary policy. The euro area is one region where it will take longer to return to trend, and thus would benefit more from fiscal easing.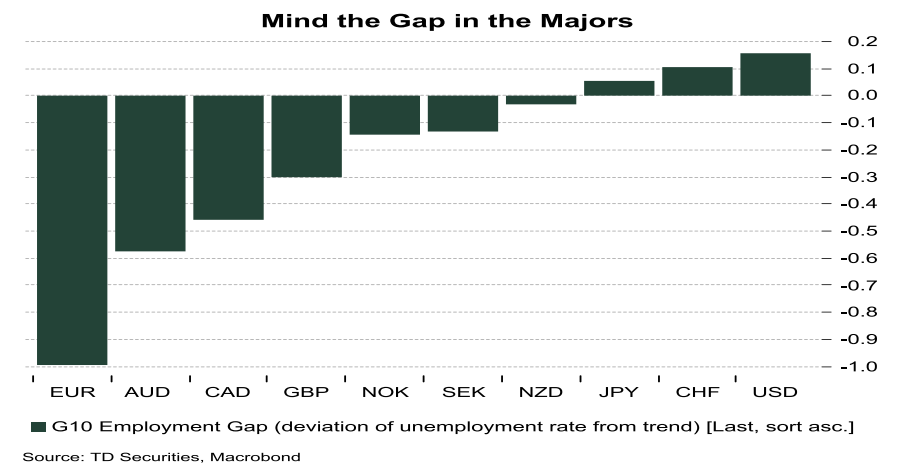 Yet while the bloc would benefit from a fiscal boost, it's also a very long shot. Fiscal easing in the euro area would require coherent policy, which is not just absent but — in the face of debates over sovereignty like those which claimed a victory in the U.K. referendum — perhaps an ever-more distant prospect. Fiscal stimulus may be possible, but it's not very probable. 
Before it's here, it's on the Bloomberg Terminal.
LEARN MORE