Trump Says He Hopes Russia Finds Dirt on Clinton in Her E-Mail
In a strikingly unusual appeal, the Republican calls for Russia to hack his opponent's e-mail for messages she deleted.
By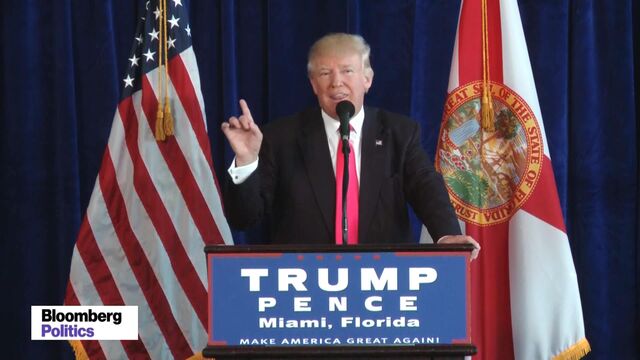 Donald Trump said Wednesday he has "never met" Russian President Vladimir Putin, has "nothing to do with Russia," and isn't convinced that Russia was responsible for the Democratic National Committee hack.
In a strikingly unusual appeal from a major party's presidential nominee, the Republican called for Russia to hack his opponent's e-mail for messages she deleted that she said were personal, hoping to find evidence to back up his moniker for her, "Crooked Hillary."
"Russia, if you're listening, I hope you're able to find the 30,000 e-mails that are missing," Trump told reporters at Trump National Doral Miami.
QuickTake Q&A: The Trump-Putin Bond That May or May Not Be Real
Later, a reporter asked if he was really calling for a foreign power to launch a cyberattack on the Democratic presidential nominee.
"It gives me no pause. If they have them, they have them," he said. What gives him pause, he said, is "Clinton getting rid of 30,000 e-mails."
Clinton adviser Jake Sullivan said in a statement that Trump's remarks were unprecedented and had "gone from being a matter of curiosity, and a matter of politics, to being a national security issue."
Mixed Messages
Trump held the news conference to push back on suggestions that he has ties to Russia, which experts suspect of hacking the e-mail system of the Democratic National Committee. But as the news conference ended, his campaign decided to release a separate statement from his running mate that drew a clearer line with Russia.
"The FBI will get to the bottom of who is behind the hacking," Indiana Governor Mike Pence said. "If it is Russia and they are interfering in our elections, I can assure you both parties and the United States government will ensure there are serious consequences."
House Speaker Paul Ryan, who delayed endorsing Trump after the billionaire clinched the nomination, also issued stern words from his office. "Russia is a global menace led by a devious thug. Putin should stay out of this election," Ryan spokesman Brendan Buck said in an e-mail.
Less than an hour after his news conference ended, Trump returned to the topic online. "If Russia or any other country or person has Hillary Clinton's 33,000 illegally deleted emails, perhaps they should share them with the FBI!" Trump tweeted.
FBI Director James Comey said July 5 his agency was not recommending any charges after its investigation into Clinton's private e-mail use while she was President Barack Obama's secretary of state. Comey said Clinton and her aides demonstrated extreme carelessness with their practices, and Clinton has said it was a mistake. She turned over thousands of messages to the government that she said were related to her work, and deleted those she said were personal.
During the Republican National Convention last week in Cleveland, the crowd chanted "lock her up!" and some speakers reinforced the call. While many Republicans opposed to Clinton's candidacy rallied around the message, it prompted others to worry about whether they were offering voters a sufficiently positive governing agenda.
E-Mail 'Disgrace'
The release of those e-mails by WikiLeaks led to the ouster of the party's chairwoman this week, just before the opening of Hillary Clinton's nominating convention.
"It's probably not Russia," Trump said at the news conference. He said experts also suspect China or "it might be a hacker, some guy with a 200 IQ that can't get up in the morning."
Trump said he would treat Putin "firmly," and would push for a "friendly" relationship so that U.S. and Russia could fight Islamic State together.
"I'm not going to tell Putin what to do," Trump said. The Russian president "mentioned the N-word one time," Trump said as he discussed how the Russian leader disrespected Obama, the first African-American elected to the White House. "I was shocked."
Trump's claim that he "never met" Putin appeared to contradict one he made earlier in the campaign. 
"I got to know him very well because we were both on '60 Minutes,' we were stablemates, and we did very well that night," Trump said during a Republican debate on Nov. 10. Trump was interviewed in New York for that episode while Putin was interviewed in Russia.
More important that who hacked the DNC, Trump said, is the content of the party staffers' messages. The e-mails included a discussion about possibly prompting reporters to question the Jewish candidate Bernie Sanders' belief in God -- a "disgrace," Trump said, as he accused Clinton of knowing about what the committee was doing.
Minimum Wage
On the domestic-policy front, Trump said the federal minimum wage should rise to at least $10 per hour. While it might put states with a more expensive cost of living at a disadvantage, such as New York, "people have to be taken care of." His goal, he said, would be to "bring jobs back" so that the minimum wage becomes "peanuts compared to what people can make in the country." He accused Sanders of lying about his position on the issue.
On the Trans-Pacific Partnership trade deal, Trump said Clinton is lying when she says she opposes it. "The day she gets in, which hopefully will never happen, she will approve, or shortly thereafter, TPP," he said.
On Tuesday, Virginia Governor Terry McAuliffe told Politico that Clinton would back an edited version of the deal. He later walked the comment back as Clinton aides rushed to say he was wrong.
On Trump's proposed immigration ban, which he initially described last year as applying to all Muslims in an effort to curb terrorism, Trump said he'd soon be releasing a list of territories from which immigration to the U.S. would be restricted if he is elected.
He appeared to mistake the state where Clinton's running mate, Tim Kaine, was once governor. "Her running mate, Tim Kaine, who by the way did a terrible job in New Jersey --" Trump said before correcting himself to Virginia.
-- With assistance from Steven Dennis.
Before it's here, it's on the Bloomberg Terminal.
LEARN MORE