Obama, Biden Toss Barbs at Trump and Say Clinton Is Only Choice
By and
Party heavyweights draw contrast between Clinton, Trump

Virginia Senator Kaine nominated as Clinton's running mate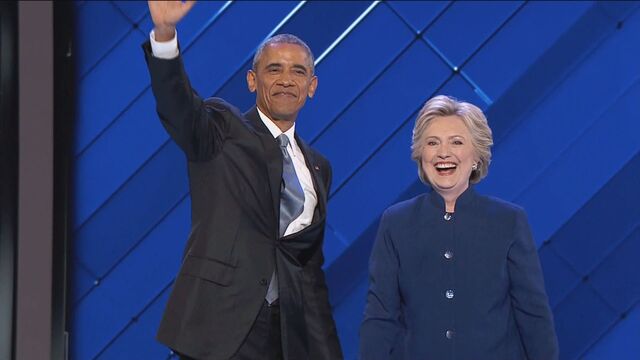 President Barack Obama made his most forceful case yet for Hillary Clinton's presidential bid in Philadelphia on Wednesday, extolling the former secretary of state's career of public service while declaring Republican presidential nominee Donald Trump as unfit for the presidency.
"America is already great," Obama said, referencing Trump's campaign motto. "America is already strong. And I promise you, our strength, our greatness, does not depend on Donald Trump."

The president described Clinton as "fit" and "ready to be the next commander in chief," saying she is more prepared than any predecessor to occupy the Oval Office.
"There has never been a man or a woman, not me, not Bill, nobody, more qualified than Hillary Clinton to serve as president of the United States of America," Obama said as former President Bill Clinton looked on from his box. After he concluded his speech wrapping up the third night of the Democratic convention, Hillary Clinton joined Obama on stage to loud applause and the two departed with their arms around one another.
Along with his fulsome endorsement of Clinton, Obama offered a series of barbs for her opponent, departing from his usual practice and mentioning him by name a half-dozen times.
"Donald Trump calls our military a disaster," he said. "He cozies up to Putin, praises Saddam Hussein."
The president's speech followed a lengthy list of speakers who engaged in an hours-long take-down of Trump. Vice President Joe Biden mocked Trump's signature phrase from his reality television show to criticize him as having unbounded cynicism and lacking empathy and compassion.
"How can there be pleasure in saying, 'You're fired?"' said Biden, 73. "He's trying to tell us he cares about the middle class? Give me a break, that's a bunch of malarkey."
'Bully Racist'
While criticism of Trump was mostly implied during the first two days of the convention, most of Wednesday night's speakers didn't hold back from explicit attacks on the Republican nominee.
Senate Democratic leader Harry Reid, 76, blasted him as "a hateful con man." Retired Admiral John Hutson called Trump "a walking, talking recruiting poster for terrorists." Former Maryland Governor Martin O'Malley called him a "bully racist." In his first prime-time speech as a vice presidential candidate, Virginia Senator Tim Kaine called Trump a "slick-talking, empty-promising, self-promoting one-man wrecking crew."
The convention dispensed with one piece of business early in the evening by nominating Kaine for vice president by acclamation.
Leon Panetta, a 78-year-old former congressman, CIA director and defense secretary, was among those who seized on Trump's remarks earlier in the day, in which he suggested that Russia hunt for e-mails deleted from Clinton's private server and expose them.
"Think about that for a moment," Panetta said, "Donald Trump, who wants to the president of the United States, is asking one of our adversaries to engage in hacking or intelligence efforts against the United States of America to affect our election."
Trump's campaign released a statement accusing Panetta of excusing "Clinton's enablement of foreign espionage with her illegal e-mail scheme and her corrupt decision to then destroy those emails and dissemble [sic] her 'private' server to hide her crimes from the public and authorities."
The Democratic party's heavyweights sought to project unity at the convention, where a raucous opening day of protests by supporters of Vermont Senator Bernie Sanders on Monday gave way to a more orderly nomination for Clinton on Tuesday. Some of that was still in evidence Wednesday night when chants of "no more war" broke out in the Washington state delegation during Panetta's remarks and then spread to pockets across the arena in Philadelphia.
Biden appeared to take zeal in attacking Trump, drawing the convention crowd to its feet and garnering loud applause for his punchiest lines.
"No major party nominee in the history of this nation has ever known less or has been less prepared to deal with our national security," Biden said. "We cannot elect a man who exploits our fears."
'Dangerous Demagogue'
Former New York Mayor Michael Bloomberg said that while Clinton isn't a flawless candidate, voters need to select her over Trump, whom he called a "dangerous demagogue," for the good of the country.
Bloomberg, who considered running for president himself, said Trump's failings as a businessman and proposals as a candidate would damage the economy, threaten retirement savings, increase debt and unemployment, erode U.S. power and make communities less safe.
"I'm a New Yorker, and I know a con when I see one," Bloomberg said. "The bottom line is: Trump is a risky, reckless and radical choice. And we can't afford to make that choice."
Bloomberg, 74, is the founder and majority owner of Bloomberg LP, the parent company of Bloomberg News. He was elected mayor as a Republican in 2001 and 2005, and to a third term as an independent.
Trump Appeal
Trump provided Democrats with some fresh material for a discussion of national security matters. He made a strikingly unusual statement earlier Wednesday that Russian hackers should look for e-mails sent when Clinton was secretary of state that were deleted from her private server. He raised the idea in connection with a separate issue, the theft of Democratic National Committee e-mails by suspected Russian hackers, which has roiled the Democratic Party.
"Russia, if you're listening, I hope you're able to find the 30,000 e-mails that are missing," he said during a news conference at his golf club in Florida.
Clinton adviser Jake Sullivan called Trump's remarks unprecedented and said his statements have "gone from being a matter of curiosity, and a matter of politics, to being a national security issue."
At the news conference, Trump faced questions about his possible links to Russia. His suggestion -- essentially asking for Russia's espionage help to damage his political rival -- played into plans by Democrats to portray him as someone who would be a dangerous leader, willing to upend decades of U.S. foreign policy. Trump also said that if elected "we'll be looking at" whether to recognize Crimea as part of Russia.
Obama's Legacy
Obama's speech, delivered to a crowd in the convention hall that was nothing less than adoring, was both an urgent call to elect Clinton as his successor and a defense of his legacy. The recounting of the country's climb out of a recession and his optimistic vision of the future were an explicit and pointed contrast to the message that Republicans delivered in Cleveland last week.
"What we heard in Cleveland last week wasn't particularly Republican – and it sure wasn't conservative," Obama said. "What we heard was a deeply pessimistic vision of a country where we turn against each other, and turn away from the rest of the world. There were no serious solutions to pressing problems – just the fanning of resentment, and blame, and anger, and hate."
Obama's speech served as a bookend to Bill Clinton's speech to the convention on Tuesday night. The former president sought to draw a personal portrait of his wife, while Obama focused on her role as a public servant. As a few other speakers did, Obama acknowledged Clinton's shortcomings as a candidate.
Echoing a point made by Bill Clinton, Obama said that she's been "caricatured by the right and by some folks on the left."
"She knows she's made mistakes, just like I have; just like we all do," Obama said. "That's what happens when we try."
He faced an audience that still has reservations about Clinton, whose name drew boos and jeers on Monday from supporters of Bernie Sanders.
E-mail Scandal
Although much of the rancor subsided after Sanders gave Clinton an unequivocal endorsement, some die-hard supporters of the Vermont senator continued to vent their frustration on the convention's third day.
Some Sanders supporters remained outraged at the release of more than 20,000 stolen Democratic National Committee emails last week that showed some party staff members were biased against Sanders in the primary campaign.
The release of the e-mails on the website WikiLeaks has become a flash point between Clinton and Trump. Some delegates at the Democratic convention worried the debate could push the most strident Sanders supporters to stay at home in the November election, handing it to the Republican.
"There were some people here who were starting to go through their 12 steps toward accepting Hillary Clinton as our nominee," Brent Oleson, a Sanders delegate from Cedar Rapids Iowa, said in an interview. "This just ripped the Band Aid off and gave some people who were looking for an excuse or a reason not to support Hillary Clinton."
— With assistance by Jennifer Jacobs, Terrence Dopp, and Angela Greiling Keane
Before it's here, it's on the Bloomberg Terminal.
LEARN MORE