Kaine's Convention Moment Comes Amid Doubts on Free-Trade Stance
By and
Like Clinton, VP nominee only recently came out against TPP

Virginian has said he's 'really passionate' about free trade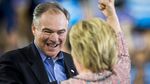 Democratic vice presidential nominee Tim Kaine will introduce himself Wednesday night to a national audience that may be skeptical about his sudden conversion on trade, an issue that has roiled the party's convention this week.
Like Hillary Clinton, Kaine is a long-time backer of free-trade deals who has come out against the Trans-Pacific Partnership only recently. But the issue is fraught for Democrats, who have watched as Donald Trump has made his opposition to TPP and other trade deals a centerpiece of his efforts to court disaffected Democrats and independents who have seen stagnant wages for decades.
For now, most elected Democrats, even those strongly opposed to TPP, are rallying around Kaine, a Democratic senator from Virginia and former governor.
But Kaine, who once said that opponents of deals like the North American Free Trade Agreement have a "loser's mentality," will face what has been at times a raucous crowd in Philadelphia. Protesting delegates have kept up chants of "No TPP! No TPP!" because the party platform committee declined to oppose the trade deal in deference to President Barack Obama, who signed the deal.
Their anger might be fueled by remarks from Kaine's fellow Virginia Democrat, Governor Terry McAuliffe, who told Politico Tuesday that Clinton would likely tweak the deal and sign it after the election.
McAuliffe later reversed himself as the Clinton campaign went into quick damage control mode. "She is against it before the election and after the election," Clinton campaign chairman John Podesta told reporters Wednesday. "She is not interested in renegotiating the TPP."
McAuliffe's gaffe couldn't have come at a worse time for Kaine, whose team let it be known over the weekend that he now opposes the TPP, after talking positively about much of it for months.
And Trump, who attacked Clinton's TPP stance in a press conference Wednesday, made sure to note Kaine's reversal. "Her vice president is one of the biggest proponents of TPP and now he's going against it," he told reporters.
'True to His Word'
Even so, anti-TPP Hill Democrats said they were satisfied by Kaine's conversion.
"I believe Kaine is true to his word," said Representative Rosa DeLauro of Connecticut, a leading TPP foe in the House. Still, she added, "I always believe that those of us who serve will be making sure those promises are kept."
Democratic Senator Sherrod Brown of Ohio, perhaps the fiercest foe of free-trade deals in the Senate and one of Kaine's best friends, also vouched for him.
"We've talked trade a long time. He will be there on this, he will be solid," Brown told reporters in Philadelphia.
Sander Levin of Michigan, the top Democrat on the House Ways and Means Committee, also said he trusts Kaine, and that voters should understand he is among those who are "broadening their lens as to how they see trade."
"I think what this is all about is he comes from a state that's very, very trade dependent, very export dependent," he said. "And what's been happening is we've had this battle for a long time -- that no matter how dependent you are on exports, you have to have a concern about imports."
TPP Protesters
Whether that sentiment takes hold among the disaffected Democrats who have repeatedly sought to disrupt the convention remains an open question.
A number of Bernie Sanders supporters walked out of the convention Tuesday and marched around, including through a media tent, to express their displeasure, in part over the TPP.
"This is a charade -- we call it a commercial -- because they shut your voices up, they shut you out," said Dinea Evans, 37, a delegate from Washington state who supported the Vermont senator's presidential bid.
She spoke as five other protesters sitting next to her remained silent with their mouths taped shut.
Lying in front of them was a sign displaying a red line through the initials "TPP."
"We fought for strong language that said we oppose TPP, and that strong opposition is not going to happen," she said, adding she worries TPP could advance in a Clinton-Kaine administration.
"It affects my children. It affects my friends. Because I have so many friends that don't have jobs," she said. "I come from the telecommunications industry. I work for Verizon and they are outsourcing jobs."
'Passionate' Kaine
Kaine detailed his strong support for trade deals during an interview with Bloomberg in 2007, when he was the governor of Virginia and an early Obama supporter.
"I'm going to get on my soapbox here for a few minutes because this is something I feel really passionate about," he said when asked about trade, detailing how Jamestown was settled not by geographic explorers but by venture capitalists seeking to expand trade.
"I don't think it's the right policy for the country and I know it's not the right policy for Virginia to be like all worried, and kind of having this attitude about globalism that they're trying to steal our lunch," Kaine said then. "We can be successful competitors. That isn't to say that we ought not to be concerned about trade treaties and fair application of patent laws and intellectual property."
"But I think we have to go into it with this attitude of, this is the world we live in and let's be aggressive and competent competitors rather than have a kind of a siege mentality," he added. "And that does put me at odds with a lot of Democrats."
He also said there are other good Democrats on trade and there are some Republicans "who are some real xenophobes."
While governor, he also sent a letter, seized on by Republicans this week, talking favorably about trade deals with Peru, Panama, Colombia and South Korea.
More recently, he was one of just 13 Senate Democrats last year to vote with Obama to pass Trade Promotion Authority, which gives the president fast-track, up-or-down votes on trade deals like the TPP without amendments.
Before it's here, it's on the Bloomberg Terminal.
LEARN MORE