markets
Abe's Unusual Stimulus Unveiling May Be Directed at the BOJ
By and
Government says total package to amount to about $265 billion

Pressure rising on Kuroda; Abe adviser makes expectation clear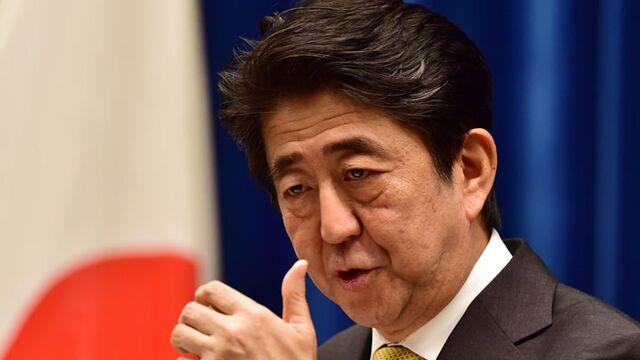 It wasn't your typical Japanese stimulus announcement.
As national broadcaster NHK aired live coverage of the West Tokyo high school baseball championship, Prime Minister Shinzo Abe was 900 kilometers away revealing plans for a 28 trillion yen ($265 billion) fiscal package.
The move caught observers offguard, as Abe's previous policy announcements have come in Tokyo, typically aired live on multiple television channels. He only mentioned the number after discussing subjects including agricultural development in front of his Fukuoka audience. And he left out the figure most economists are still looking for: net new spending for 2016. (The overall package includes things like longer-term loans.)
The timing was unexpected, as officials' indications earlier had been that a ruling-party meeting Friday would settle on the overall number. Abe confirmed the earlier time line for a cabinet meeting next week to approve the plan.
While the unusual setting offered limited exposure to the general public, the accelerated timeframe meant that Bank of Japan Governor Haruhiko Kuroda and his team will know the headline number for his fiscal program when they make their decision July 29.
"Abe's fiscal package announcement throws the ball into Kuroda's court," said Frederic Neumann, co-head of Asian economic research at HSBC Holdings Plc in Hong Kong. "The pressure is now on for the BOJ to deliver."
To read why the Abe stimulus isn't as big as it first appears, click here.
Another potential indication of government pressure came with a front-page story Wednesday in the Nikkei, Japan's top financial newspaper. 
It reported that BOJ officials were said to be leaning toward more easing, without specifying where the information was obtained. Unnamed government officials were cited opposing the BOJ going further into negative rates, and the Nikkei said stock purchases alone were seen as insufficient -- implying more purchases of the bonds that fund government spending.
Policy Combination
While "helicopter money," where the central bank directly funds the government, has been publicly rejected by Kuroda, stepped-up bond purchases twinned with fiscal stimulus could be the next-best thing. Speculation about strengthened monetary-fiscal cooperation has climbed since former Federal Reserve Chairman Ben S. Bernanke met with Kuroda and Abe earlier this month. He has long been an advocate of Japan's stimulus.
In a busy midday for currency traders, the yen tumbled when the Wall Street Journal reported that the government was considering a 50-year bond -- not quite the perpetual maturity that Bernanke suggested to an Abe adviser earlier this year, but longer than any current Japanese government bond. The yen then recouped losses when the Ministry of Finance made clear it opposed the idea.
Fiscal Failures
Lost in the market's focus on fiscal news has been perspective on the limited impact that past programs have had on Japan's economy. Special spending packages were repeatedly enacted in the 1990s, in initiatives that failed to stop a slide into deflation. Also, a headline figure as big as Abe's 28 trillion yen "would likely include spending that has already been announced, unfunded commitments and spending that will be spread out over a number of years," Yuki Masujima at Bloomberg Intelligence wrote in a note.

One of Abe's top advisers set a guide for expectations earlier this month.
"I will really want to know why if there is a decision not to do anything," said Etsuro Honda, the adviser whom Bernanke told of the idea about a perpetual bond. "Markets will react and the yen will probably strengthen" on BOJ inaction July 29, Honda said two weeks ago.
"Abe is definitely putting pressure on the BOJ," said Daiju Aoki, an economist at UBS Group AG. "The announcement of the economic package will make it even more difficult for the BOJ not to act at this meeting."
Capping Expectations
There might be another reason behind the apparently hasty Abe announcement Wednesday -- reports on the overall size of the package were increasingly escalating in recent weeks, so the government might have wanted to make its outline clear. What had begun as a 10 trillion yen plan in June local media reports had scaled up to 20 trillion by July. The Nikkei last week reported it could be as big as 30 trillion yen.
"The speculation got crazier and crazier," said Klaus Baader, chief Asia-Pacific economist at Societe Generale SA. "It was all getting a little bit out of hand."
The government wouldn't be alone in expecting BOJ action Friday. Thirty-two of 41 analysts forecast that the BOJ board will expand its record program this week, according to a Bloomberg survey conducted July 15-22. That is the highest percentage of respondents in any poll since Kuroda's his first decision more than three years ago.
To see what economists are forecasting, click here.
The risk is that the BOJ disappoints, said Neumann. "Most likely the Bank of Japan will deliver a 'a little bit of everything' on Friday, and not quite the bazooka many investors seem to be hoping for," he said.
Meantime, it's still unclear what net new spending the government plans for 2016 in its package, a figure that economists see as the more important number in terms of the potential impact on the economy. The government was discussing supplementary spending of about 3 trillion yen for the current fiscal year, two officials familiar with the talks said last week.
Absence of the 2016 figure might explain why Abe failed to score a home run with the yen, which never recovered its lows of the day after he spoke.
As for the West Tokyo baseball championship NHK was broadcasting instead of Abe, the game was won by Hachioji, in the 11th inning. 
— With assistance by James Mayger, and Isabel Reynolds
(
Adds context on past fiscal packages in 11th paragraph.
)
Before it's here, it's on the Bloomberg Terminal.
LEARN MORE