Sanders Outlines a Plan to Help Clinton, Fundraising Not Included
The senator says he intends to give his delegates the opportunity to vote for him Tuesday even as he urges them to back Clinton and defeat Trump.
By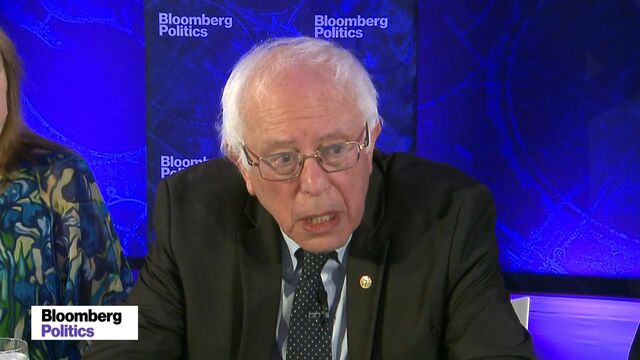 Bernie Sanders said Tuesday he was hopeful that, despite lingering emotions from the primary, his supporters would eventually "accept the reality" of Hillary Clinton as their nominee as the second day of the Democratic national convention began in Philadelphia. 
"Democracy is a little bit messy sometimes, especially for young people who work their hearts out," Sanders said at a Bloomberg Politics breakfast. "They worked against Hillary Clinton and now we're saying we want you on board to support Hillary Clinton." 
Sanders also said he doesn't expect to raise money for Clinton, either through his new successor organization, Our Revolution, or through other means. He cited her own fundraising power and a need for him to support down-ballot candidates through his vast list of donor e-mail addresses.
"I don't think we'll be raising money for Hillary Clinton, no. I think we'll be raising money for some school-board candidate in Tulsa, Oklahoma, who probably does not have the access to money that Hillary Clinton does," he said. "Trust me, I've seen it in action, she has a pretty good system." 
Balancing Act
On the first night of the convention, Sanders supporters booed suggestions that they should help elect Clinton and her running mate, Tim Kaine, in November, whether the request came from Clinton allies or Sanders surrogates. Sanders acknowledged the resistance that marred the opening night, but said the overwhelming majority of his supporter will support Clinton. 
"If you look at one issue after the other issue in terms of who the candidate is that we need to lead this country there is no debate, and I'm quite confident that the overwhelming majority of people that voted for me, not just the people in that room, but over 13 million people, understand that," Sanders said.
Though he has endorsed Clinton, Sanders said he intends to give his delegates the opportunity to vote for him during Tuesday's roll-call nomination vote. While he hopes delegates will support the winner, he said, people should still have the right to support the candidate they backed in the primary race earlier this year.
"If you were campaigning for me for six months, or eight months, knocking your brains out and then the roll-call came, who are you going to vote for?" he said. "You're going to vote for Bernie Sanders. Of course you are."
'Boring' Surrogate
Sanders said he believed that while it may be difficult for his supporters to accept his loss, most of them would be unable to support Trump based on his policies, and that is the case he plans to make to them.
"The role that I will play, and it's an important role, is being very boring and contrasting Hillary Clinton's position on the issues with Donald Trump," Sanders said. 
Sanders condemned Trump's attempts to win over his supporters, calling him dangerous and a demagogue. He said he and Trump have fundamentally different campaign cultures where Trump often refers to himself while Sanders stresses the need for collective effort. "I trust that I don't come across as some kind of authoritarian strongman who's telling my supporters or the American people that I'm going to run the show," he said.
Given the choice between Clinton and Trump, Sanders said his supporters would have to engage in this election and future elections if they want to achieve their shared agenda. "If you are serious about transforming America it's not just one election, you gotta keep going," he said.
Next Chairperson
He reiterated his calls for a new direction at the Democratic National Committee that would be more welcoming of those supporters. Following the resignation of Debbie Wasserman Schultz as DNC chairwoman due to revelations from hacked e-mails that committee staffers displayed a favoritism to Clinton during the primary, Sanders called for "fresh leadership" in order to pull off a "transformation."
Sanders said that Wasserman Schultz's resignation was a chance for the party to become more open, but that the committee leadership might need a complete overhaul. "I think we need a DNC that has a very different direction," he said. "The Democratic Party has got to be the party of ordinary people."
As for who would make up a transformed DNC, Sanders said he didn't want to name names without knowing who was interested first. When asked about an offer from interim chairwoman Donna Brazile for his campaign manager, Jeff Weaver, to become a vice chairman of the DNC, Sanders seemed pleased.
"Jeff would do a great job," he said. 
-- With assistance from Nicholas Johnston.
Before it's here, it's on the Bloomberg Terminal.
LEARN MORE