Sanders Finds It Easier to Start Than Rein In a Revolution
By and
Candidate's pleas for Democratic unity ignored by some

Convention speakers fight to be heard over jeers and boos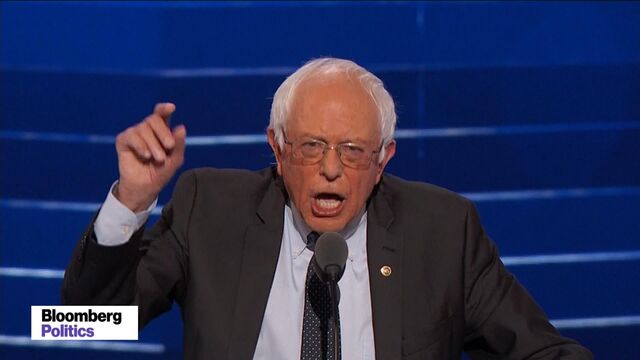 Bernie Sanders is learning that starting a revolution is easier than controlling it.
As the Democratic National Convention opened Monday in Philadelphia, a booing, jeering contingent of the Vermont senator's backers was so insistent about never supporting presumptive nominee Hillary Clinton that Sanders himself couldn't reel them in. 
They chanted "No!" and "Bernie!" at the mention of Clinton's name almost as soon as the convention was gaveled to order despite a text Sanders sent earlier asking his backers to refrain from Clinton protests "as a personal courtesy to me." When Sanders delivered the closing speech of the night, hours later, some of his supporters even turned against him, booing when he said that "Hillary Clinton must become the next president of the United States" instead of Republican Donald Trump, and that "the choice is not even close."
There were signs the night's biggest speakers -- Sanders, first lady Michelle Obama and Massachusetts Senator Elizabeth Warren -- may have quelled some of the anti-Clinton fervor heading into the rest of the week. "We need to join together," said David Jordan, a Sanders delegate from Wisconsin who now intends to vote for Clinton in November.
Digging In
Still, others insisted they were digging in and wouldn't go quietly. "Hell, yeah!" Alexis Edelstein, 39, a California delegate and Sanders backer said when asked if he planned to keep booing Clinton through the week.

"They screwed us," Edelstein said of the Democratic Party organization that he blamed for unfairly stacking the deck for Clinton. "Now they want us to come here and fall in line."
He said Sanders's calls won't sway him because "Sanders is being pressured to say that."
New tests will come Tuesday, when the roll call is taken to officially deliver Clinton's nomination and when former President Bill Clinton speaks on behalf of his wife. Sanders said Tuesday he intends to give his delegates the opportunity to vote for him during that day's roll-call nomination vote, even as he urges supporters to back Clinton and defeat Trump.
Whether Sanders moves to allow Clinton to be nominated by acclimation, as she did for President Barack Obama in 2008, is "up to Senator Sanders," Clinton campaign chairman John Podesta said at a Bloomberg Politics breakfast Tuesday.
"Everybody's going to get a chance to vote and then she is going to make history" as the first female presidential nominee of a major U.S. party, Podesta said.
Martin Dunleavy, 60, the whip for the 27 Sanders delegates from Connecticut, a state that went for Clinton, suggested time would heal the political wounds.
"There are a lot of delegates here at their very first convention. They are going to vent, yell and show they are upset," he said of the Sanders backers. "But the vast majority will come around" to Clinton.
Sanders himself also sought to project optimism. "Democracy is a little bit messy sometimes, especially for young people who work their hearts out," Sanders said at a Bloomberg Politics breakfast Tuesday.
"When you look at the issues, when you look at the needs of the American people, the choice in this campaign is very clear," he said, adding that his backers "understand that."
Republican National Committee Chairman Reince Priebus, who presided over a fractious convention last week in Cleveland, released a statement ridiculing the scene at the Democratic gathering.
"This felt more like a convention for Bernie Sanders than for Hillary Clinton, with many of his supporters refusing to embrace her candidacy and the convention floor descending into chaos for most of the day," he said in a statement.
'Being Ridiculous'
A parade of Democratic politicians and entertainers showed flickers of exasperation as they took the stage Monday to try to bring detractors into the fold. Comedian Sarah Silverman, a Sanders backer who promised to vote for Clinton with "gusto" after Clinton had embraced many of Sanders' priorities, scolded the holdouts: "Can I just say to the Bernie-or-Bust people: You're being ridiculous."
When Warren, long a hero to the progressive wing of the party made her case for Clinton, chants of "We trusted you!" briefly emerged from members of the Washington state delegation, only to be hushed by their fellow delegates.

Michelle Obama held the convention hall's attention as she painted Trump as a selfish fame-seeker who sets a bad example for children, and Clinton as an inspiration for what women can achieve just as President Barack Obama inspired black children.
"I wake up every morning in a house that was built by slaves," she said, describing watching her daughters play with their dogs on the White House lawn. "And because of Hillary Clinton my daughters and all our sons and daughters now take for granted that a woman can be president of the United States. We cannot afford to be tired or frustrated or cynical."
As he had throughout the day, Sanders tried to bridge the gap when he finally took the stage to a rousing ovation from the delegates. In a gesture to his supporters, signs with the Sanders campaign logo were distributed in the arena.
The Vermont senator didn't directly urge his supporters to vote for Clinton but extolled her commitment to key issues and emphasized the importance of her nominating Supreme Court justices. He said the contrast with Republican Donald Trump is clear, and that the country needs leadership to improve the lives of people and not divide them.
Mounting Anger
"This election is about which candidate understands the real problems facing this country and has offered real solutions – not just bombast, not just fear-mongering, not just name-calling and divisiveness," Sanders said. "By these measures, any objective observer will conclude that – based on her ideas and her leadership – Hillary Clinton must become the next president of the United States. The choice is not even close."
The anger of Sanders supporters over what they considered an unfair nominating contest had been building for months and it bubbled over after WikiLeaks disclosed thousands of e-mails stolen in a hack of Democratic National Committee computers. The documents revealed what they long suspected: that DNC officials weren't strictly impartial in the primary race and they generally favored Clinton.
But the resignation of DNC Chairwoman Debbie Wasserman Schultz at the end of the convention wasn't enough to appease many of Sanders's hard-core supporters. Rather than face a hostile crowd, Wasserman Schultz also gave up her gavel to open the convention.
Sanders got a taste of his own revolution early in the day on Monday. After praising the party platform his allies had negotiated as the most "progressive" in history, he drew boos at a rally when he said the Clinton-Tim Kaine ticket must be elected.
"Brothers and sisters, this is the real world that we live in," Sanders said. Wasserman Schultz's departure as party chairwoman, he said, represented progress for "those people who want real change."
The crowd responded with chants of "We want Bernie."
— With assistance by Toluse Olorunnipa, Arit John, Billy House, Ben Brody, Jennifer Epstein, Sahil Kapur, and Nicholas Johnston
Before it's here, it's on the Bloomberg Terminal.
LEARN MORE