Restive Bernie Sanders Backers 'Feel the Bern' in Jill Stein
By
Sanders's supporters jeered speakers at Democratic convention

Some of his supporters are giving the Green Party a look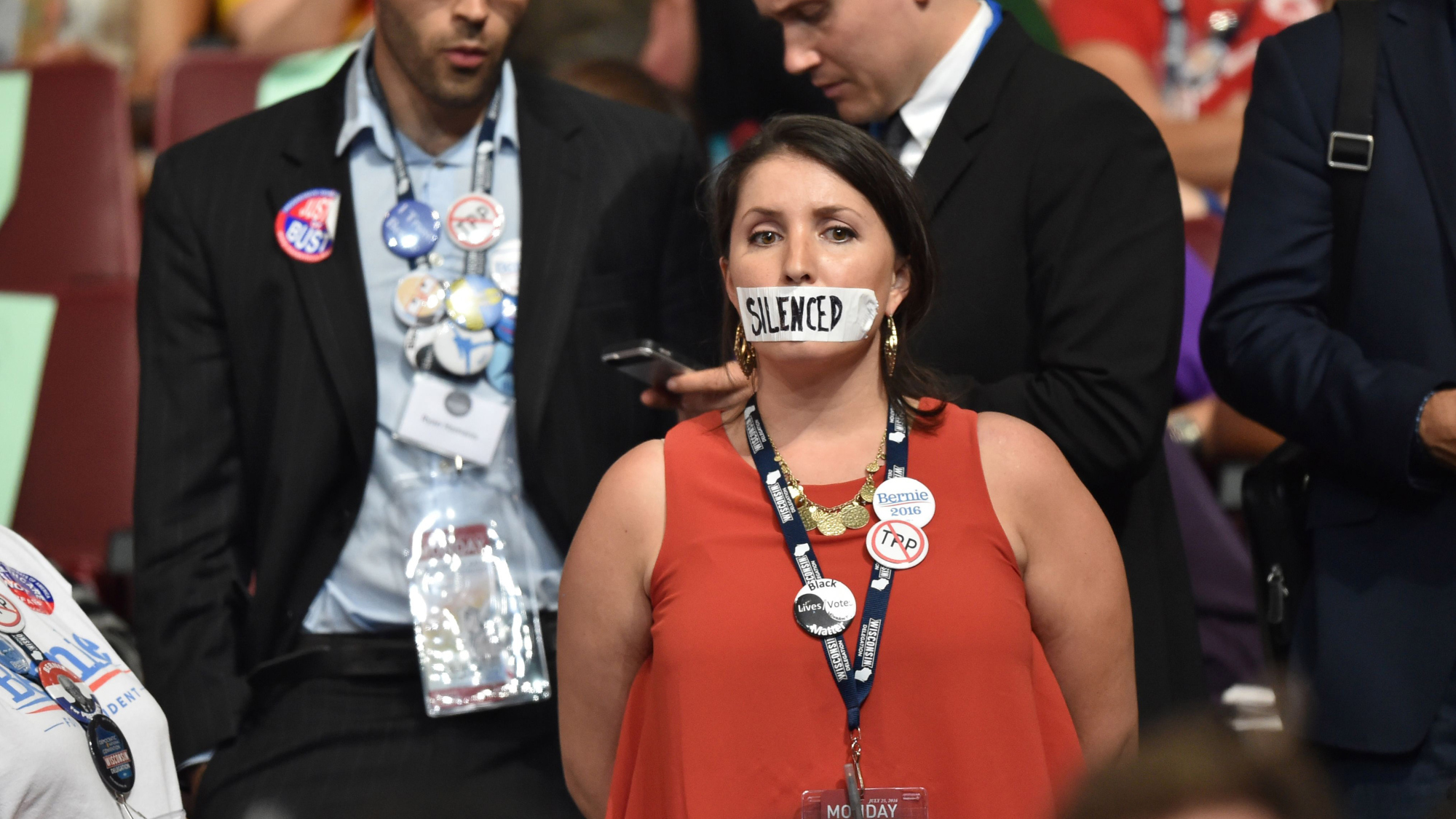 As she strolled through Philadelphia's FDR Park in the shadow of a towering arena hosting the Democratic National Convention, Rossana Foote explained how she and other Bernie Sanders supporters felt about the election: betrayed.
Outside the Wells Fargo Center, the 52-year-old elementary school teacher from Los Angeles and a crowd of fellow Sanders supporters openly discussed supporting Green Party candidate Jill Stein for president rather than vote for Democratic nominee Hillary Clinton. 
"It's one thing to lose when people were honest, but it's another thing when you feel like you were stabbed in the back," Foote said, as she juggled a cup of chocolate ice cream in one hand and a "No Oligarchs" sign in the other. "If we can't get Bernie, we'll go to Jill. That's how a lot of people who were with Bernie feel."
Foote encapsulates the dilemma facing some who felt the Bern. After Sanders told supporters on July 12 that he would back Hillary and implored them to vote for her in November, a faction of the liberal wing of the Democratic Party found themselves without a champion. Stein, 66, is attempting to fill that niche.
Several hundred people gathered on a hillside in FDR park to hear Stein speak in a white tent as the afternoon stretched to evening and a thunderstorm gathered. In her remarks, Stein accused the Democratic Party of undermining Sanders's campaign.
"They did much more than say bad things -- they sabotaged a truly revolutionary campaign," Stein told the crowd, moments before the rally was dispersed by rain. "We have news for them. We're not going away, we're only getting stronger."
Inside the Wells Fargo Center, though, comedian Sarah Silverman -- a Sanders supporter -- told his supporters to back Clinton. "You're being ridiculous," she said to holdouts.
'Never Hill'
Sanders's supporters erupted in jeers almost from the moment the Democratic convention was called to order Monday, ignoring pleas from their candidate to avoid protests and threatening to undo the party's carefully crafted display of unity. Outside, demonstrators marched down Broad Street toward the convention site, and about 1,000 protestors rallied behind 10-foot black metal fences.
Police patrolled the scene on bikes and in helicopters, and the demonstrators remained peaceful.
At a pro-Sanders rally earlier in the day, chants included "Hillary Will Lose!" and what has become a common the refrain at protests across Philadelphia: "Hell No DNC, We Won't Vote For Hillary!"
One sign warned. "Hillary's Not Too Big To Jail." Marijuana smoke was present and at several points the crowd broke out into songs.
Renee Clark, 26, of Winchester, Virginia, dressed in all pink, navigated the crowd holding a sign that said "Bernie or Jill, Never Hill."
"No matter what Bernie decides to do at this point, if he asks his supporters to vote for Hillary I can't follow him on this one," Clark said. "If the DNC traps him and he can't go forward -- even if he asks us to vote for her -- I'm going to have to go on without him. It's less about a person and now about the movement."
Before it's here, it's on the Bloomberg Terminal.
LEARN MORE