Masters in Politics Podcast
Priebus: DNC 'Committed Fraud' With Anti-Sanders E-Mails
By and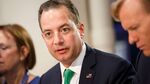 Republican National Committee Chairman Reince Priebus couldn't have asked for a better gift. 
"I haven't seen all the e-mails obviously, I don't know if anyone here has, but there's some pretty bad stuff," Priebus told Bloomberg Politics' "Masters in Politics" podcast. "I think it was a fraud that they committed upon their own base. It's a fraud that they committed to the Democratic voters and actually a fraud upon the American people. It's not what national parties are supposed to be doing."
Still, Priebus did offer his former Democratic counterpart some measure of sympathy. 
"It's not easy being chair of the party, I'll give her that. It's a tough job and you get shot at from every direction but this is pretty bad stuff," Priebus said. "When you have your staff coordinating to derail Bernie Sanders in the most sort-of disgusting, personal ways."
Priebus said outgoing Chairwoman Debbie Wasserman Schultz did do something right in the whole episode. 
"It was the only decision, she had no choice. She has to get through this week, and she can't get through this week being chairman of the DNC," Priebus said. "I don't know if she's going to stay as chairman through the week. I don't know what you're doing there and I'm not really wanting to pile on to tell you the truth, even though I could."
Yet Priebus does see one area where he would like to work with the DNC in the coming months: taking control of the coming presidential debates. 
"I would guess that we would proceed with the Commission," Priebus said. "However, let me just caution everyone on this, it's an issue that I've been very intrigued with working with the DNC on and our candidates in taking control of the general election debates."
Before it's here, it's on the Bloomberg Terminal.
LEARN MORE