Kaine's Olive Branch to Ryan Leaves Fellow Democrats Unsettled
By and
Delegates in Philadelphia not happy Kaine is conceding House

Clinton running mate hopes speaker will help pass her agenda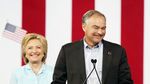 For the liberal wing of the Democratic Party seeking to coalesce behind Hillary Clinton, her running mate's recent comments praising House Speaker Paul Ryan aren't sitting well.
Senator Tim Kaine of Virginia said he didn't think Democrats would take back the House, telling CBS's "60 Minutes" on Sunday that Ryan will be a key to passing Clinton's agenda.
"Paul Ryan was supposed to be a breath of fresh air," said Representative Raul Grijalva of Arizona, a Sanders delegate who spoke Monday night at the party convention in Philadelphia. "But I've seen no more comity, or compromise, under Ryan." 
"He's being pressured by the same people," Grijalva said, referring to the House Freedom Caucus and other conservatives.
Kelly Ward, the executive director of the Democratic Congressional Campaign Committee, which is working to take back the House, said working with the Republican speaker "doesn't mean you can get things done in the House."
The comments reflect a natural split between the strategy of the presidential ticket and that for congressional candidates.
House Democrats are making the pitch that the party has to retake both chambers, not just the Senate, to have any chance of enacting a truly progressive agenda. Clinton and Kaine, meanwhile, want to sell a general-election audience on their ability to get things done in a divided government, given the nearly insurmountable odds of winning the 30 extra seats needed to return the speaker's gavel to Minority Leader Nancy Pelosi.
Praising Ryan
But Kaine insisted on Sunday that Clinton's agenda wouldn't be "DOA" despite a Republican House because of Ryan.
He noted that Ryan helped solve the 2013 shutdown showdown over defunding Obamacare, and his admiration for Ryan continued after he took the speaker's gavel from John Boehner last year and helped craft a bipartisan spending bill.
"He wants to do things," Kaine said. "He wants not just a portrait but he would like a legacy. That's my belief. There's going to be room to make some things happen."
That's not an exciting prospect to many of the delegates in Philadelphia hoping for big changes, like a doubling of the minimum wage, tax hikes on the wealthy, universal pre-school, debt-free public colleges and other campaign promises being made by Clinton and so far rejected by congressional Republicans.
Strong Skepticism
"Overall, it does worry me," said convention delegate Samantha Herring, 46, of DeFuniak Springs, Florida, though she said she knows Democrats will have to find ways to work across the aisle.
"There's got to be something that Hillary and Kaine and Paul Ryan can find common ground on," she said. "Clean water?"
Mark Lasser, 49, a legally blind accountant and Sanders delegate from Denver, said Kaine's comments make some sense, but show how conservative Clinton and Kaine are.
"I think they and Paul Ryan have some definite common ground, but not necessarily the common ground that progressive Democrats would like to see advanced," he said. He said it would be unlikely, for instance, that they would agree on new Wall Street regulations Sanders has been pushing.
Working Together
Others are cutting Kaine some slack.
DCCC Chairman Ben Ray Luján of New Mexico told reporters Monday that Democrats should want to work with Paul Ryan.
"We all have to find a way to work with each other, whoever is there," he told reporters. "That's what Senator Kaine was saying."
But Luján said the Freedom Caucus has "taken over" the House now and is destroying the ability to get things done.
"I apologize, but Speaker Ryan is allowing that to take place," he said.
Luján pointed to stalled Democratic priorities.
"When we talk about moving legislation to address climate change, to be able to protect our air and water, to be able to do something about gun violence in America, to make college education more affordable," he said, "my progressive brothers and sisters, they want action."
If Ryan's still in charge, though, they will have to take what they can get.
"If there's someone that agrees with Senator Kaine and Secretary Clinton 2 percent of the time, on climate issues, on education issues, combating poverty -- whatever it is -- then let's find a way to work together, even if it's only 2 percent you may agree with us, and let's get it done," Luján said.
Immigration and Taxes
During the "60 Minutes" interview, Kaine named four issues -- overhauls of immigration, taxes, mental health and criminal justice -- as ripe for bipartisan deal-making.
"I think they're only going to get done probably with a divided House scenario where each side's got to give on something," he said.
Ryan has offered backing for criminal justice and mental health overhauls already, but Ryan and Clinton are far apart on taxes and entitlements. Ryan has backed the idea of eliminating tax breaks and loopholes to bring down tax rates -- something last accomplished on a grand scale in 1986 during the Reagan administration. Clinton instead has proposed higher taxes on the wealthy to pay for her spending agenda, which includes expanding Social Security benefits and other programs. Republicans have ruled out any changes that would entail an overall tax hike.
On trade and immigration -- Donald Trump's signature issues -- Ryan and Clinton have much in common, with long histories of backing free-trade agreements and immigration principles that would allow most people here illegally a way to stay.
Shift on TPP
Last year, Ryan worked with President Barack Obama to pass a six-year Trade Promotion Authority law, granting the president fast-track votes on the House and Senate floor for trade agreements like the Trans-Pacific Partnership, without amendments.
Clinton, though, said last year she probably would have voted against fast-track, and later came out against the TPP, after previously praising it as the "gold standard" of trade deals while secretary of state.
Kaine appears to have had a similar conversion to being a skeptic of trade deals over just the past week. He was one of just 13 Senate Democrats to vote with the president for fast-track last year and has a long history of backing trade deals. But an aide confirmed he now opposes the TPP, after previously talking positively about much of it.
There are a number of other issues, meanwhile, where getting Republican support will be difficult. Year after year, Republicans have blocked or opposed Obama's plans, and there is no obvious expectation that they would roll over with a Clinton win.
Ryan spokesman Brendan Buck declined to comment on Kaine's praise for the speaker.
Before it's here, it's on the Bloomberg Terminal.
LEARN MORE