Luxury Travel
A Floating Safari and Five Other Surprising Adventure Cruises
Sail where few have sailed before—and do it in style.
By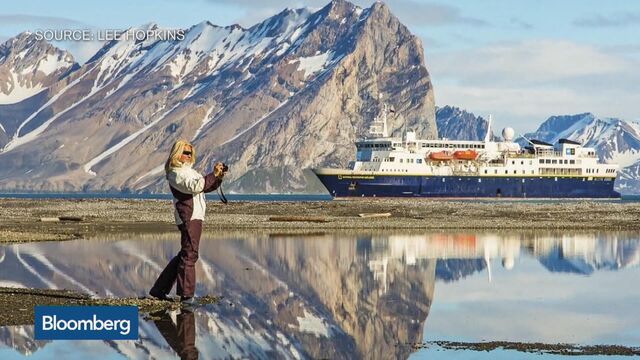 One of the best reasons to cruise is to see places that are difficult to reach by land: Think Norwegian fjords or tiny, postcard-perfect villages along the Rhône river. Now, thanks to a rise in expedition ships and yachts—along with decreased interest in the Caribbean and Europe due to Zika and refugee crises—cruise companies are blazing trails to places that are practically impossible to reach otherwise.
Antarctica to Africa, by Yacht

Sailings to Antarctica often begin and end in Ushuaia, off the coast of Argentina, but the yacht-focused cruise company Ponant is shaking things up with a 22-day itinerary that crosses the South Atlantic Ocean and winds up in Cape Town. After tried-and-true stops visiting King Penguin colonies in the Falkland Islands and spotting humpback whales in the South Georgia Sea, the intimate, 122-cabin Le Lyrial makes its way to islands that have never truly been on the tourist map, such as the birding paradise of Gough Island. (Silversea will soon offer cruises along a similar route.) One indication of how far-flung the itinerary goes: A neighbor of Nightingale Island, one of several stops in the Tristan da Cunha archipelago, is so far off the beaten path that its name is Inaccessible Island. Don't worry about what to pack; a heavy duty parka is included in the $9,248 price tag.
A Floating Safari in Borneo

Pandaw has been doing small-scale river cruises throughout Asia for years (along the Mekong in Laos and China, as well as others). In February it will return to a landscape it once had to abandon because of deforestation and the destruction of local habitats: Borneo. Now, instead of traversing the Malaysian side of the country, the expeditions will head to Borneo's Indonesian side, where the Tonle Pandaw river cruiser will traverse the upper portion of the 700-mile-long Kapuas River system, home to orangutans, clouded leopards, and the Sumatran rhinoceros. The earliest sailings are already booked-up, so act fast to get spots on the remaining spring trips.
An Expedition Through the Northwest Passage

When it comes to impermeable landscapes, the Northwest Passage—which stretches from Anchorage, Alaska, to New York—tops the list. Crystal Cruises is debuting a 32-day, 1,000-passenger itinerary along the route next summer (you can book now), including stops in some of Alaska's most remote fishing villages; the polar bear territory of Nunavut, Canada; Greenland's unofficial dog-sledding capital of Sisimiut; and classic New England ports from Maine to Rhode Island. There, you can helicopter over glaciers in the Bering Sea, golf the most northerly course in the Americas, and talk to natives in coastal towns about the effects of global warming—which has, paradoxically, made this voyage possible while imperiling the communities visited.
The Most Unusual River Cruise in Europe

Ever thought of sailing to Serbia? Probably not. But a new itinerary on CroisiEurope's MS Victor Hugo might change your mind: It starts in Croatia, where you can see the beautiful baroque town of Varazdin and the historic city center of Zagreb. And it ends in Budapest, a favorite port for river cruisers. In between is where all the magic happens as you visit the small towns along the Sava River, which connects Croatia to Bosnia and Serbia. There, you'll see a unique blend of Ottoman, Austro-Hungarian, and Slavic architecture that can be found only in the Balkans—particularly at some stunning monasteries and fortresses along the route. You'll also get exposed to little-known folkloric arts and musical styles when you visit tiny villages with populations as small as 9,000. By the time you arrive in Belgrade, which sits at the confluence of the Sava and Danube rivers, you'll wonder why more travelers haven't caught on to this fascinating corner of the world.
Sail The Arctic—With the Experts Who Know It Best

You'll feel like a real explorer when you're one of a half-dozen passengers huddled up in a Zodiac boat, spying on walruses and following Inuit hunting patterns among glaciers in Canada's Lancaster Sound. But Lindblad Expeditions, which has made its name off partnerships with National Geographic, adds another layer to this already epic trip. Field correspondent Jennifer Kingsley, who functions as an Arctic anthropologist, will be joining several Greenland-to-Canada sailings (like this one) next year. She offers a deeper understanding of Arctic politics, arts, and traditions—as well as the day-to-day challenges that come with living in some of the most extreme places on earth.
Discovery Tour Down Under

Silversea's new ships claim the largest expedition suites at sea, but they're even more special for the unusual routes they sail. The journeys along Australia's Kimberly Coast hit unexpected places such as Jaco Island, which is part of both Timor-Leste and Indonesia and is best-known for vividly colored coral reefs. And if you're used to seeing a whole lot of blue when you hit the high seas, get ready for a big change: Sailing through the Cambridge Gulf means spectacular views of the dome-like Bungle Bungle mountains, which look as if they've been painted in bright orange and black tiger stripes.
Before it's here, it's on the Bloomberg Terminal.
LEARN MORE