Conspiracy Theories
Clinton Camp Borrows Trump Playbook in Floating Trump-Russia Ties
John Podesta continued to muse over the links between Russian President Vladimir Putin and the Republican presidential nominee's campaign.
By , , and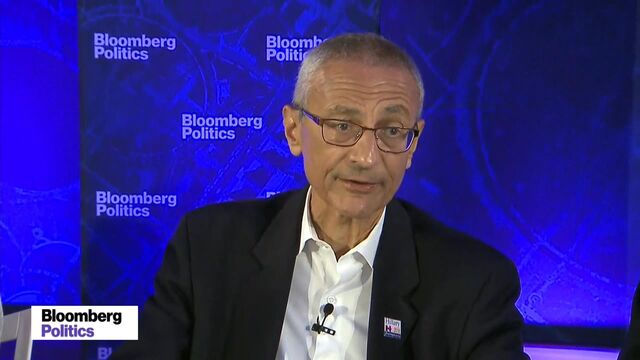 The Hillary Clinton campaign is throwing its signature political caution to the wind, taking a page from the Donald Trump playbook by suggesting—but not directly alleging—that the Russians and Republicans are in cahoots to influence the U.S. presidential election.
"He certainly has a bromance with Mr. Putin," Clinton campaign chairman John Podesta said at a Bloomberg Politics breakfast Tuesday, referring to Trump, the Republican nominee, and Russian President Vladimir Putin.
Responding to a report that Republican National Committee Chairman Reince Preibus said he expects more e-mail leaks on Clinton during the presidential race, Podesta wondered how the party chief would know that. "Maybe he has inside information," Podesta said. "It's interesting that he's so confident about that." 
At a Wall Street Journal lunch later in the day, he issued another warning about foreign hackers —"When you're dealing with the kind of actors we're dealing with, who knows what other tricks they're up to?"—before indulging a reporter's request for him to compare the DNC hack to Watergate, the infamous crime that led to the downfall of President Richard Nixon.
"In the context of Watergate, it was the White House and the Republican National Committee breaking into the Democratic National Committee," he explained.
If the Russians are indeed behind the breach, would it be worse than Watergate? Podesta did not agree or disagree, but noted that it was "disturbing."
His remarks come days after Wikileaks published private e-mails between Democratic National Committee officials that indicated favoritism for Clinton and sparked a firestorm and caused the resignation of DNC Chair Debbie Wasserman Schultz.
The Trump campaign denied any involvement in the the DNC hack, and says there are no business ties to Russia or political ties to the Kremlin.
The White House has maintained caution since the DNC e-mails were posted by Wikileaks on Friday, with spokesman Eric Schultz telling reporters that he did not have a "significant update" on who was behind the hack. When asked about House Democratic Leader Nancy Pelosi's statement on MSNBC that Russia's involvement in the DNC hack "a fact," he stood firm. "I'm not going to do anything from here to prejudice that investigation," he said.
But Podesta offered more certainty than the White House on Tuesday by saying that "we know pretty well now that the attacks came from" Russia.
Asked to respond to his remarks about Priebus, RNC spokeswoman Lindsay Walters said in an e-mail that "it is ridiculous that John Podesta is blaming us."
Trump senior communications adviser Jason Miller painted Podesta's "bromance" remark as a sign of desperation. 
"Democrats are in a panic right now because they got caught smearing Bernie Sanders and fixing the rules to rig Hillary's nomination. While Mr. Trump has many successful international businesses and properties, he has no business in Russia, making the Democrats' attacks that much more pathetic," he wrote in an e-mail. 
It was an unusual defensive position for the Trump campaign, which succeeded in driving news cycles and forcing opponents into uncomfortable and unpredictable situations by staying on the offensive.
"Trump floated a new conspiracy theory literally each week during the primary to jam up his opponents and keep them on the defense—and it worked," said Ryan Williams, a Republican strategist. "The Clinton campaign certainly has not gone to the lengths that the Trump camp has gone in the past but I think they believe there's enough circumstantial evidence here that they can try to make a claim against Trump to distract from the debacle that is the DNC e-mail scandal."
Doug Heye, a Republican strategist who has been a vocal critic of Trump, said Podesta's approach mimics the Trump campaign playbook of unsupported insinuations but also borrows from the tactics dating back to Bill Clinton's presidency of obfuscating to distract from legitimate criticism.
"As this is shaping up to be a race that may be closer than some have anticipated, I'm not surprised to see the Clinton campaign would go this route," Heye said. "These are tactics that work for Trump."
Heye said Clinton wants to do damage control in the fallout from leaks of DNC e-mails that have raised questions about the neutral group improperly favoring Clinton over rival Bernie Sanders, as well as Democrats' failure to address their vulnerability to Russian hacking. She also may be worried there are more embarrassing leaks of hacked e-mails to come, he said.
Lis Smith, a former spokeswoman for President Barack Obama's reelection campaign, defended the Clinton campaign's decision to take on Trump's ties to Russia, and alluded to the fact that Trump campaign chairman Paul Manafort reportedly has past professional ties to pro-Russia politicians in Ukraine.
"The Russians' fingerprints are all over this and intelligence officials have suggested as much. But it's smart for the Clinton campaign to lean into this," Smith said. "It underscores Donald Trump's affinity for strong men like Putin and Saddam Hussein, and also his campaign's shady ties to Putin and pro-Russia forces."
(
Corrects name of White House spokesman in paragraph 8
)
Before it's here, it's on the Bloomberg Terminal.
LEARN MORE