BlackBerry Doubles Down on Security With New Android Phone
By
DTEK50 to sell for $299, half original price of Priv model

Device designed for security-conscious consumers, businesses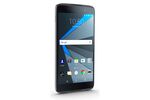 BlackBerry Ltd. unveiled its latest smartphone, a security-focused touch-screen Android device aimed at making the company's money-losing handset business profitable.
At $299, the DTEK50 is priced for mid-market users, cutting in half the original retail cost of BlackBerry's first Android phone, the Priv -- which the company admits was too expensive to appeal to a broad audience. The DTEK50 can be pre-ordered now in the U.S., Canada and Western Europe, BlackBerry said in a statement Tuesday.
The phone is BlackBerry's latest attempt to leverage its security chops and relationships with big corporate and government customers to make its shrinking device unit profitable even as consumers have all but abandoned the gadgets. Chief Executive Officer John Chen has said he expects the unit to reach profitability by September, a target reiterated Tuesday by head of device sales Alex Thurber. The division contributes about 40 percent of the company's revenue.
The DTEK50 is designed for people who demand a stronger sense of security with their mobile phones, either because they fear for their privacy in a world of hackers and data leaks or because their employers require it. Before BlackBerry released the Priv, its phones ran a proprietary operating system that was highly secure, yet lacked many of the applications people expect on a smartphone. The company's pitch with the DTEK50 is that it brings those two worlds together at an affordable price point.
"It's a win for the business and it's a win for the end user," Thurber said during a webcast to announce the phone. "It has a much broader market than the Priv did."
Corporate Focus
BlackBerry's device sales fell to 500,000 in the quarter that ended May 31, and Chen has narrowed his focus to selling to big corporate and government customers who also use BlackBerry's software products and want to have greater control over how their employees use their phones for work-related activity. The phone will be sold through distributors that sell security products as well as through traditional online and retail-store channels, Thurber said.
Chen has outsourced the manufacturing and much of the design of its smartphones as the company seeks ways to cut costs. BlackBerry's device team now focuses on adding the company's trademark security features to Google's Android operating system, creating what it calls "the world's most secure Android device." The DTEK50 is manufactured by Huizhou, China-based TCL Corp., according to documents filed with the Federal Communications Commission by an equipment tester on behalf of BlackBerry.
Though some analysts have called for BlackBerry to ditch the device business altogether, Thurber said the DTEK50 will not be its last Android phone. The company has multiple new devices on its road map, including one with BlackBerry's trademark physical keyboard, he said.
BlackBerry shares gained 2.1 percent to $7.23 at 1:36 p.m. in New York. The shares were down 24 percent this year at the end of trading Monday.
Before it's here, it's on the Bloomberg Terminal.
LEARN MORE