Opening Night
A-List Democrats Make Case for Clinton as Sanders Delegates Hedge
Throughout the evening, speaker after speaker preached the need for unity in the party, not always successfully.
By , , and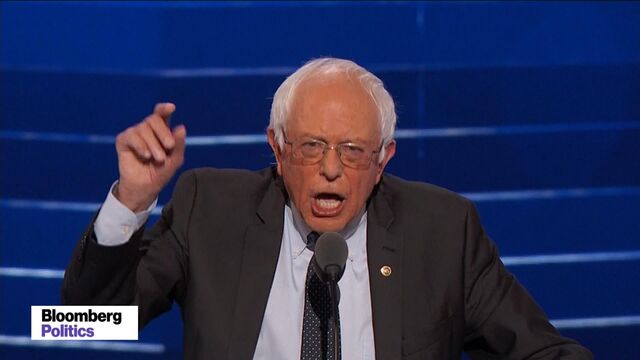 Bernie Sanders' supporters erupted in boos and chants almost from the moment the Democratic convention was called to order Monday, ignoring pleas from their candidate to avoid protests and threatening to undo the carefully crafted display of unity that Hillary Clinton's campaign had plotted for her formal nomination.
Representatives from the Clinton and Sanders campaign held an urgent meeting Monday afternoon to come up with a plan to avoid disruptions as it became clear that the removal of Democratic National Committee Chair Debbie Wasserman Schultz after e-mails emerged showing the DNC had favored Clinton during the primary campaign hadn't doused the anger of the Vermont senator's supporters, according to a party official.
Throughout the evening, speaker after speaker preached the need for unity in the party, not always successfully. The most well received address of the evening was delivered by first lady Michelle Obama, who endorsed Clinton by saying the president has great influence over the nation and its children
"This election, and every election, is about who will have the power to shape our children for next four or eight years of their lives,'' Obama said. "I am here tonight because in this election, there is only one person who I trust with that responsibility.''
But a little earlier, when comedian Sarah Silverman, a Sanders supporter, said she will vote for Clinton "with gusto,'' the crowd broke out into its competing chants for Clinton and Sanders.
"To the 'Bernie or Bust' people, you're being ridiculous,'' Silverman admonished them.
Sanders himself felt the heat from his supporters earlier on Monday. After praising the party platform his allies had negotiated as the most "progressive" in the party's history, he drew boos at a rally when he said Republican Donald Trump must be defeated and the Clinton-Tim Kaine ticket elected.
"Brothers and sisters, this is the real world that we live in," Sanders said. Wasserman Schultz's departure as party chairwoman at the end of the convention represented progress for "those people who want real change."
The crowd responded with chants of "We want Bernie."
The convention opened in Philadelphia with Wasserman Schultz absent from the DNC chair's usual place on the stage bringing down the gavel. After months of rising pressure, she was forced to resign amid the furor brought on by the release of hacked DNC e-mails that showed the party apparatus favoring Clinton over Sanders, a longstanding complaint of his campaign. 
Sanders, who lost the nomination to Clinton after a closely fought campaign, made several efforts to quiet his supporters. Shortly before the convention opened he sent a text to his delegates asking "as a personal courtesy to me not to engage in any kind of protests'' on the floor of the convention. His surrogates were dispatched to try to head off displays of rebellion.
Former Sanders press secretary Symone Sanders used Twitter to deliver a message to the hard-core supporters of her candidate.
"NO ONE STOLE THIS ELECTION!" she wrote. "Team Sanders we did AMAZING WORK. But we lost. It's a hard reality for some."
It had little effect. When the Reverend Dr. Cynthia Hale gave the invocation and mentioned the nomination of Clinton, the crowd erupted in a mixture of cheers and chants of "Bernie, Bernie, Bernie.'' Clinton  supporters responded with "Hillary'' chants to drown them out.
Another round of cheers, boos and chants ensued about 45 minutes later when U.S. Representative Marcia Fudge, the convention chairwoman, discussed putting Clinton and running mate Tim Kaine in the White House.
"Excuse me,'' Fudge said as the cheers and boos interrupted her for several seconds. She asked for delegates to be respectful and said, "We are all Democrats and we need to act like it.''
Several Sanders supporters made clear that Wasserman Schultz's pending resignation and her surrender of the convention's gavel would not placate them.
In the Wisconsin delegation, Sanders supporter Ben Carpenter, 37, said of Clinton that "she's got a chance" to win his support in her speech Thursday. He needs to hear "a much more progressive tone," he said. "I'm still pondering that." Wasserman Schultz should have been forced out months ago during the primaries, he said.
John Stanley, another Wisconsin delegate and Sanders supporter, said he has been on a hunger strike for a week and that he "cannot stand by and watch" Clinton be elected because she is too beholden to corporate interests.
Longtime Democratic strategist Donna Brazile, who will take over as interim DNC chairwoman though the 2016 elections, has sought to soothe Sanders's supporters, offering them an apology for the bias shown in the hacked e-mails and saying their anger shouldn't be dismissed. She indicated it could take a while to heal the divisions.
"If you read scripture nothing came together overnight,'' she said on the convention floor. "Sometimes it took seven days sometimes it took forty years."
Parties Divided
Democrats came into Philadelphia hoping to avoid the spectacle of party divisions that defined the Republican convention last week. The danger might be even bigger for Democrats and their presumptive nominee. While Senator Ted Cruz was booed off the stage in Cleveland for refusing to endorse the party's nominee, Trump, he doesn't have the following, in numbers or devotion, that Sanders has commanded throughout the primary campaign.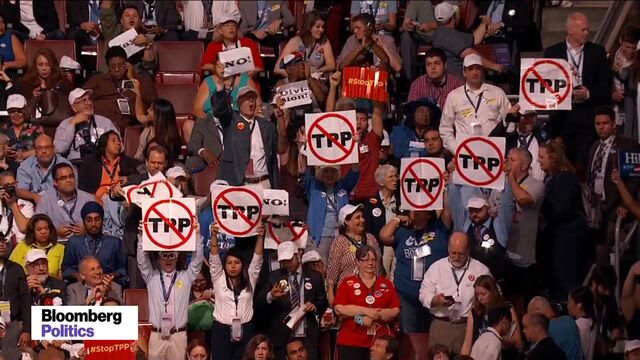 Trump, at a campaign event with his running mate, Indiana Governor Mike Pence in Virginia, tried to stoke dissent among Democrats over the DNC e-mails.
"Hillary Clinton knew what was going on. She knew everything that was going on,'' Trump said. "She knew it's a rigged system that Bernie Sanders never had a chance. OK? He never had a chance.''
"A lot of those people are going to vote for us,'' Trump said.
In campaign stops Monday in North Carolina, Clinton didn't address the furor in Philadelphia, focusing instead on attacking Trump for what she described as his go-it-alone foreign policy and bigotry. 
The resignation of Wasserman Schultz following the theft of the party's e-mails has added an element of international intrigue to party tumult. Party officials have said they suspect Russian intelligence services for the hack and noted that Trump has taken positions that might find favor with Russian President Vladimir Putin, without directly linking the e-mail hack to Russian support for the Republican candidate. Clinton campaign chairman John Podesta said Monday on MSNBC that "what we have is a kind of bromance going on between Putin and Trump."
Trump has suggested the U.S. may not come to the defense of NATO allies, were they attacked, if they haven't made sufficient contributions to the alliance.
Trump tweeted on Monday, "The new joke in town is that Russia leaked the disastrous DNC e-mails, which should never have been written (stupid), because Putin likes me."
The Federal Bureau of Investigation is investigating the DNC hack, the bureau said in a statement Monday. The Russian government has denied involvement.
—With assistance from Sahil Kapur, Toluse Olorunnipa, Erik Wasson, Ben Brody and Terrence Dopp.
Before it's here, it's on the Bloomberg Terminal.
LEARN MORE