Nintendo Faces More Pressure After Biggest Drop in 26 Years
By and
Impact from Pokemon Go seen limited for current fiscal year

Focus is on whether new games, tie ups will help lift profits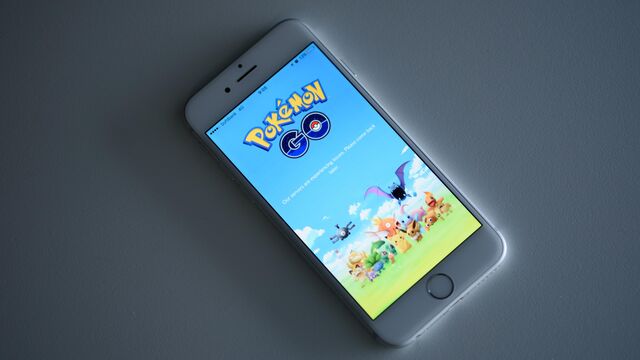 Nintendo Co. posted its worst drop in 26 years Monday after the company poured cold water on the notion that the explosive popularity of Pokemon Go would translate into steady profits. Unfortunately for investors, the worst may be yet to come.
The Kyoto-based firm was valued at 109 times projected net income after Monday's plunge, or more than 6 times the average for the Nikkei 225 Index. The company has already said it doesn't expect Pokemon Go will yield enough profit to increase its earnings outlook for the fiscal year.
Nintendo, scheduled to report first-quarter results Wednesday, would have to deliver annual net income of about 200 billion yen to justify its market value at yesterday's close, based on the profit multiples of Japan's blue chips. But the company is only forecasting 35 billion yen this year, and analysts project the number will be about 30 billion. The last time Nintendo earned the kind of income merited by its current market capitalization was in 2009, when the Wii and DS game systems were both chart-topping hits and profit peaked at 279 billion yen.
"Dream on if you think they'll hit that again," said Amir Anvarzadeh, Singapore-based head of Japanese equity sales at BGC Partners Inc.
Nintendo rose 1 percent to 23,540 yen at 1:29 p.m. in Tokyo after falling earlier in the day.
For more on Nintendo's prospects, see Pokemon Gone -- Why There's No Profit in This Craze: Gadfly
Pokemon Go debuted after the latest quarter ended and won't have a measurable impact on the results. Nintendo is projected to show a net loss of 8.9 billion yen for the period, as a stronger yen took a bite out of earnings overseas. When the company reports results, the focus for investors will be whether the game's success will deliver enough lift to boost its profit forecast.

On Friday, hours after its Japan debut, the Kyoto-based company said its financial impact will be "limited" and that the annual outlook won't be adjusted, triggering Monday's share slide. The challenge now will be convincing investors the success of Pokemon Go can be a revenue-generating model for as-yet-unreleased mobile games, especially ones that feature its popular Super Mario and Zelda characters.
"The important thing is for Nintendo, by itself, to develop and then operate a game which uses its characters," said Eiji Maeda, an analyst at SMBC Nikko Securities. "If the first quarter is good or bad, it doesn't matter. It won't move the share price. We will only see impact from the second quarter."
Nintendo's results for the first quarter, which ended in June, will also shed light on the company's sale of a controlling stake in the Seattle Mariners baseball team, which valued the club at $1.4 billion. The dollar has depreciated more than 4 percent against the yen since the deal was announced in late April.
One reason why the benefits from Pokemon Go are hard to quantify is the lack of clarity over how revenue is shared between the game's producers -- Niantic Inc., Pokemon Co. and Nintendo. San Francisco-based Niantic, the app's developer, collects proceeds from in-app purchases and pays about 30 percent to Apple Inc. and Google Inc. for selling through their app stores. Nintendo is an investor in Niantic and Pokemon, while Google also has a stake in Niantic, which used to be part of the search giant.
All told, roughly 13 percent of Pokemon Go sales should flow to Nintendo, according to an estimate by David Gibson, analyst at Macquarie Securities in Tokyo. If the game generates about 396 billion yen annually, that would add about 47 billion yen to Nintendo's bottom line, he said.
For an explainer of the latest game craze, see A Beginner's Guide to Pokemon GO
If Nintendo, which so far hasn't introduced a bona fide hit game for smartphones, rolls out more mobile games, net income may top 200 billion yen by 2020, according to Hirotoshi Murakami, an analyst at Mitsubishi UFJ Morgan Stanley Securities Co. Of the 18 analysts tracked by Bloomberg, Murakami has the second-highest price target for Nintendo, at 40,300 yen, compared with Monday's closing price of 23,220 yen. Bank of America Corp. had the highest, at 45,500 yen.
Nintendo also has other potential revenue streams, not to mention its track record in delivering hit gaming devices. For example, there's Pokemon Go Plus, a clip-on accessory slated for release this week in Japan that syncs with smartphones and alerts users when virtual Pokemon are nearby. The gadget could add as much as 8.2 billion yen in profit this fiscal year, according to the analysts.
There's also the exclusive partnership that Nintendo forged with McDonald's Holdings Co. (Japan), which has set up Pokemon Go checkpoints at its stores and is promoting meals with Pokemon toys. So far, analysts haven't given any estimates on how much Nintendo could earn from such partnerships, and the companies haven't disclosed any details on the alliance.
Another Nintendo smartphone app to watch is Miitomo, which was introduced in March. While it amassed more than 10 million users, it's not clear how the company plans to parlay that into revenue-generating game play. Nintendo has promised to release five smartphone titles by March 2017, and is preparing a new console called the NX that will debut next year.
"The big takeaway from all this is that the group's intellectual properties, in this case Pokemon, has global reach," said Tomoaki Kawasaki, an analyst at Iwai Cosmo Securities Co. "Nintendo has other world-known characters such as Mario and Zelda -- when they begin to appear on smartphones, we can expect a boost to earnings. From a long-term perspective, the current stock price isn't necessarily expensive."