DNC Chief Wasserman Schultz to Resign After Bias Complaints
By and
Party head forced to step down after leaked message show bias

Questions about unity as Democrats stream into Philadelphia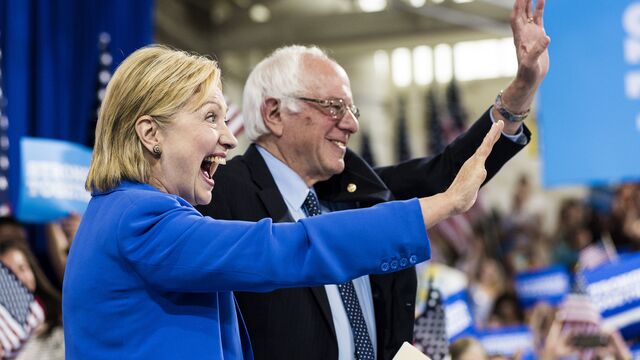 Democratic National Committee Chair Debbie Wasserman Schultz will resign at the end of the party's convention this week after a firestorm over leaked e-mails that showed committee staffers favored Hillary Clinton and attempted to undermine Senator Bernie Sanders.
Wasserman Schultz faced pressure to resign for months from supporters of Sanders, who battled Clinton for the party's nomination. Those calls reached a crescendo after Wikileaks on Friday released almost 20,000 DNC e-mails, some of which showed party leadership leaning in support of Clinton's presidential campaign during the Democratic primary.
"She should resign, period," Sanders said Sunday on ABC's "This Week." "I told you a long time ago that the DNC was not running a fair operation." He later applauded Wasserman Schultz's departure as "the right decision."
The resignation comes days after Democrats delighted in watching Republican infighting disrupt that party's convention in Cleveland. But the dramatic ouster of the sitting party chair may compromise the Democrats' efforts to appear united heading into the general election.
Still Plans to Speak
In a statement, Wasserman Schultz, 49, said she still planned to open and close the convention and "will address our delegates about the stakes involved in this election not only for Democrats, but for all Americans."
"Going forward, the best way for me to accomplish those goals is to step down as party chair," she said.
President Barack Obama said in a statement he had telephoned Wasserman Schultz this afternoon and told her he was grateful for her service, calling her a dear friend.
"Her fund-raising and organizing skills were matched only by her passion, her commitment and her warmth," Obama said. "And no one works harder for her constituents in Congress than Debbie Wasserman Schultz."
'Longtime Friend'
Clinton said she would campaign with her "longtime friend" in Florida, where Wasserman Schultz faces a primary election against Tim Canova, a progressive backed by Sanders. "As president, I will need fighters like Debbie in Congress who are ready on day one to get to work for the American people," Clinton said in a statement. Wasserman Schultz appeared at Clinton campaign events this weekend.
Republican nominee Donald Trump took a shot on Twitter: "Today proves what I have always known, that @Reince Priebus is the tough one and the smart one, not Debbie Wasserman Shultz [sic]," he wrote.
Wasserman Schultz has lead the DNC since 2011 and has represented south Florida in Congress for over a decade. Her recent challenges were made more pronounced by the fact that she had cultivated few close friends in the party.
Despite their cordial statements Sunday, the Obama White House and the Clinton campaign weren't thrilled with her performance, nor were many of her colleagues on Capitol Hill, many Democrats concede privately.
Primary Debates
Having been a co-chair of Clinton's failed 2008 run against Obama, the chairwoman's ability to remain neutral in 2016 was always a question to some, and her actions during primary season did little to reassure skeptics.
As lesser-known contenders Sanders and former Maryland Governor Martin O'Malley pushed for more primary debates to raise their visibility with voters, Wasserman Schultz refused to yield, appearing to those campaigns that she was doing the bidding of the Clinton campaign, which had initially wanted just six debates.
In December, the DNC briefly cut off the Sanders campaign's access to its shared database after Sanders staff exploited a glitch and accessed some of Clinton's proprietary data. Wasserman Schultz and the Sanders campaign manager Jeff Weaver challenged each others' assertions of wrongdoing. One of the e-mails posted by Wikileaks showed Wasserman Schultz calling Weaver a "damn liar."
The e-mail leak was the final straw, giving Democrats an easy way out of a situation that had the potential to rip the party apart at precisely the wrong moment, as thousands of Democrats stream into Philadelphia for the four-day convention.
'Avoid Distraction'
"This was the only, only solution. It was the only way to avoid distraction this week and the only way to begin rebuilding the party infrastructure for the fall," said Mo Elleithee, who served as the DNC's communications director until mid-2015. A quick resignation "is better than having this hang over the convention," he said.
Sanders, who will speak at the meeting Monday night, called Wasserman Schultz's resignation the right move. "While she deserves thanks for her years of service, the party now needs new leadership that will open the doors of the party and welcome in working people and young people," he said in a statement, adding that party leadership must always remain impartial in the nominating process.
Heading into the general election campaign against Trump, Clinton hoped that most of Sanders supporters from the primary would embrace her as the nominee, a prospect that seems more remote in light of the DNC e-mail brouhaha.
Philly Protests
Moments before news of Wasserman Schultz's resignation was announced, a boisterous march of several hundred Sanders supporters flooded downtown Philadelphia. Protesters held signs decrying the "rigged election" and the e-mail leak that ultimately felled the head of the DNC. 
Speaking on MSNBC, Weaver declined to say that the DNC's alleged bias cost his candidate the party's nomination, adding "I think this is an opportunity for a fresh start."
Heading into Monday, a question for party leaders is whether Wasserman Schultz's departure will be enough to satisfy Sanders and his supporters so that Democrats can avoid the spectacle of division that defined the Republican convention. While Texas Senator Ted Cruz was booed off the stage there for refusing to endorse Trump, he doesn't have the following, in numbers or devotion, that Sanders has commanded.
The Sanders camp was forced to compromise in the party platform on certain issues they held dear, but seeing the back of Wasserman Schultz may be enough of a trophy that they can claim victory.
Political analyst Donna Brazile, 56, currently vice chair of the DNC, will take over as interim leader of the party organization when the Florida congresswoman steps down from her post, DNC spokesman Luis Miranda said in a statement. Brazile is one of the most trusted people in party leadership, Elleithee said.
— With assistance by David Knowles, Sahil Kapur, and Margaret Talev
Before it's here, it's on the Bloomberg Terminal.
LEARN MORE