technology
Chinese Startups Lure Venture Capitalists Betting on a Baby Boom
Bloomberg News
Digital health startups fundraising up 200% in first half

Maternity, pediatric apps draw interest after two-child policy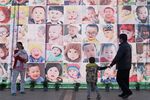 Yang Dan, mother of a three-month old son in Beijing, remembers relying on an array of digital apps for tips throughout her pregnancy: What to eat, when to have a checkup and how to connect with other expectant mothers.
Venture capitalists are now betting that the Chinese Communist Party's decision to repeal its decades-old one-child policy will create more demand for digital services like those used by Yang. The policy change announced last year has piqued investor interest and led to 10 fundraising rounds in the first half for startups in the maternity and pediatric market, according to VC Beat Research, which tracks internet health-related investment and fundraising.
"Luckily with the relaxation of the one-child policy last year investors did become more enthusiastic in pursuing us," said Liang Liang, chief executive officer for Shenzhen Easyhin Technology Co., the company that developed Mami Zhidao, an app that provides online consultations with pediatricians. His firm raised 100 million yuan ($15 million) in March, from investors including Soft Bank China Capital and Morningside Ventures.
Chinese consumers are avid users of digital apps for everything from banking to health care, and that demand has spawned a vast industry. China has 450 million mobile devices for which 7,350 Chinese companies have developed over 33,000 mobile apps, according to a report from China Internet Watch, a website that tracks online statistics in the country. Use of health and fitness apps grew by nearly 130 percent in the past year, the second-fastest growing category after photography apps, according to the report, which cited researcher Flurry Analytics.
Too Costly
The Chinese government has said that allowing all families to have two children is likely to add three million newborns each year. Still, a baby boom isn't guaranteed. Many families find it too costly to have more than one child, and the government has proved to be overly optimistic before: the number of newborns in China fell by 320,000 last year even though the government had begun a partial relaxation of the one-child policy in 2013.
Chinese companies focused on digital healthcare, ranging from e-pharmacies to online apps for new mothers, raised a record $1.5 billion in the first half of this year, more than double from a year earlier, according to VC Beat's report. Startups focused on maternal health and childcare drew about $57 million, the sub-sector with the most rounds of fund raising, according to the report.
Instead of pursuing all kinds of customers, recent startups "have been providing more targeted services or products," said Mo Renying, an analyst at VC Beat. Among the startups that have drawn money this year: an app that offers lecture notes by pediatricians on topics from child psychology to building sleep habits. Another that focuses on helping couples navigate the in-vitro fertilization process, and even one digital service that sells a specialized washer for nursing bottles.
Some of China's biggest conglomerates have built their own internet health subsidiaries, such as Ping An Insurance Group Co.'s mobile health app Ping An Good Doctor, which raised $500 million in series-A funds in May with a $3 billion valuation. But as the market matures, Chinese entrepreneurs are targeting a more specific clientèle.
Mami Zhidao's Liang said his online start-up plans to open four pediatric brick-and-mortar clinics this year, with the first starting operation in southern Shenzhen. He says his clinic chain will be one of the first to specialize in treating children, with more middle-income families willing to pay higher prices to get quality services and avoid long lines at public hospitals.
Liang acknowledges the challenges of entering the private hospital industry -- mainly a lack of qualified physicians and regulatory red tape. The biggest risk is policy uncertainties, such as getting licences for clinics, Liang said.
Still, the venture capital market appears to have hopes that the digital outfits will succeed. Connecting online traffic to offline services and health care are the two hottest commodities in the market right now whose "valuations are by far higher than the old economy," Ping An Good Doctor said in e-mailed comments.
— With assistance by Hui Li
Before it's here, it's on the Bloomberg Terminal.
LEARN MORE