Restaurants
There's Only One Three-Star Restaurant in Singapore's Debut Michelin Guide
by and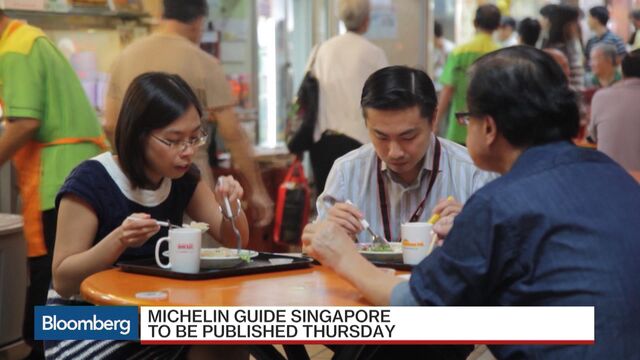 Singapore, the city notorious for its fanatical devotion to food, has joined the Michelin fold.
The tiremaker and publisher handed out its top accolade to just one establishment on Thursday — French celebrity chef Joël Robuchon's eponymous restaurant. It was the first time that the Southeast Asian city's dining scene faced the anonymous scrutiny of Michelin's inspectors, who rank their meals using a three-star system. Wolfgang Puck's steak restaurant Cut in the Marina Bay Sands complex was among 22 eateries awarded one star, as were two hawker stalls. Six restaurants received two stars.

"It's a very competitive landscape," Lionel Yeo, chief executive officer for the Singapore Tourism Board, said at an awards ceremony on Thursday, where restaurant owners and holders of the S$450 ($332) tickets ate a five-course dinner while watching dancers decked out in checked pants and chef hats covered in glitter. "This is a nice boost for Singapore tourism."
If the Michelin marketing machine attracts visitors or encourages them to shell out on fancy meals while they're in town, the financial hub's restaurateurs may find it easier to weather layoffs at investment banks and in the oil and gas industry. Sales at restaurants in the city-state dropped 3.6 percent in May from a year earlier, government statistics show. Malcolm Lee, the 32-year-old owner and head chef at popular one-star winner Candlenut, which serves a contemporary version of Singapore's local Peranakan food, said the economy's ups and downs have been a challenge.

"It's been very tough," he said on Thursday. On being the first Peranakan restaurant to win a Michelin ranking, he said: "we're just happy this cuisine is being recognized."
Michelin grades restaurants in five categories: quality of the products, mastery of flavour and cooking techniques, the personality of the chef in his or her cuisine, consistency and value for money. Most of the inspectors have studied at hotel or cooking school. They are all full-time salaried Michelin staffers, and always pick up their own check.
The first Asian guide was a Tokyo edition in 2008, followed by Hong Kong and Macau versions. The latter two cities had one three-star restaurant each in their first guide, and now have a combined eight. Michelin is planning publications for Shanghai and Seoul.

At the three-star Joël Robuchon Restaurant in the Sentosa resort complex, the degustation menu is S$438, plus taxes. At the one-star Hong Kong Soya Sauce Chicken Rice & Noodle in Chinatown — menu self-explanatory — an entire chicken costs S$14. Chan Hon Meng, the 51-year-old proprietor, said even before the award the hawker stall had an hour-long queue, and he's not planning to put the prices up.
"The consumer is the judge," he said.
Three Star 
Two Star
One Star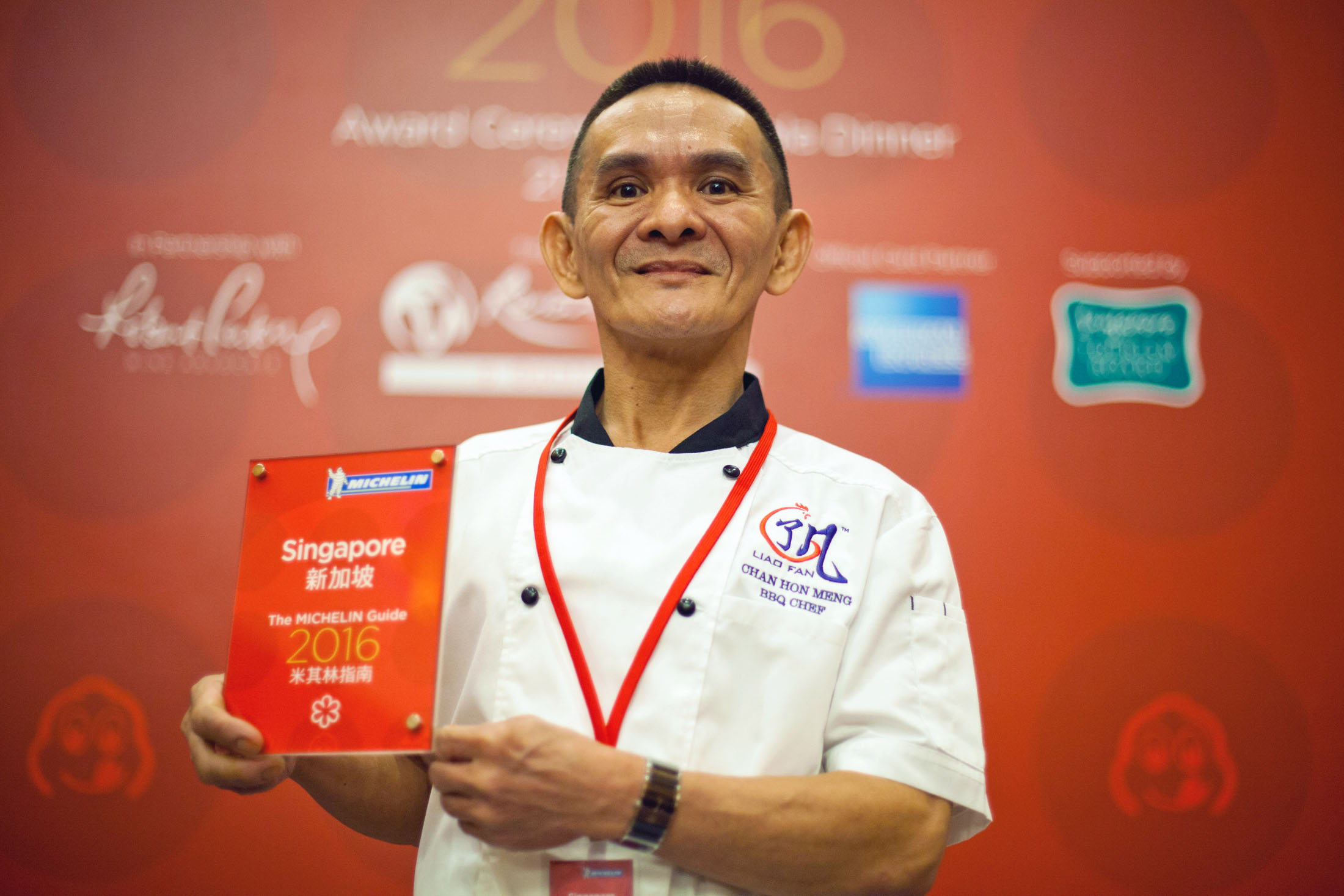 Hill Street Tai Hwa Pork Noodle
Hong Kong Soya Sauce Chicken Rice & Noodle
Before it's here, it's on the Bloomberg Terminal.
LEARN MORE