politics
Obama Rejects Claims U.S. Had Advance Knowledge of Turkey Coup
By and
Turkey submits request for U.S.-based cleric's extradition

Obama says extradition must follow U.S. legal process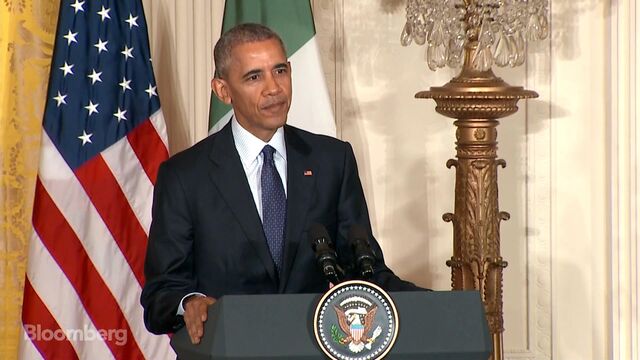 President Barack Obama rejected claims that the U.S. had prior knowledge of last week's attempted coup in Turkey and urged Turkish President Recep Tayyip Erdogan to tamp down any rumors of American involvement.
Any suggestions of early U.S. knowledge of the rebellion by a faction of the Turkish military "are completely false, unequivocally false," Obama said at the White House on Friday. He said he spoke this week with Erdogan, who "needs to make sure that not just he but everybody in his government understand that those reports are false."
Obama's remarks were his most extensive to date on the July 15 coup attempt in Turkey, a key NATO ally and partner in the battle against Islamic State. Erdogan has blamed the plot on supporters of a U.S.-based religious leader Fethullah Gulen, and Turkey's ambassador to the U.S. said Friday that his government had formally submitted documents requesting Gulen's extradition.
Asked whether the U.S. would hand over Gulen, a former Erdogan ally, Obama said the Turkish government would need to present sufficient evidence of the 75-year-old cleric's involvement. The two countries signed an extradition treaty in 1979.
Extradition Requests
"We have a process here in the United States for dealing with extradition requests made by foreign governments," Obama said when asked about Turkey at a news conference after meeting with Mexican President Enrique Pena Nieto. "It's governed by treaties, it is governed by laws. It is not a decision that I make."
Since the coup attempt, several Turkish leaders have signaled that failing to hand over Gulen would be viewed as an unfriendly act on the part of the U.S. Labor Minister Suleyman Soylu went further: last Saturday, hours after the putsch had collapsed, he told a local broadcaster that the U.S. is "behind this coup" for so long as it continues to shelter Gulen.
Obama lashed out at those suggestions on Friday.
"We deplore the attempted coup," he said. "We said so earlier than just about anybody."
State of Emergency
About 250 people were killed in the rebellion, and the aftermath has reverberated across Turkish society as the government has detained, suspended or fired tens of thousands of soldiers, judges, police and others. Turkey implemented a three-month state of emergency on Thursday, allowing the government to issue decrees with the force of law and suspend rights.
About 60,000 people have been impacted by the purge, including detentions, suspensions and the removal of professional accreditations, according to Bloomberg calculations.
Obama said that the U.S. has urged Erdogan to show restraint and adhere to democratic principles.
"What we have indicated is our strong belief and hope that as the dust settles, there is not a over-reaction that could in some fashion lead to a curtailment of civil liberties," Obama said.
Allies Unsettled
The purges and emergency measures have unsettled Turkey's allies and investors, raising concern that Erdogan's response may be an overreach that further destabilizes Turkish society and weakens its institutions. Leaders in Europe have echoed Obama's calls for restraint, and warned Erdogan against restoring the death penalty.
But Turkey also plays a vital role in the U.S.-led fight against Islamic State and the European Union's attempts to halt the westward flow of Syrian refugees.
Erdogan's response to the coup has emerged as a political issue in the United States, where Republican presidential nominee Donald Trump has said the U.S. shouldn't "lecture" the Turkish leader over his actions.
"When the world looks at how bad the United States is and then we go and talk about civil liberties, I don't think we're a very good messenger," Trump said in an interview with the New York Times published Thursday.
— With assistance by Onur Ant, Firat Kozok, Ben Holland, and Gregory Viscusi
Before it's here, it's on the Bloomberg Terminal.
LEARN MORE