EDF Calls for Final Decision on Building Hinkley Point Reactors
By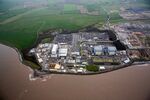 Electricite de France SA has set a board meeting for next week to consider moving forward with a $24 billion project to build two nuclear reactors in the U.K.
The agenda for the July 28 meeting includes a final investment decision for the construction of the reactors at Hinkley Point in southwest England, the French power producer said in a statement Thursday. EDF, the largest electricity supplier by volume in Britain, already operates 15 nuclear reactors there.
A vote to move forward would represent a strong financial commitment to the U.K. a month after residents voted to leave the European Union. It also would show renewed confidence in a project that's been controversial because of concerns the investment would put the utility under too much financial strain amid falling power prices. Thomas Piquemal quit as EDF's chief financial officer in March over the dispute.
The Hinkley Point site "is a unique asset for French industry as it would benefit the whole of the nuclear industry and support employment in major companies and smaller enterprises in the sector," the EDF statement said.
After the U.K.'s secession vote, the French and U.K. governments renewed their support for EDF's plan to build the reactors with a Chinese partner in southwest England.