Emergency Rule Takes Hold as Turkey Seeks to Reassure Investors
by , , and
Justice minister says measures may last less than 3 months

Lira pares losses; stocks on course for worst week since 2008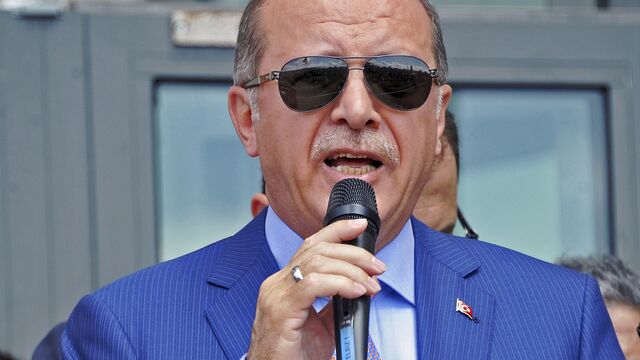 Emergency rule took hold across Turkey as the government pursued those responsible for a failed weekend military coup, and top officials sought to reassure investors after the upheaval triggered a stock-market fall and knocked the lira to a record low.
The government will use its enhanced powers "in a measured way, and the only aim is to clear government institutions" of coup supporters, Deputy Prime Minister Mehmet Simsek told NTV television on Thursday. "There will be maximum sensitivity on economic freedom." He later said the government will take measures to encourage private investment.
Turkey's leaders have promised no backsliding on democracy. Yet the sweeping purges of the armed forces and other state institutions that have followed the foiled putsch have triggered concern among Turkey's allies of excessive reprisals. That could further destabilize a country fighting a war with Kurdish separatists and confronting the spillover of conflict in neighboring Syria, including Islamic State attacks.
Turkey won't be under military rule, and army units will take orders from provincial governors, President Recep Tayyip Erdogan said in Ankara on Wednesday, after a day of meetings with top generals on the National Security Council followed by the cabinet. There'll be no pause in economic reforms, even as the "virus" of the coup-plotters is wiped out, he said.
The government will rule in the interests of democracy, and "there will be no restrictions on rights and freedoms," Erdogan, who has been seeking to concentrate power in the presidency since he was elected to the office two years ago, told a rally on Wednesday night. On Thursday, deputy premier Nurettin Canikli said Turkey needs to extend the four-day maximum detention period to fully investigate coup suspects, and that was a key reason for the emergency powers.
Though emergency powers came into effect at 1 a.m. local time on Thursday, Turkey's parliament will hold a vote on the measures after a debate that began at 2 p.m., as required by the constitution.
French Measure
Justice Minister Bekir Bozdag told parliament that the emergency measures may not be necessary for the full three months. Turkey will derogate itself from the European Human Rights Convention while the state of emergency is in effect, Deputy Prime Minister Numan Kurtulmus told reporters in Ankara, a step similar to what France did when it imposed emergency rule after the November Paris terrorist attacks.
Thousands of Turkish army officers, judges and prosecutors have been detained since the attempted putsch by a faction of the armed forces collapsed on Saturday, leaving almost 250 people dead after a night of aerial bombardment and street battles. A wider purge is under way that encompasses universities, schools and the civil service.
For a QuickTake explainer on Turkey's political divisions, click here.
Erdogan has accused the U.S.-based Islamic cleric Fethullah Gulen of orchestrating the coup, and urged the Obama administration to extradite him. Gulen has denied any involvement. A formal extradition request hasn't been submitted, amid signs of strains between the NATO allies.
Emergency Powers
Emergency rule, which was in force in parts of Turkey's largely Kurdish southeast until the last decade, allows the government to issue decrees with the force of law and suspend rights. According to the presidential press office, if parliament approves the decrees, they can't be overturned even by the Constitutional Court -- the country's top tribunal. The AK Party that Erdogan co-founded has a clear majority in the legislature.

Other special provisions include longer detention of suspects without trial.
Turkey's allies, including the U.S. and European Union nations, have condemned the military uprising while also warning that reprisals should be measured. Erdogan's government was already under fire from rights groups for suppressing media criticism and interfering with courts. But Turkey also plays a vital role in the U.S.-led fight against Islamic State and the EU's attempts to halt the westward flow of Syrian refugees.
Death Penalty
In an interview with Al Jazeera television earlier Wednesday, Erdogan dismissed European calls for moderation. He said he's ready to approve the restoration of the death penalty if parliament passes it -- a step that could officially kill off Turkey's application for EU membership, already effectively on ice. Erdogan was more conciliatory toward the U.S., saying the strategic alliance between the two NATO members will endure.
Investors have also expressed unease about the post-coup crackdown.
The lira slumped to a record low 3.0973 per dollar on Wednesday, recovering to 3.0680 in afternoon trading on Thursday. That's still about 7 percent weaker than the day before the coup. The yield on Turkey's 10-year bond rose for a fifth day to 10.22 percent, while the benchmark Borsa Istanbul 100 Index fell 4 percent, on course for its worst week since November 2008.
'Policy Risks'
"The response to the failed coup has added to the plethora of preexisting political and policy risks, making it even more challenging for the country to embark on economic reform," Maya Senussi, an economist at Roubini Global Economics, wrote in a report Thursday.
Simsek told investors not to worry. "Business will be as usual" and the lives of ordinary people won't be interrupted, he said on Twitter. "We're committed to the market economy." Erdogan has said the government won't relax fiscal discipline and will continue with planned investments.
Turkey has experienced two full-scale coups since 1960, and the military has intervened in other ways to push elected governments out of power. The sweeping arrests of senior officers may threaten the army's effectiveness in two wars it's committed to: the U.S.-led fight against Islamic State abroad, and an escalating conflict with Kurdish rebels at home.
Erdogan has sought to trim the political influence of the traditionally secular army ever since his Islamist-rooted party came to power in 2002. It's a sign of changed times in Turkey that the latest purge is directed at followers of the preacher Gulen, rather than die-hard adherents to the nation's secular founder, Mustafa Kemal Ataturk, who were once perceived as the biggest threat to Erdogan's rule.
Before it's here, it's on the Bloomberg Terminal.
LEARN MORE