'Brexit Was a Much Stronger Candidate Than Trump,' Plouffe Says
The manager of Obama's 2008 bid says the success of the pro-Brexit campaign does not foreshadow Trump's victory.
By and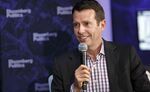 The manager of Barack Obama's 2008 presidential bid said Wednesday that the success of the pro-Brexit campaign does not foreshadow Donald Trump's victory in the 2016 U.S. election.
"You can't draw an analogy," said David Plouffe, who is now adviser at Uber, at a Bloomberg Politics event in Cleveland during the Republican National Convention.
Trump's campaign and the U.K. movement to leave the European Union are seen to have similar themes about national sovereignty, trade, and immigration, but Plouffe said there are key differences. 
"Powerful forces" surrounded the Brexit debate, the Democrat said, and the side opposing Brexit "didn't run a great campaign." One problem was a bad electoral model that led Brexit opponents to fail to foresee their loss, he said.
"If your model really is 14 points off, that's a huge miss," Plouffe said. 
The unique nature of the U.K. referendum made modeling difficult, while data on U.S. presidential elections is much better, Plouffe said.
Clinton Models
Presumptive Democratic presidential nominee Hillary Clinton's voter models are not yet as sophisticated as the ones used by Obama's campaigns, Plouffe said.
"They need a bit more time," said Plouffe. "You make every decision based on your model these days."
Plouffe said the election won't be close because the Trump campaign lacks similar voter data.
"The truth is the Clinton campaign knows almost with certainty who is going to vote in this election" and how they're going to vote, he said.
Enthusiasm Gap
This year's presidential race is like an "ugly, muddy track" with two imperfect candidates, Plouffe said.
Clinton has a "real" enthusiasm issue, but her poll numbers will improve after next week, when the Democratic National Convention takes place in Philadelphia, he said. 
More importantly, the electoral map strongly favors Clinton, he said.
"Hillary Clinton can lose Florida, Ohio, and Virginia, and I think she'll win all three, and still be president," he said.
He said the most important moment of this week's Republican convention is Trump's speech Thursday night.
The nominee must give a speech "that makes Republicans feel more confident and energetic," he said. For the rest of the campaign, Trump "every day has to lay out a consistent, persistent, passionate view of the way he's going to grow the economy."
Before it's here, it's on the Bloomberg Terminal.
LEARN MORE