Visium Asset Management to Fire 33 People as Funds Shutter
by and
Terminations to start in October, hedge fund firm says

Visium told clients last month its closing four hedge funds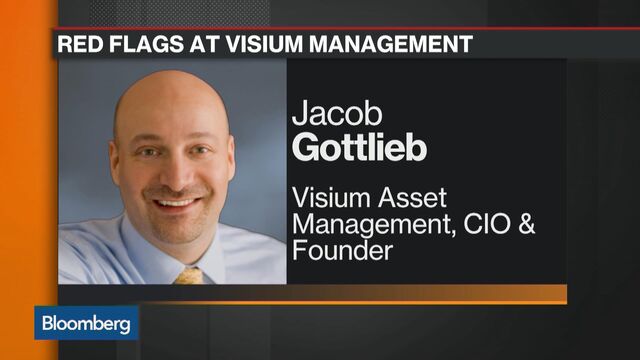 Jacob Gottlieb's Visium Asset Management plans to fire 33 employees in New York as the firm liquidates its hedge funds following charges against three former employees.
The cuts will happen as early as October, Visium said Tuesday in a New York Department of Labor notice. The firm, which said it has 110 employees, has been notifying affected staff of the planned termination, according to a person with knowledge of the matter.
Jonathan Gasthalter, an outside spokesman for Visium, declined to comment.
Gottlieb said last month that Visium will shutter hedge funds including its flagship Balanced Fund, after one of the company's star managers and two former employees were charged with securities fraud. Visium earlier struck a deal to sell its multi-sector hedge fund, Visium Global, to AllianceBernstein Holding LP, which will acquire that fund's investment professionals and some support staff.
"These were very difficult decisions for me and the Visium team but given the uncertainty relative to the final outcome of the recent regulatory developments, the negative impact of the resulting publicity, and the substantial investor withdrawals, it became clear that maintaining the status quo was increasingly untenable for the firm," Gottlieb told investors in a letter June 17.
The closures came two days after U.S. prosecutors said they arrested Sanjay Valvani, a Visium partner and money manager, saying he reaped more than $32 million from trades in drug companies using illegal tips. Three days after Gottlieb's announcement, Valvani -- who had maintained his innocence -- committed suicide.
Former trader Chris Plaford, who co-managed a credit fund, was accused of trading on illegal stock tips. He and Stefan Lumiere, another former manager, were also accused of mismarking securities. Neither Gottlieb nor the firm have been accused of wrongdoing.
Plaford has pleaded guilty to mismarking and insider trading. Lumiere pleaded not guilty to federal charges that he lied about the value of securities in his fund's portfolio.
In addition to the Balanced Fund, Visium is liquidating its Institutional Partners Fund, Equity Alpha Fund and Equity UCITS Fund. As of last year, the firm managed five hedge funds and a mutual fund, and was seeking to raise $500 million for a private equity vehicle. The letter didn't discuss the private equity fund.
Visium managed $8 billion at its peak earlier this year. The firm had 177 employees in New York, London, and San Francisco as of March 30, according to regulatory filings.
Before it's here, it's on the Bloomberg Terminal.
LEARN MORE