Sectarian Tension Builds in Turkey as Erdogan Crackdown Widens
By
Alevi religious minority worried they're being targeted

Erdogan supporters dismiss allies' warnings to respect rights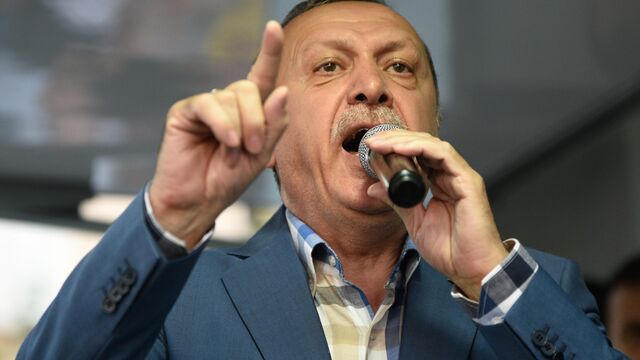 The crowds gathered outside President Recep Tayyip Erdogan's Istanbul home waving Turkish flags near midnight Monday were cheering more than the failure of a putsch two days earlier. They were celebrating their religious conservative party's gain of complete control over the Turkish Republic.
QuickTake Turkey's Continental Divide
That sense of victory is making other groups worry for their future in a still-officially secular nation as a post-coup purge widens. It's not just those long wary of the ruling Justice and Development Party's Islamic-influenced agenda: Alevis, a Shia-related religious minority that accounts for almost a quarter of the population, have been skirmishing with Erdogan's mainly Sunni supporters since Friday night.
While there's no immediate prospect of a Syria-style sectarian conflict, concerns among Alevis -- a sect closely related to Syria's Alawites -- are growing at the government's continued calls for its supporters to take to the streets. Any level of instability would add to an already strained situation, as the Turkish military engages in urban warfare with ethnic Kurds in the east.
With allies and human-rights advocates urging Erdogan to move to unify the nation, the prospect of his hardline retaliation has markets on edge. On Tuesday, the Turkish lira briefly dropped lira its low during the coup attempt. Erdogan said he would announce an "important decision" on Wednesday, without indicating what that would be.
Erdogan's supporters seem ready to back any path he chooses in response to Friday's coup attempt, which he has blamed on supporters of the U.S.-based religious leader, Fetullah Gulen. As they walked towards his home on the Asian side of the Bosphorus at around 10 p.m. on Monday, chanting Allahu Akbar (God is Great), the loudspeakers on a police bus escort blared the march that accompanied the Ottoman Empire's crack Janissary troops into battle.
'People's Coup'
"You Cannot Stop the People's Coup" flashed a traffic sign overhead.
"We are here because foreign powers tried to eliminate the national will," said Bashar Bayraktar, a 36-year-old sound technician, reflecting a widespread belief -- encouraged by pro-government media -- that the U.S. was behind the coup attempt.
Dilek, a 42-year old woman who declined to give her full name, said Turkey -- and specifically Erdogan -- was ready for a war of independence if necessary. She was referring to the 1919-1923 war fought by Mustafa Kemal Ataturk to create the modern Turkish Republic. Turkish territory had been occupied by British, French and Greek forces at the time. Erdogan, she said, was now as strong and important to Turkey as Ataturk had been.
Flag Captured
"When I came out of the airport at 2 a.m. on Sunday, it was clear to me that the Islamists had taken over the flag," said Soli Ozel, lecturer at Kadir Has University, in Istanbul. Traditionally, the Turkish flag -- a white crescent and star on a red background -- was associated more with the army and Ataturk.
"They have taken full ownership of the state, in their perception," Ozel said of Erdogan's supporters.
On Tuesday, the government demanded that all of the nation's 1,577 university deans resign and dismissed 15,000 teaching staff. Since Friday it has also fired or arrested more than 20,000 people from the military, the police, the judiciary and finance ministry.
While backers of the ruling Justice and Development Party see defeating the military coup as a democratic achievement, Ozel and others see arbitrary power and unleashed mobs that will be difficult to contain.
That's a particular concern for Turkey's Alevi community, whose women don't wear headscarves and who are considered by some Islamists to be heretics. And although Alevis have had a conflicted relationship with the secular Turkish state, they are popularly thought to support keeping religion out of politics.
Marching
In Istanbul's Sultangazi district, the local muhtar, a district leader, described how each day since the coup attempt, groups of Sunni, flag-waving supporters of the government had tried to march through his predominantly Alevi area.
"I have had this job for 20 years and I have never seen this before," said the 60-year-old, Nevzat Altun. He acknowledged that the district, a stronghold for banned leftist organizations, frequently sees riots and clashes with the police. Two armored police cars stood on the neighborhood's main street as he spoke. But for ordinary Sunnis to march into the area was new and worrying, he said.
"We asked what they wanted here and they said: Isn't this part of our country?" said Altun. "What do they want? Do they want us to leave?" He said that there had been no support for the coup in the district.
Intimidated Locals
At a local café, a group of young, self-described revolutionaries showed cell phone pictures of the interlopers, dressed in robes characteristic of Islamists. Then they showed photos from the Internet of coup soldiers being beaten by pro-government crowds.
"These are the same people killing Alevis (Alawites) in Syria," said Ahmet Turan, a 36-year-old local photographer. "They didn't accuse us of supporting the coup. They just chanted 'Allahu Akbar'. They're trying to show us they are strong and have more support now."
Similar clashes have been taking place in Alevi districts in Malatya, eastern Turkey, as well as in Ankara, the capital, said Ali Haydar Hakverdi, an Alevi legislator in the national parliament.
"This is our biggest concern," said Hakverdi. Calls delivered from the country's mosques to come out into the street on Friday had drawn a relatively small group of hardcore Islamists who were deliberately stoking religious tensions between Alevis and Sunnis, he said. So long as the government keeps crowds in the streets there is a risk that sectarian violence will grow and spread, he added.
Asked for comment, a policeman in Sultangazi opened the heavy, battered door of his armored car and said only: "Turkey is safe."
A government spokesman didn't return calls seeking comment.
"This is an accident waiting to happen," said Ozel, the university lecturer. "What we have to hope for is that Erdogan will decide to calm all this down." He was not, however, hopeful.
Before it's here, it's on the Bloomberg Terminal.
LEARN MORE