Showtime
Trump's Cleveland Convention Expected to Be Unconventional
Party division and outside events threaten to steal some of the Republican's limelight.
By and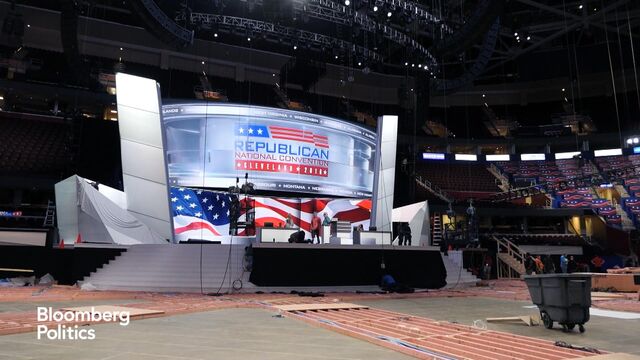 The Republican National Convention is shaping up to be a bumpy ride, with party division and outside events -- including protests and fallout from Sunday's killing of three police officers in Louisiana -- threatening to steal some of Donald Trump's limelight.
Delegates opposed to the presumptive nominee were still plotting ways to disrupt the nationally televised sessions shortly after the convention formally started at 1 p.m. Monday.
At a minimum, the four-day political extravaganza promises to be unconventional, at least when compared to the heavily scripted quadrennial coronations of recent presidential election cycles.
The convention's home-state Republican governor, John Kasich, was expected to attend events outside the Quicken Loans arena, but not inside. Many of the party's top elected officials and donors also were expected to be missing, as were the last two Republican presidents and last two Republican presidential nominees.
The specter of unrest and potential violence hung over the convention as well, with the volatile mix of daily demonstrations planned by groups both for and against Trump. The protests were set to take place with a nation on edge following the assassination of five police officers in Dallas on July 7 and the killing of three more Sunday in Baton Rouge.
"For the things that we're able to control, we feel real good," said Matt Borges, Republican Party chairman in the host state of Ohio.
At least Trump won't have to deal with a tropical storm, like the one that delayed the start of the last Republican convention by a day four years ago in Tampa.
A political provocateur who loves to brag about his ratings, Trump seems eager to put on a good show, but the roughly 20,000 people inside the arena are just his secondary audience.
His primary one will be the millions watching on television in battleground states. Trump and his campaign team have predicted record television ratings.
As the gathering convened, three national polls of registered voters released Sunday show Hillary Clinton leading Trump. A CNN poll had the Democrat ahead, 49 percent to 42 percent, while an NBC News/Wall Street Journal survey had the race at 46 percent to 41 percent and the Washington Post/ABC News had it at 47 percent to 43 percent.
An online survey released Sunday by Morning Consult showed deep discontent within the Republican Party, with 46 percent of those surveyed saying that their party has "pretty seriously gotten off on the wrong track."
The first bumps for the convention could arrive shortly after it starts, when delegates opposed to Trump's nomination have threatened to disrupt the proceedings. Those actions could come in several forms.
One long-shot possibility is the presentation of a so-called minority report that would call for a large proportion of delegates to be freed from the obligation to vote for Trump on the first round of nomination balloting, based on the results of primaries and caucuses in their states. The signatures of 28 members of the convention Rules Committee -- a quarter of the panel -- are needed for such a report to be generated.
Unless the convention accepted the minority report, however, the delegates would remain bound. A bid to change the rules could always be initiated from the floor, but the hurdles for passage there are significantly higher.
Morton Blackwell, an RNC member and convention delegate from Virginia, said he doesn't think there's any chance of a minority report calling for the unbinding of delegates.
"It's theoretically possible that a flying saucer will land in Central Park in New York, but it ain't going to happen," he said.
Multiple reports were being considered, though it was unclear on Sunday whether there would be enough support to submit any on Monday, said Mallory Rascher, a spokesman for Ken Cuccinelli, a former Virginia attorney general and loyalist of Senator Ted Cruz of Texas.
Cuccinelli was involved in negotiations with the RNC that shut down the Rules Committee for more than three hours Thursday. When a deal wasn't struck, the provisions were offered and rejected one by one. Cuccinelli has characterized the proposed changes as "getting rid of some of what a lot of people at the grassroots feel is a rigged part of our party."
RNC Chairman Reince Priebus said Sunday that any disruptions from the "Never Trump" movement would only help Clinton.
"I'm not going to just shut people down," he said on ABC's "This Week" program. "But I'm also going to make sure that our rules are followed. And I don't think they're going to be successful."
Trump's campaign chairman, Paul Manafort, said he doesn't expect any proposed minority reports will have the 28 votes needed to be filed.
"If it is, it'll be on one of these process things that I don't care about,'' Manafort said in an interview on Monday after speaking at a Bloomberg Politics breakfast. "But I don't think there'll be any.''
Blackwell and other conservatives who tried unsuccessfully to get new party requirements approved at the Rules Committee were trying to get minority reports on changes including limiting state presidential primaries and caucuses to only party members and forbidding lobbyists from serving on the RNC.
Manafort downplayed the lack of Republican elected officials speaking at the convention. "We're not going to have the traditional wall-to-wall speakers from Washington," he said.
An additional storyline to watch will be what some of Trump's former primary rivals, including Cruz and Governor Scott Walker of Wisconsin, say from the stage. Both men are among the list of often-mentioned potential 2020 Republican candidates, should Trump fail in November.
Convention organizers on Sunday released the full program for the week, including most of the featured speakers. The list is heavy on Trump family members, business associates and employees. Not listed as a featured speaker is New Jersey Governor Chris Christie, a close Trump friend and someone he considered as a vice-presidential running mate.
As thousands of delegates arrived Sunday in Cleveland, they were greeted by a city fortified with steel fencing, concrete barriers and security at many downtown intersections. Military and police helicopters buzzed overhead almost constantly.
While conventions always attract protesters, Trump's polarizing personality and sometimes harsh campaign rhetoric is expected to draw more than usual.
The protests were expected to start in earnest on Monday. A noon rally was planned by a coalition of more than 40 groups, including those promoting immigrant rights, civil rights, American Muslims, unions and anti-war efforts.
Citizens For Trump also planned a demonstration on Monday, organizing what it was calling an "America First" rally in support of the billionaire's nomination.
The city has issued dozens of permits for groups and individuals to rally in city parks, march on a designated parade route or appear at specific times on a speaker's platform in Public Square from 9:30 a.m. to 6 p.m. each day.
Stand Together Against Trump, founded by a group of physicians and nurses in Cleveland, plans a protest parade at 1:30 p.m. on Thursday and also plans to gather when Trump delivers his nomination acceptance speech that night wearing yellow to oppose racism, said organizer Bryan Hambley, a Cleveland physician.
"We're inviting anyone who feels Trump is counter to what they want for this country," he said.
While some law enforcement entities have declined to send officers to Cleveland to assist local police because of concerns about workers' compensation coverage or other issues, police are prepared, Secret Service officials have said.
In the wake of the shootings in Louisiana, the president of the Cleveland police union said he planned to ask Kasich to declare a state of emergency and ban the open carrying of weapons during the convention, a request the governor said he can't grant.
"Law enforcement is a noble, essential calling and we all grieve that we've again seen attacks on officers," Kasich spokeswoman Emmalee Kalmbach said by e-mail. "Ohio governors do not have the power to arbitrarily suspend federal and state constitutional rights or state laws as suggested."
Cleveland Police Chief Calvin Williams said law enforcement is taking note of what's happened in recent attacks, including the one in France, by adding barriers and other changes and will be prepared for whoever arrives.
"We've heard reports from different sources about everyone from anarchists, to black separatists, to, you know, just regular Trump followers, anti-Trump followers," he said on CBS' "Face the Nation" on Sunday. "Everybody has been, you know, in some way, shape, or form touted as coming to Cleveland to either cause trouble or to exercise their First Amendment rights. But we're prepared for it all."
Before it's here, it's on the Bloomberg Terminal.
LEARN MORE