Convention Protests Will Probably Help Trump, Top Aide Says
Paul Manafort also addresses the Bushes, the battlegrounds, and Brexit lessons in a Bloomberg Politics breakfast in Cleveland.
By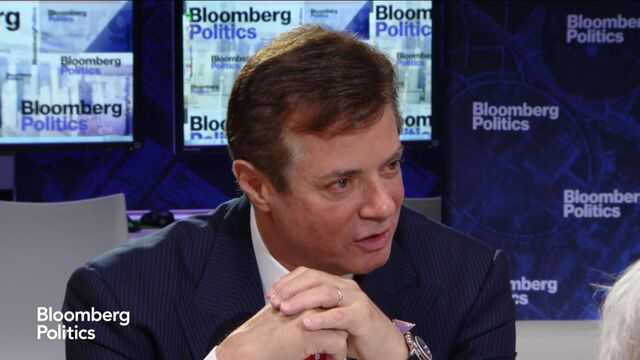 Protests at the Republican National Convention will show "lawlessness" and "lack of respect" for political discourse, Donald Trump's campaign chairman, Paul Manafort, said Monday.
"Frankly, that impact will probably help the campaign," Manafort said at a Bloomberg Politics breakfast with journalists in Cleveland on the opening day of the convention.
Trump is set to accept the party's nomination at the convention on Thursday night after a contentious primary race and the selection last week of Indiana Governor Mike Pence as his running mate.
Protests "won't disrupt inside the hall," said Manafort, who said the purpose of the gathering is to "expand awareness of who Donald Trump is," including lesser-known aspects of his personality that he said included Trump's generosity and soft-heartedness.
"During the primaries he was a first-time candidate and he only focused on part of his personality," Manafort said. "We're not changing him, we're just expanding" what voters will see.
Manafort dismissed the so-called "Never Trump" effort as a band of "rogue, recalcitrant" delegates. The possible presentation of a minority report that would call for a large proportion of delegates to be freed from the obligation to vote for Trump on the first round of nomination balloting was seen having steep odds Monday.
Ohio Governor John Kasich, who ran against Trump and is only attending events on the sidelines of the convention in his home state, is being "petulant" and "embarrassing" his party, Manafort said. He was more restrained about the absence of the Bush family, which includes the nation's two most recent GOP presidents.
"Do I want the Bush support? Yes. Can I live without it? Yes."
20 Battleground States
Manafort said the campaign sees many traditionally Democratic-voting states as battleground where Trump could challenge presumptive Democratic nominee Hillary Clinton. 
"The target list is actually expanding. The 12 battleground states are probably closer to 20 now," Manafort said, listing as "in play" Oregon, Connecticut, Wisconsin, Iowa, Nevada, New Mexico, Michigan, Pennsylvania, and Virginia.
"There are five or six ways to 270," the number of Electoral College votes needed to win the presidency, Manafort said.
President Barack Obama won all nine of the in-play states in 2012 that Manafort listed. 
Brexit Lesson
Manafort said U.K. voters' decision in June to leave the EU has implications for the U.S. election.
"Brexit is really a good forerunner of what's going to happen here in November, I think. The same angst that drove that vote is driving the American election," Manafort said. "Trump was saying this before Brexit, and nobody's paying attention to that."
The U.K. rejection of "faceless bureaucrats" sends a signal favorable to Trump about his odds against Clinton, Manafort said. 
He couldn't pick an opponent "off the shelf better than Hillary Clinton to run against on change vs. establishment." 
Muslim Ban
Manafort said that for Trump, defining his proposed temporary ban on Muslim immigration was a process because "with him everything starts as a negotiation."
The current policy proposal, Manafort said, is that "where there is terrorist activity -- Syria or Iraq -- we will temporarily suspend immigration until we can establish a vetting system in which we can identify who people are who are coming in." 
Trump would do more vetting of immigrants from France, where more than 80 people were killed last week when a truck plowed through a Bastille Day crowd, and would work U.S. allies on their vetting programs, Manafort said. But "France is not going to be the focus per se. The focus is going to be on areas where there's terrorist activity."
"In his mind, most of the people who are going to be banned are going to be Muslims," Manafort said, because radical Islamic terrorism is the threat the policy is intended to curb.
In an apparent explanation of the difficulty of offering detailed plans and adjusting them in a heated political climate, Manafort said, "You can't create policy in the middle of a campaign. He's providing a direction."
New Running Mate
Manafort dismissed the suggestion that Pence's support for the Iraq invasion in 2003 undermines Trump's argument that Clinton's support for the war demonstrates her bad judgment. The relevant argument, Manafort said, is that the Middle East became less stable under President Barack Obama, with Clinton as his secretary of state, when U.S. troops left Iraq. 
Striking a similar note on Pence's past free-trade support, Manafort said Trump also supports free trade so long as deals are fair to the U.S. and sees bilateral agreements, rather than multilateral ones, as a better way to protect America's interests. 
And there's an important campaign task Pence can help with, the strategist said.
"Trump is not a fan of fundraising but he's willing to do it. Pence is a fan of fundraising and does enjoy doing it."
Reagan Comparison
Manafort repeatedly likened Trump's position to that of Ronald Reagan when the actor-turned-Republican-politician was nominated for president.
Pence can play a role for Trump similar to the one Jim Baker played for Reagan, Manafort said, as they try to persuade U.S. voters to envision Trump in the White House.
"Just like with Reagan, I believe that once Donald Trump is accepted by the American people as somebody who can be president, I think the race is over. When that will be, I don't know. We've got to do our job. The convention is the beginning of that."
Before it's here, it's on the Bloomberg Terminal.
LEARN MORE