Trump's Formal Introduction of Mike Pence Is Mostly About Trump
He boasted about his primary victories, mocked former rival Ted Cruz about his "non-endorsement," and delighted in the demise of the "never Trump" movement ahead of the Republican convention.
By , , and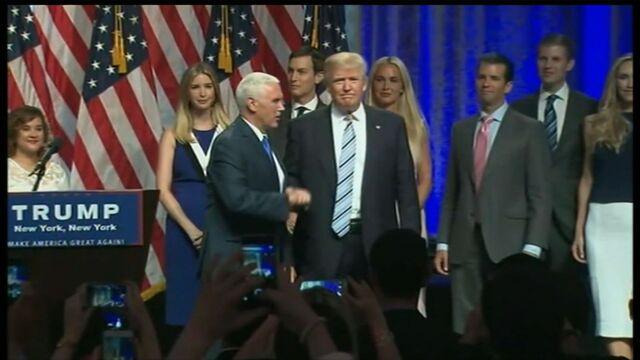 Donald Trump strolled onto stage solo, leaving his new running mate hidden backstage for nearly half an hour.
Standing behind a podium that bore only one name–"Trump"–the presumptive Republican presidential nominee spoke without the aid of a teleprompter, which he has used in formal settings in recent months. He boasted about his primary victories, mocked former rival Ted Cruz about his "non-endorsement," and delighted in the demise of the "never Trump" movement ahead of the Republican convention. 
One topic Trump seemed to have less enthusiasm for was Indiana Governor Mike Pence, the man who would be one heartbeat away from the presidency in a Trump administration. 
"One of the reasons is party unity, I have to be honest," Trump said, referring to why he selected 57-year-old Pence to fill the vice presidential slot on his ticket.
Trump shifted to prepared remarks when he finally began introducing Pence, offering a brief summation of his achievements. "I admire the fact that he fights for people, and he'll fight for you," Trump said. 
Then he pivoted directly into an attack on presumptive Democratic candidate, Hillary Clinton. Among other things, Trump said Clinton "got away with murder" when the FBI decided against recommending prosecution for her private e-mail practices as secretary of state. 
And Trump, 70, repeatedly diverted from lauding Pence for the governor's work to boost Indiana's economy, to talking about himself. 
"No one's fighting for the veterans like I'm fighting for the veterans," he said. And a few sentences later, "Do I know how to build a wall? Do I know how to build infrastructure?"  Trump offered an aside about how Cruz gave "the single greatest non-endorsement I've ever had," and even bragged that his new hotel being built in downtown Washington is "under budget and ahead of schedule." 
It was an awkward first public appearance for the Republican ticket that will vie with Clinton and an as-yet-unnamed Democrat to succeed President Barack Obama. They were together on stage very briefly–just long enough to get a few photos and a perfunctory hand-shake. After speaking for 28 minutes, Trump waved on Pence, saying Pence will "be outstanding in every way."
Pence spoke for about 12 minutes, sounding polished and determined. Later on Saturday he attended a "welcome home" rally in Zionsville, Indiana, north of the state capital Indianapolis. 
"I accept your invitation to run and serve as vice president of the United States of America," Pence said in New York, describing himself as "a Christian, a conservative and a Republican, in that order."  
Echoing his new boss, Pence said that "Hillary Clinton must never become president."  The choice, he said, "could not be more clear, and the stakes could not be more higher." Strong Republican leadership can bring about real change, said Pence. 
Yet the policy visions of the pair, on issues from trade to the Iraq war to LGBT rights, are often at odds. They also disagree on campaign tactics, with Trump's serial nicknames for his opponents, including Crooked Hillary and Lyin' Ted, a contrast with Pence's assertion - after an ugly Congressional campaign in 1990 which he lost --that negative campaigning is wrong. 
Asked about Trump's "tone and negativity" in a joint interview with CBS News' "60 Minutes," Pence said the property developer-turned-politician was "a good man who's been talking about the issues the American people care about," according to a partial transcript provided by the network.
Trump said he hadn't asked Pence to mimic his rhetorical tone: "He won't--I--I don't--I didn't ask him to do it, but I don't think he should do it because it's different for him."  The full interview will be broadcast on Sunday. 
Saturday's event was postponed by 24 hours following the attack late Thursday in Nice, France. After multiple media reports that Pence was his final choice, and facing a deadline for Pence to withdraw from the Indiana governor's race, Trump's big reveal came via a single mid-morning tweet on Friday.
The setting for the televised roll-out, two days before the Republican National Convention kicks off in Cleveland, was a New York Hilton Midtown ballroom with floor-to-ceiling drapery, multiple U.S. flags and little other decoration other than the usual "Trump" placard on the front of the podium. The 250 seats were filled with invited guests, including members of the Manhattan Republican Club and of Trump's golf courses, and one surprised vacationing Nebraska family invited to attend while milling in the lobby.
The buttoned-down Pence, 57, is the stylistic opposite of Trump. The polished, silver-haired conservative is adept at speaking many words without saying much of anything—a studied contrast to Trump's penchant for off-message outbursts.  
Once Pence joined the ticket, he strongly backed Trump positions that he'd criticized in the past. On Fox News on Friday evening, the governor said he was "very supportive of Donald Trump's call to temporarily suspend immigration from countries where terrorist influence and impact represents a threat to the United States." In December he derided the ban as "offensive and unconstitutional."
Pence also backed another signature proposal of the Trump campaign, vowing that a wall between Mexico and the U.S. would be built under their administration. He also said that Mexico would "absolutely" pay for it. 
A former No. 3 Republican leader in the House of Representatives, Pence understands policy and where the levers of power are in Washington. He was in Congress for 12 years, and has occupied the governor's mansion in Indianapolis since January 2013. 
He's also the kind of restrained career politician Trump has ridiculed over the last year. 
One of Trump's signature campaign anecdotes happened under Pence's watch—about Carrier Corporation eliminating 1,400 jobs at its Indianapolis air conditioner plant and moving production to low-wage Mexico. Pence explicitly backs Nafta and has called for ratification of the Trans Pacific Partnership and granting normal trade status to China. That's awkward for Trump, who uses free trade as the scapegoat for lost jobs. 
Also unlike Trump, Pence has connections to special interest money from powerful donors like the Koch brothers; he was a strong proponent of the Iraq War; and opposed attempts to extend anti-discrimination laws to gay people. 
Internal documents obtained Friday by Bloomberg Politics show Trump's campaign aides planned to pitch Pence as the steady hand who can help unify the party—and reel in reluctant business Republicans who backed Jeb Bush and Marco Rubio as well as evangelical conservatives  who pinned their hopes on Cruz. 
As outlined in the strategy memos, Team Trump intends to promote Pence as a "devout evangelical Christian" and  a "job-creating governor" with legal, small business and public policy experience. 
As a member of Congress, the Trump memo says, "Pence developed a reputation as an advocate for limited government, fiscal discipline, a strong national defense, and traditional family values."
In holding their first rally as running mates blocks from Trump's residence, the candidate took a different path than the past two Republican presidential nominees, who held their events in important swing states. However, Governor Mitt Romney and Senator John McCain both lost to Barack Obama -- and Trump often boasts that he can flip his home state to the Republicans for the first time since 1984.  On his way to victory in 2000, then-Governor George W. Bush formally announced Dick Cheney as his running mate in his home state of Texas, however.
At his rally in Indiana, with about 400 people in attendance in the hangar of the Indianapolis Executive Airport, Pence spoke for about eight minutes. He thanked his mother, wife and three children, and said he was "couldn't be more humbled" by Trump's support. 
"Our state is inspiring the nation and I'm going to take Hoosier ideas to Washington DC," said Pence, adding that he was on his way home for pizza night. Earlier on Saturday Pence tweeted that his "busy weekend" in New York included a meal at the restaurant chain Chili's. 
Before it's here, it's on the Bloomberg Terminal.
LEARN MORE