Vice President Pence Would Up the Ante on Federal Reserve Reform
By
Former congressman proposed eliminating employment mandate

Pence was key Republican critic of Fed's bond buying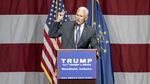 Mike Pence tried to change how the Federal Reserve operates when he was a congressman. If he becomes vice president, he'll be in a better position to help make it happen.
Before becoming governor of Indiana and now presidential candidate Donald Trump's newly picked running mate, Pence was a key lawmaker among House Republicans whose criticism of the Fed built to a crescendo in 2010 as the central bank began a $600 billion second round of bond purchases to avert deflation and boost employment. Pence said at the time that the quantitative easing would monetize the U.S. government's debt and ignite inflation.
Pence -- along with Senator Bob Corker, who was also considered by Trump for the vice presidential nomination -- introduced legislation in 2010 to remove the Fed's full-employment mandate and have the central bank focus on inflation alone.
By "restraining the Fed and giving clarity to its mission focused singularly on sound monetary policy, we can avoid future short-term fixes that have long-term inflationary consequences," Pence said at the time. Full employment is economist-speak for the level that the economy can handle without igniting unwanted inflation.
Click here to watch Pence's 2010 press conference on his proposed Fed legislation.
While the inflation forecast has failed to come true, and his legislation never made it to the House floor, Republican criticism of the Fed has become well-entrenched, especially since President Barack Obama appointed Janet Yellen to succeed Chairman Ben S. Bernanke. The idea of Fed reform has picked up steam, as Republicans have refined their proposals to make changes to how the central bank operates. There are also calls from the left for reforms in how regional Fed presidents -- who vote on monetary policy -- are appointed.
In a November 2010 speech to the Detroit Economic Club, Pence, who was then chairman of the House Republican Conference, made a prediction about the Fed's bond buying. "While there is no guarantee that this policy will succeed in reducing unemployment, it is near certain that the value of the dollar will be diluted," he said.
The Bloomberg Dollar Spot Index has risen 24 percent since the Fed announced QE2 in November 2010, as U.S. growth outpaced other advanced economies.
Not everything he said would be anathema to Yellen and her colleagues. Pence said in 2010 that the central bank shouldn't shoulder all the burden of aiding the economy -- something that's become a common refrain not just from the Fed, but from central bankers and economists around the world, where persistently weak growth has spurred even more unorthodox policies such as negative interest rates.
"The onus for growing jobs in this country should not fall on the Fed," Pence said at the time. "It should fall on policy makers in this administration and in the coming Congress."