Trump's Erratic Campaign Style Was on Full Display for VP Search
Picking a running mate is one of only two or three marquee moments when the candidates can truly focus voters' attention.
By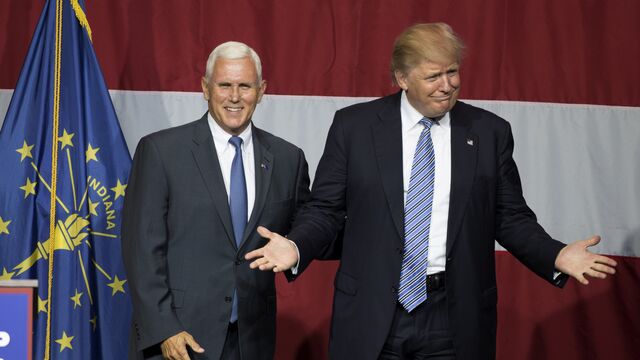 Donald Trump hastily called off a Friday news conference expected to feature an "Apprentice"-style rollout of his vice-presidential pick, citing "the horrible attack in Nice, France," one day earlier.
Then he announced it anyway Friday morning on Twitter, marking an anticlimactic finish to a frenzied process. In a way, it was a fitting venue for a candidate who spent more than a year building excitement for his campaign on Twitter with a jarring number of insults and exclamation points. Only this one had none of the usual dramatic flair, instead sounding like the boring career politicians Trump, 70, lampooned during his rise in the Republican Party.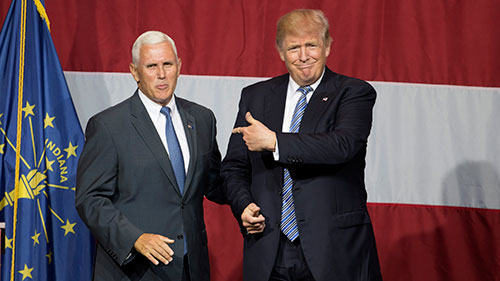 "I am pleased to announce that I have chosen Governor Mike Pence as my Vice Presidential running mate. News conference tomorrow at 11:00 A.M," said Trump's tweet.
The haphazard announcement—which capped months of shifts, backtracking, contradictory leaks, and a mysteriously expanding and shrinking short-list—revealed the double-edged sword of Trump's campaign style just as general-election voters are turning their attention to the presidential race.
Picking a running mate is one of only two or three marquee moments in a presidential campaign when the candidates can truly focus voters' attention on their decision-making styles, judgment, and ability to manage a complex process. While Trump often touts his improvisational approach as precisely what's needed to fix the nation's problems, his campaign has sometimes veered out of control—to the detriment of the billionaire and his allies.
Though the three widely reported finalists were Pence, former House Speaker Newt Gingrich, and New Jersey Governor Chris Christie, the process was anything but smooth. Instead, it was marred by Trump's apparent indecision and an unusual problem: stars in the party including Florida Senator Marco Rubio and South Carolina Governor Nikki Haley said they wouldn't accept the position if offered. Governor John Kasich, who beat Trump in his home state of Ohio, has also kept his distance from Trump since dropping out of the Republican primary, setting up an awkward week when the Republican National Convention opens in Cleveland on Monday.
Trump responded publicly by suggesting he never wanted them in the first place.
In a May 11 article published by the Associated Press, the presumptive nominee said he had narrowed his VP list to "five or six" people. By early July, that list had apparently expanded again. "I'm actually looking at 10 people," Trump told Fox News, including "some names that haven't surfaced yet."
Along the way, even close observers could be forgiven for feeling confused about Trump's intentions, as people in Trump's orbit sent a variety of signals to the media. A Washington Post headline on June 30 said, "Gingrich, Christie are the leading candidates to be Trump's running mate." Conservative blogger Guy Benson reported Wednesday he was "leaning Christie."
In keeping with his throw-out-the-norms philosophy, Trump flirted with unconventional options. A Washington Post article on July 9 reported that Trump was "seriously considering" retired Lt. Gen. Michael Flynn. Nor was he the only general reportedly in the mix—ABC News reported on July 10 that Trump was mulling Gen. Stanley McChrystal for the position.
The Pence selection pleased at least one constituency that Trump has struggled mightily with: Republican elected officials. The Indiana governor and former U.S. representative has built strong relationships with fellow Republicans.
"It's a good move by Donald Trump," said Senate Majority Leader Mitch McConnell. "We look forward to enthusiastically supporting the ticket."
"I love the guy, I love him—he's actually a buddy of mine," House Speaker Paul Ryan, the Wisconsin Republican who has had a contentious relationship with Trump, said on the Michael Medved radio show.
While Trump made a clear-cut decision on Twitter, it took some time for it to cascade through his campaign.
More than two hours after the announcement, there was no mention of Pence on Trump's official campaign website other than an automated display of the tweet revealing the pick at the bottom of the home page. Meanwhile, presumptive Democratic nominee Hillary Clinton's campaign was already circulating a video bashing Pence and his record.
Before it's here, it's on the Bloomberg Terminal.
LEARN MORE