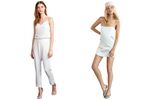 When Carrie Bradshaw prepared to wed Mr. Big in the first Sex and the City movie (2008), she presented her proposed dress—a knee-length, cream-colored vintage number and a demure suit jacket—with the smug delight of someone about to commit an act of rebellion. The plain Jane ensemble telegraphed her ambivalence toward the sacred vows, and Carrie's friends were aghast. "It's pretty … but it's just so simple," said the proper, polite Charlotte. That was as kind as it got.
Were Carrie getting married in 2016, her friends might not spit out their cosmos: The low-maintenance wedding dress is now so uncontroversial, it's trendy. This year, both U.S. retailer Forever 21 and British chain Asos started selling attire for a more chill bride, including short dresses and separates. Sweden's H&M offers boho-chic pieces, and online-only brand Nasty Gal has a collection of "Little White Dresses." Style aside, since cool-girl wedding wear requires less ornamentation and material (in some cases, a lot less), it's cheaper than traditional gowns. The average bride spent about $1,400 on her dress last year, according to an annual survey by the Knot, an online resource for all things wedding. The most expensive piece in H&M's line is $649. Most of the options at Asos are less than $200.
It's about as shocking as an Elizabeth Taylor divorce that this shift coincides with a move away from formal attire in daily life and toward relaxed attitudes about marriage. Pew Research Center asked 18- to 29-year-olds in 2014 if it was important for a committed couple to tie the knot, and only 36 percent said yes. So if the wedding is, like, whatever, why be a slave to your mom's dress code? "There's this idea that women have been dying to get married since they were little girls, and they have all these idealized fantasies about their wedding," says Yael Aflalo, founder and chief executive officer of eco-fashion label Reformation. (The fantasies being poufy gowns, big bouquets, and bridesmaids in full peach.) "I don't know those girls," she says.
Reformation got into this world almost by accident. Executives noticed last year that women were requesting some of its wispy, pared-down dresses in big batches and custom colors. Aflalo figured out they were asking for their bridesmaids. "I kept being like, 'Leave us alone—that's not our business!' " she says. "But I finally realized we should be listening to them." When she looked at the traditional bridal wear market, Aflalo saw an opportunity: Now it makes up 20 percent of Reformation's estimated $25 million annual revenue. This month the company expanded its bridal line to include a suite of dresses in vibrant colors.
All of these companies are playing catch-up with J.Crew. While the label is struggling now, it had the foresight to apply its brand of casual elegance to the market in 2004. Today its bridal wear line is more low-key than ever—one of its most popular wedding "dresses" is a jumpsuit. "The ease of some of our dresses lend themselves to casual weddings, garden weddings. They're not stuffy," says Somsack Sikhounmuong, J.Crew's lead women's designer.
Stalwarts such as David's Bridal, which represents 18 percent of the bridal wear market, still dominate the scene, but even it's starting to get hip. Last year, David's began introducing more casual pieces such as jumpsuits, separates, and short bridal gowns; that segment now makes up about 6 percent of its business. Market research showed that newlyweds were throwing parties in laid-back venues such as barns and restaurants—"more liberated spaces," says Lori Conley, a David's merchandise manager. "It was a call to action that they needed something more functional." Because if you're navigating your way around decorative hay bales, you can't really be worrying about your train.
Before it's here, it's on the Bloomberg Terminal.
LEARN MORE