For Mike Pence, a Cautionary Tale of Other Hoosier VPs
Five of the nation's 47 vice presidents have been Indiana politicians—more than any other state besides New York.
By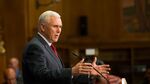 Indiana has done more than its fair share in spawning vice presidents, though if Mike Pence assumes the office in a Donald Trump administration, he'll be hoping for a better fate than several of his home-state predecessors.
Five of the nation's 47 vice presidents have been Indiana politicians—more than any other state save New York, which has produced 11. Indiana's record is all the more impressive, given that it didn't enter the Union until Dec. 1816, just after a 6th vice president, Daniel Tompkins, had won election on James Monroe's ticket.
Of the previous Hoosier second-in-commands, only one—Democrat Thomas Marshall, who served under Woodrow Wilson—lasted through two terms.
Schuyler Colfax, an ex-House speaker, was the first Hoosier to serve as vice president, elected with Republican Ulysses S. Grant in 1868. Actor Bill Raymond portrayed him as the House leader in Steven Spielberg's 2012 film Lincoln. Colfax lost re-nomination in 1872, and ended up tainted by one of the scandals that tarred Grant's administration; he never ran for office again.
Thomas Hendricks, the bottom half of Democrat Grover Cleveland's winning ticket in the 1884 election, offers the worst-case scenario. Hendricks, in poor health to begin with, died after barely eight months in office.
Following Hendricks' brief stint, the next Hoosier to occupy the veep office was Republican Charles Fairbanks, who filled out the 1904 Theodore Roosevelt ticket that won in a landslide. It wasn't a good match; playing second-fiddle to TR would have been a challenge for anyone, but the conservative Fairbanks was especially ill-suited for the role.
Roosevelt marginalized Fairbanks in office and thwarted his bid for the 1908 GOP presidential nomination, which went instead to TR's then-favorite, William Howard Taft. Fairbanks had some admirers—the city in Alaska was named for him, more than 50 years before Alaska became a state. 
Marshall, who took office with Wilson in 1913, also had a flawed relationship with his boss—there was no love lost between the starchy president and his jocular understudy. Marshall's wise-cracking nature, though, led to his most lasting legacy: While presiding over the Senate, he punctuated a lawmaker's tirade on what the U.S. was lacking by saying, "What this country needs is a really good five-cent cigar." (Most went for 10 cents then; the good stuff from Cuba for 35 cents.)
He also liked to tell of the woman with two sons, "one of whom went off to sea, one of whom became vice president, neither of whom was ever heard of again."

The list of Indiana veeps wraps up—for the moment, at least—with Republican Dan Quayle, best-remembered during his 1989-1993 tenure as the butt of jokes, rather than a teller of them.
Before it's here, it's on the Bloomberg Terminal.
LEARN MORE