Citigroup Profit Beats Estimates on Fixed-Income Rebound
by
Net income drops 17% as consumer-banking revenue declines

Credit costs fall 15% as fewer loans default in second quarter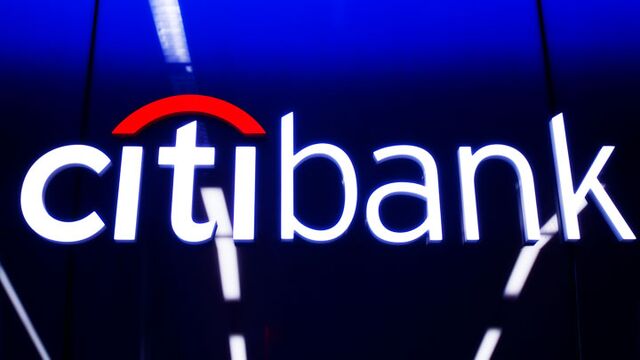 Citigroup Inc.'s second-quarter profit fell 17 percent on lower revenue from consumer banking, beating analysts' estimates as fixed-income trading rebounded and the firm set aside less money for soured loans.
Net income dropped to $4 billion, or $1.24 a share, from $4.85 billion, or $1.51, a year earlier, the company said Friday in a statement. Chief Executive Officer Michael Corbat had predicted a roughly $3.5 billion quarterly profit in early June. Twenty-seven analysts surveyed by Bloomberg projected earnings-per-share of $1.10 -- in line with his forecast.

Citigroup joins JPMorgan Chase & Co., which reported results Thursday, in navigating the market turmoil set off by the U.K.'s shock decision on June 23 to leave the European Union. Corbat, 56, has spent years winnowing problem assets, overhauling controls and narrowing the firm's focus to consumer markets with acceptable returns.
"There was some increased volatility around Brexit that I think we were probably positioned for, and importantly, with all that volatility, customers came to us seeking solutions for their issues," Chief Financial Officer John Gerspach said on a call with journalists. "Through that we did generate some sizable revenues."
Revenue excluding accounting adjustments fell 8 percent to $17.5 billion, while expenses declined 5 percent to $10.4 billion. Both matched analysts' estimates. Shares of the company, which are down 14 percent this year, rose 0.7 percent to $44.77 at 9:59 a.m. in New York.
Bloomberg Intelligence: Second-Quarter Earnings Preview
Credit costs fell 15 percent to $1.41 billion, as fewer loans defaulted and the firm reversed reserves in a unit holding unwanted assets. The resulting expenses were less than the $2 billion estimate of Jefferies Group's Ken Usdin. Provisions at Wells Fargo & Co. more than tripled in the second quarter, contributing to a 2.8 percent drop in second-quarter earnings.
Another bright spot for Citigroup was fixed-income trading, where revenue climbed 14 percent to $3.47 billion, beating the $3.14 billion estimate of six analysts surveyed by Bloomberg. The 21 percent jump in equity-trading revenue to $788 million surpassed their $707 million estimate.
Corbat's earnings forecast at an investor conference on June 2 also proved conservative for Citigroup's investment bank. He predicted total trading and investment-banking revenue would be "up slightly" compared with the first quarter. It rose 17 percent from that period. From a year earlier, investment-banking revenue slipped 6 percent to $1.22 billion, beating analysts' estimates for $972 million.
The bank, which gets more revenue from outside its home market than any of its U.S. peers, felt some pain from the dollar's strength during the period. Net income from consumer banking fell 18 percent to $1.32 billion, as revenue from units in Latin America and Asia declined.
Latin America
The company is in the process of selling retail-banking and credit-card operations in Brazil, Argentina and Colombia. It retreated further this week, saying it decided to stop servicing some accounts and cease correspondent banking in Venezuela.
Citigroup won the bidding last year to become the lender behind Costco Wholesale Corp.'s credit cards, succeeding American Express Co. The handover wasn't without bumps. As Citigroup issued new cards and moved accounts to its system in June, shoppers took to the retailer's Facebook page with hundreds of complaints about the bank's customer service, saying they endured lengthy wait times and had trouble activating accounts.
Citi Holdings, the portfolio of unwanted assets tagged for sale, was profitable for the eighth consecutive quarter, booking a $93 million profit. It's become such a diminished part of the firm's results that Citigroup will stop separately breaking them out later this year.
Before it's here, it's on the Bloomberg Terminal.
LEARN MORE